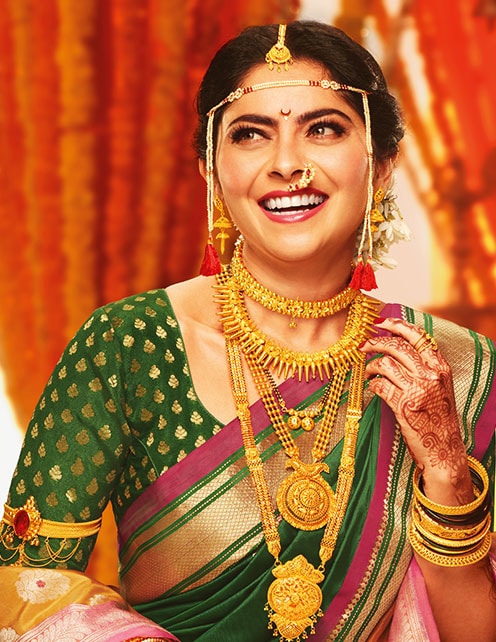 Tradition, values and culture are a significant part of the Maharashtrian culture. This is evident in their costumes and ornaments. Not much change is seen in the traditional attire and jewellery worn by the Marathi women.
Let's dive into the dress and pieces of jewellery that Maharashtrians still adorn themselves with.
Traditional Dress of Maharashtra: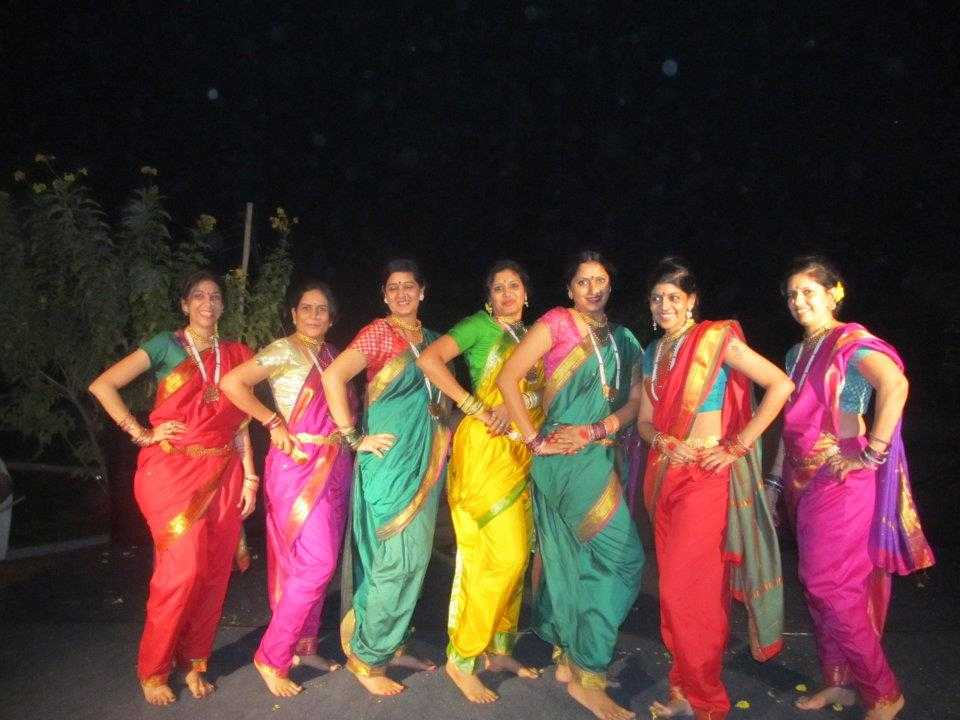 The traditional dress of Maharashtra is called Lugade or Nauvari saree. This 9-yard-long saree is tucked in the middle that resembles a dhoti. The fabric of Nauvari saree is usually cotton but silk sarees are also worn for special occasions.
The traditional dress of Maharashtra bride is called the Paithani saree. It originates from the Paithani District of Aurangabad. The Paithani saree can either be woven in Kanjeevaram silk or Benarasi silk. The style of draping, fabric and design remains more or less the same but the colours of the traditional dress of Maharashtra keeps changing. Paithani saree has a lavishly done up border and pallu work which has a medley of traditional motifs - peacock, floral and mango motifs.
Maharashtrian women wear a blouse called Choli underneath their saree. The Choli is usually short, half-sleeved and has hooks I the front, making it easier to wear.
Maharashtrian Jewellery:
Kolhapuri Saaj
Kolhapuri saaj is very famous among Maharashtrian women and is considered as special as Mangalsutra. It is made with golden beads & many leaf shape pendant. Every pendant has its meaning. Out of these 21 pendants, 10 pendant defines the ten avatars of Lord Vishnu, 2 pendants have an emerald stone, 8 pendants are for ashtamangal (ashta means eight & mangal means good happenings) & the last pendant is a taviz.
Bugadi
Bagudi is unique Maharashtrian jewellery. This beautiful earring is mainly worn by Marathi as well as Northern women. Maharashtrian Bugadi is usually embedded with pearls but with times changing, there is lots of fancy diamond and oxidized bugadi available in a variety of designs.
Lakshmi Haar
Lakshmi Haar that is also known as Temple jewellery is a long necklace. It has a big lovely carving of Goddess Lakshmi in the middle and around the Haar there is a work of either coin-shaped or paisley-shaped gold design. Known as the goddess of wealth, the significance of Lakshmi in this Haar has again to do with the wealth and prosperity of the bride's family. It is the most exclusive Maharashtrian jewellery.
Vaaki
Vaaki or the Bajuband is worn as an armlet on the upper arm. Traditionally it was worn on both arms but as times changed, wearing it on one arm has become popular. This Maharashtrian jewellery is made of solid gold that is studded with precious and semi-precious stones in the centre.
Bakuli Haar
A long neckpiece made up of 2-3 strings of Gold, this Maharashtrian bridal jewellery is engraved in small elegant flower motifs. Bakuli translates to something that blossoms and it has a deep significance according to the Maharashtrian culture.
Maharashtrian Chura
This is ideal Maharashtrian traditional jewellery set for the brides wedding look. You must have seen most Indian brides adorn a beautiful red acrylic Chura. However, for a Maharashtrian bride, this Chura comes in the form of green glass bangles and is paired with gold Pichodi bangles. The Pichodi bangles come in different patterns and can be worn in a set of two on both the wrists. Worn in odd numbers this green and gold Chura is a symbol of fertility for the bride.
Putli Haar
Similar to the Lakshmi Haar, the Putli haar is a piece of Maharashtrian jewellery that is made of several tiny coins woven closely together. Each of these coins has been carved with motifs of Goddess Lakshmi or Goddess Sita, that signify wealth and fortune. A rather long neckpiece, the Putli Haar is an extravagant wedding set jewellery.
Moti Haar
A choker necklace of pearl, the Moti Haar does a good job of accentuating the bride's neck. Also known as Tikada, this Maharashtrian jewellery has precious and semi-precious stones embedded as a pendant.
The traditional dress and jewellery of Maharashtra has not lost the glory of its past and still remains the most exquisite among Indian dresses and jewellery.