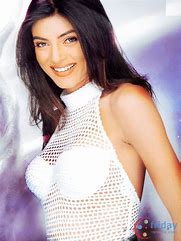 Sushmita, is a native of Hyderabad, Andhra Pradesh hails from a Bengali family and was born on November 19th 1975. She has two siblings, a sister Neelam who is married to Nauman Malik, and her brother is Rajeev. Her mother Subhra is a jewellery designer and owns a store in Dubai. Her father was a poet.
Though she studied at different schools in Jorhat and Nagpur she spent the majority of her time in the Air Force Golden Jubilee Institute and Air Force Silver School which was located in Delhi. Since most of her friends were boys she was regarded as a tomboy. She couldn't speak English till the age of 16. However she not only did she master the language but also went on to obtain a degree in Journalism. She also is fluent in Urdu.
She first participated in Air Force Club Contest at the age of 15. That was followed by a couple of fashion shows. She decided to participate in Miss India beauty pageant against the current favourite Aishwarya Rai. She took herself and everyone by surprise when she won the title. Later on she won the Miss Universe title too.
Fun Fact: Her mother and a less known Meena Bazaar tailor had made her dress. Now this may sound unbelievable believe it or not Sushmita Sen was actually afraid of participating in the pageant because of Aishwarya who was the current favourite at that time. She says that she almost withdrew her name. She revealed, "She is not a conventional Indian gorgeous, she is an international gorgeous. So you are looking at her at 17 and a half and you are saying, 'She is entering the pageant, okay next year bye-bye! I am not participating."

She went on to add, "Oh my god! What a shouting I got from my mother that day. I came back home to, 'You are not my daughter. I cannot believe that you are that afraid to try. And you want someone who's not a competition to be there to compete with you. If you don't try, you will never know. Shame on you, don't talk to me.' She was very mad at me."
Talking about meeting her mother at the airport after winning the pageant she said, "And I was standing at the airport when I won and came back. And my mother standing like, 'I told you so.' Well, this is an important lesson, you have to give life a shot. I am living proof of that."

Sushmita Sen was only 18 years old when she was crowned Miss Universe in 1994 here in Manila. Many agree that it was her unforgettable answer during the final round that won her the title. The questions was: "What is the essence of a woman?"
To this, the young girl replied: "Just being a woman is God's gift that all of us must appreciate. The origin of a child is a mother, and is a woman. She shows a man what sharing, caring and loving is all about, that is the essence of a woman. "
She first appeared in Dastak her debut film in Bollywood. She was noticed by the audience even though the movie was a flop. It was the beginning of her career on the big screen. Since then she has acted in various movies and has performed some dance numbers as well.
Not considered a classic beauty and leading quite an unconventional lifestyle she ended up in many relationships but did not marry anyone. She wanted to be a mother and to adopt a baby girl, and name her Renee. Since she is single, she had to fight a Court battle before she could finally adopt Renee. She won Renee (it means reborn) on 13th April 2000. Coincidentally her family business was renamed Renee exactly a year ago. She also adopted another daughter known as Alisah in 2010. This was too a long court case and she won it under the Juvenile Justice act.
According to her they are few essential lessons that every mother should impart to their daughters:
Teach daughters to believe in themselves

: Just as Sushmita shared this wisdom with her own daughter Renee in an

emotional letter

, we must also teach our girls to trust themselves and follow their dreams. It's always too easy to give up, but it takes a fighter to strive.

Age is just a number

: If your daughter is ambitious, let her pursue her dreams. Never push children to follow your unfulfilled dreams and never let them believe that age is an important factor in how one must live. This also includes letting them decide the age they feel is right to get married or to have children.

Be courageous

: There are many obstacles that life presents itself with, but that mustn't deter you. Teach your daughters to have the courage to follow their dreams and pursue till they have achieved their goals.
Trivia
Miss India 1994

.

She is the first Indian to win a Miss Universe Title in 1994.

She won the best supporting actress award in the year 2000 for her role in 'Biwi No. 1' which was the biggest hit of 1999.

Enjoys writing prose and poetry.

Listed as number 10 of 'Top Bollywood Actresses' of 2006.

Got the role in main Hoon Na while working with Farah Khan in the song Mehboob Mere from Fiza.

Starred in Deepak Shivdasani's shelved film "A.A.A." (2004) the triple A stood for Anjali, Anna, Anamika. Starring Sushmita Sen, Bipasha Basu, Mallika Sherawat. Deepak denied the film being a remake of Charlie's Angels.

Starred in the shelved film "Zakham" (1997). Starring Faraaz Khan, Sushmita Sen, Sucheta. Directed by Vikram Bhatt.

Was engaged to Sanjay Narang (Son of Producer, Director, and Actor Manu Narang). Manu Narang's brother Ramlal (Rama) Narang is the father in law of Isha Khoppikar. Rama Narang's son is Timmy Narang.
Awards
· Filmfare Awards – Best Supporting Actress for Biwi No.1, 2000
· Star Screen Awards – Best Supporting Actress for Biwi No.1, 2000
· IIFA Awards – IIFA Best Supporting Actress Award for Biwi No.1, 2000
· Zee Cine Award – Best Supporting Actress for Biwi No.1, 2000
· Zee Cine Award – Best Supporting Actress for Filhaal, 2003
· Rajiv Gandhi Award – Achievement in Bollywood, 2006
· Mother Teresa Awards – Social Justice, 2013
· Indian Affairs India Leadership Conclave – Eternal Beauty & Actress of the Decade, 2016
Sushmita Sen is one of the most inspiring stars in the industry. She has proven time and again that she is resilient and strong through the situations she has gone through. She is a role model for her children as well as she makes them independent but provides them with whatever they need. She is humble and is grateful whose credit goes to her parents and simple beginning. She has come a long away and is still climbing up life's ladder.