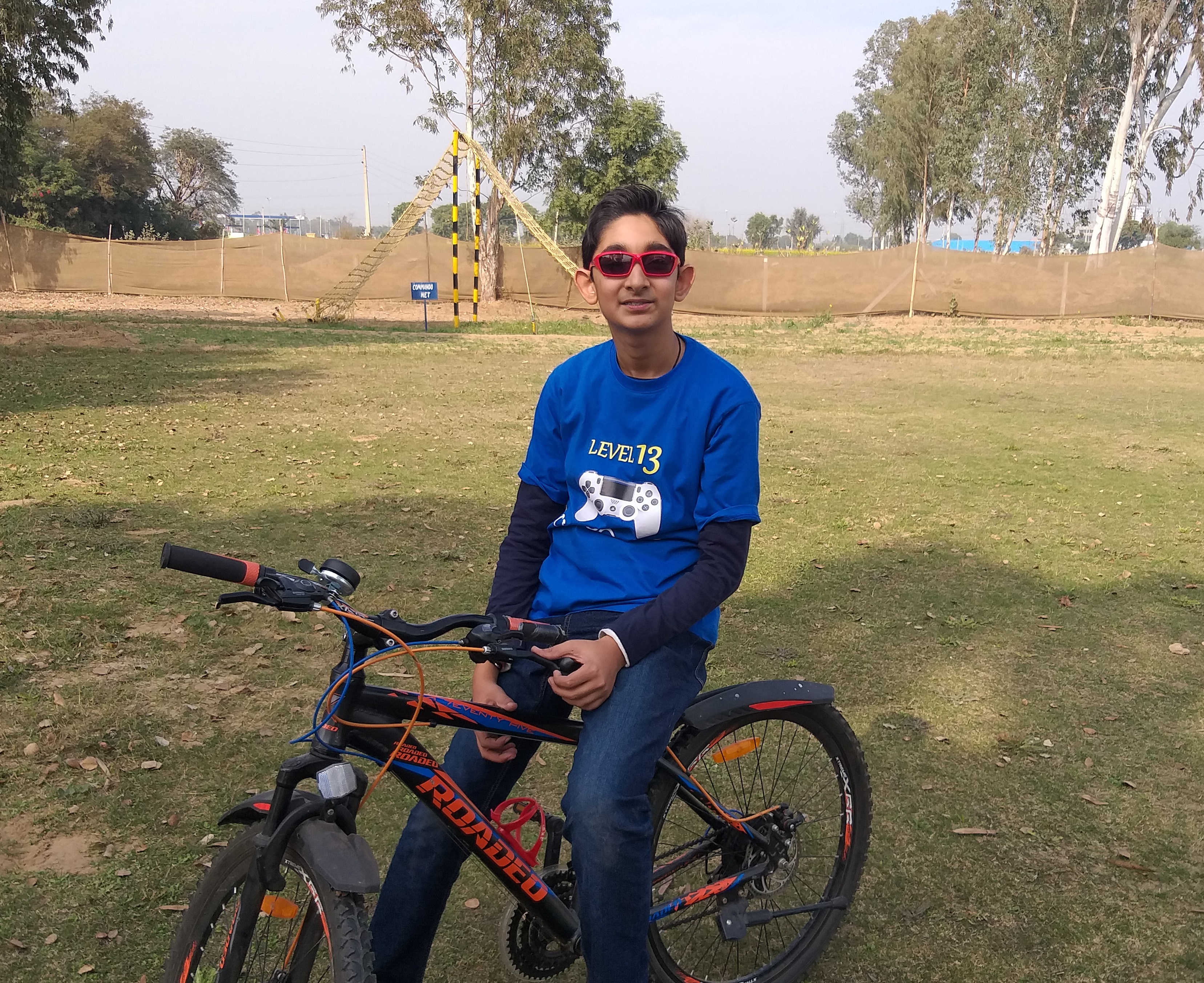 Please give details about your initial education and forming years of life.
I have recently turned 13 and am moving to 8th grade. I have been born and brought up in Gurgaon, Delhi NCR. I started my schooling and continue to be at Shikshantar – a place where I can be 'me'.
From my early days, I have been fascinated by all kinds of cars – that's what even my teachers from idiscoveri preschool remember about me. As I am growing up, this has become a passion – I am an avid fan of all kinds of car racing – F1, Formula E, Moto GP etc. I enjoy a variety of music and sports - from the age of 6, I started learning tennis & piano and they have gradually become an important part of my routine. I have fun playing games on the Xbox and PS4.
And…as expected, I can remain engrossed in books for hours!!!
How did you get interested in literature? What inspired you to write?
My parents always encouraged me to spend time with books. I remember listening to a wide variety of amusing stories in Hindi, English and Bengali from my parents and grandparents. This started me on my journey with books and this bond has got stronger day by day. At school, I enjoyed reading (or initially observing the pictures) the books from the small book stacks in the classroom. A few years ago, I and my friends became Tintin fans – we used to exchange the comics and read them together. We still do that with books we are currently interested in. During summer holidays, I have spent my time relaxing with the collection of my mother's old books (& Archies comics!!!) at my Nani's house.
My interest in literature spans a vast range and I enjoy characters like Famous Five, Geronimo Stilton, Shonku & Feluda, Harry Potter etc. I have been entertained by the works of many authors - Enid Blyton, Roald Dahl, Herge, Ruskin Bond, Satyajit Ray, Agatha Christie. Mystery & adventure is the genre that I love.
At school, we were always encouraged to express our thoughts and feelings on paper – first through art and then through writing. Starting with a few lines in my own spellings, I began writing short pieces based on the themes given in class. I got a lot of encouragement from my teachers and parents and over time, my writing skills evolved to poems and short stories based on prompts or on areas of my interest. Guided by my English teacher, my mother approached Children's World magazine and my work was well appreciated by the editor. When my first poem got published, it further boosted my confidence and motivated me to write better . I was selected for a workshop ' Kissa-O-Kalam' at Sahitya Akademi in May 2017 where I got to learn about different writing techniques from the mentors and hear interesting ideas of my companions. I have also participated in a number of creative writing competitions including Katha Utsav(2015), Scholastic Writing Awards(2016), Hindu Young World Club contests etc. These experiences have brought in new perspectives and enhanced my writing.
What is your view about the present-day literary work?
Modern day adventure stories excite me. I have read the series of Percy Jackson, Alex Rider and Time Riders. I find these to be thrilling with fast action and quick changes of scenarios – the twists and turns take the story to unexpected endings. Moreover, these adventures always involve some novel type of technological features which makes it more interesting. I find it difficult to put down the book till I have reached the end –you want to finish it as fast as you can to know the climax.
Please tell us something about your literary work.
I enjoy writing short stories and poems in English. I generally pick up abstract topics and use my imagination to spin stories around them. For this, I draw upon my experiences of travel, stories that I read, games that I play and what I observe around me.
Some of my works include:
Short stories - Autobiography of a Pair of Socks, A Chance Encounter with Hanumanji, Desert Escapade Poems – The Paper Boat, Fire n Ice, Falcon, Sounds of Silence
I have also written few poems and short stories in Hindi – बचपन, जंगल बचाव, मन करताहै
What was your first literary work and how was it published?
My first literary work was an English poem called 'Sounds of Silence' which was published in the 'Children's World' magazine on its 50th anniversary in April 2017. It is a monthly magazine brought out by the Children Book Trust, Delhi and is one of the oldest magazines for children.
Where do you see yourself after 5 years in the literary world?
I am keen to continue writing short stories and hope to sharpen my writing skills in the future. One of the ways I plan to do this is by pursuing my passion for reading. This will help me to get more ideas and to create extraordinary stories.
What ways would you suggest to build a community for poets?
Online platforms help amateur writers to share their works and read contributions from others. This can be enhanced by holding regular events and workshops. Emerging writers get to interact among themselves, appreciate other's style of writing and learn from each other. Inviting a well known poet or author to share their thoughts will help young writers to get new ideas and develop their writing skills.
What message would you like to give to aspiring new writers?
I always believe in the motto "Writing is an exploration. You start from nothing and learn as you go."
How was your experience of writing on StoryMirror?
Story mirror was convenient to access. The features of a theme picture and introduction helps to arouse curiosity and makes the piece inviting for readers. It is encouraging to know that others are enjoying your writings and read their interesting comments.
Would you like to say something about StoryMirror?
StoryMirror is a great initiative to bring together young writers and create a community for sharing , learning and developing literary skills. I wish them all the best.
Here is the link to read my content https://storymirror.com/profile/62vsms3s/naman-chatterjee/stories