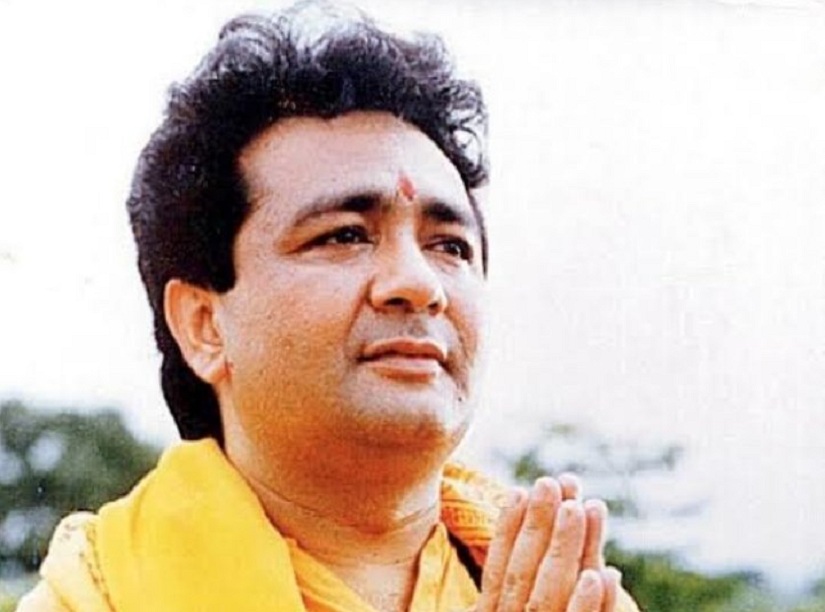 On August 12, 1997 a loud series of shots rang out outside the Jeeteswar Mahadev Mandir in Mumbai. They were just one in a sequence of warnings about the state of our nation, and yet just as before, we Hindus refuse to wake up and face the truth. The event that occurred outside the Mahadev Mandir in Mumbai that fateful day, was not particularly outstanding when seen in the context of the daily reinforcement of the fact that India is in the hands of Muslim terrorists. The victim on this particular day happened to be a plump, short media baron, known as Gulshan Kumar.

Who was Gulshan Kumar, the Cassette King?
He started out life as a humble fruit juice seller's son in Old Delhi. He wanted to make it big in Bombay and he did, by cooking up innovative ways to pirate popular music. Super Cassette Industries, his flagship company and its low price high volume strategy ushered in a musical revolution. Pretty soon he had the leader of the pack , HMV India itself, chomping at the bits in order to compete with him. Using all of his fortunes from his music production company in Noida, near Delhi to finance his film production business, Gulshan Kumar soon became the owner of a vast 400 crore rupee empire.. He was the highest tax payer for the financial year 1992-93.
It was with his foray into the Indian film industry that Gulshan took his first step into the jaws of the Muslim Mafia network without which Bollywood simply can not exist. For decades the film industry has been the money-spinning machine and media arm of the Islamic Mafia. The Indian film industry serves a twofold purpose for the international Islamic Mafia which is headquartered in UAE and Pakistan .

1) With a turnover of over Rs. 7000 Crore, the Indian film industry has become one of the biggest money making operations for the Islamic Mafia. Although it is not as profitable as drug-trafficking, sale of illegal arms, prostitution rings or counterfeit money, it certainly does help to line the pockets and provides valuable interface to politicians and industrialists who are enamored of the glamour and glitter of Cinema magic.

2) But the real reason why the Indian film industry is so important to the Islamic Mafia, is the fact that it serves as the best possible propaganda tool in a country of over 950 million people. A blatant glorification of Islam and an utterly distorted insulting portrayal of Hinduism are the tools that it uses constantly to affect Indians' psyche and effectively utilize information warfare. Hindu culture is consistently given the mantle of a backward, intolerant, illogical culture, whereas Islamic concepts, ideas, and judgments are given the legitimacy of truth. One of the most successful byproducts of this psychological manipulation has been the corruption of Hindi, via the glorification of Arabicised Urdu words. In popular films and music, Urdu is always used in order to condition the Indian public. In other instances, terrorism which usually stems from Islamic quarters in India , is attributed to Hindu groups in movies! Islamic terrorists are portrayed as martyrs on screen. Islamic ideas are touted as progressive whereas Hindu ideals are dismissed as outdated and illiterate. Urdu is the language of "civilized" sophisticates, Hindi is the language of "Ganwaars" or village idiots. These are just a few examples of the objectives which the control of Bollywood provides to the Islamic Mafia.
On August 12, 1997 , nothing appeared to be out of the ordinary as the familiar portly figure of Gulshan Kumar attired in white kurta stepped out of his car in front of the Jeeteswar Mahadev Mandir that fateful day. A simple Thali of offerings for worship of Lord Shiva swayed in his plump hands as he started walking towards the shrine. His devotion to the divine had been steadfast in its earnestness. A huge portion of his wealth had gone into beautifying and enhancing the pilgrimage experience of Vaishno Devi for pious devotees.
It was his efforts which had rekindled the sound of early morning Bhajans in Indian households all over the country. Despite the allegations of piracy and fraud, he had focused all his energies into what he viewed as an offering to God. As the assassins pumped his frame with bullets, the last words heard by Gulshan Kumar were:
"Bahut ho gayi teri puja, ab upar ja ke aur karo" (You have prayed enough to your idols down here, now go up there and do it.)

A chilling reminder of the fact that Islam and the Islamic Mafia will do its best to eliminate any Hindu who dares to reaffirm his faith loud and clear in India .

Who were Gulshan Kumar's enemies? What was his crime?

The clues to the answer apparently lie with music director Nadeem Saifee. In 1997, Nadeem's solo album Hai Ajnabi bombed. He wanted Gulshan Kumar to finance his next private album. Gulshan Kumar wisely decided that Nadeem was not destined to be a chartbuster and refused outright.
An enraged Nadeem who was obviously used to displaying arrogance in lieu of his Islamic godfather's protection started threatening Kumar saying
"Have you got a call or not? My "Chahnewaale" (friends) will call you. You don't know who I am."

By May 1997, Abdul Qayoom Ansari alias Abu Salem, a 29-year-old Dubai-based member of the Islamic Mafia, who is also known as one of the "arms" of kingpin Dawood Ibrahim, had called up Gulshan Kumar on his mobile and curtly told him to call back at a Dubai mobile number. When Gulshan called the number back, an amount to the tune of 10 Crore Rupees was quoted and Kumar was threatened with dire consequences if he failed to cough up the dough. Kumar, a man who had managed to survive in the Film Industry long enough without giving in to the Islamic Mafia of ISI's underworld dons, refused to pay outright. Even when Abu Salem sent his Mullah terrorists to Gulshan in person, the wary devotee refused to budge an inch.

Who is Abu Salem??
He is accused number 87 in the Bombay bomb blast case. He was charged with procuring nine AK-56 rifles at the command of Dawood's brother Anees Ibrahim. Mumbai courts issued an arrest warrant against him in 1993 ``for conspiracy to cause explosions with intent to cause death and damage to property.'' If caught and convicted he faces the death penalty. In 1995, Interpol had issued a Red Corner alert for him. In 1997, the UAE government received extradition papers for Salem from the CBI upon request.

The first ever trap (which is known as `fielding', in the underworld slang) was laid with the blessing of nadeem and his "godfather" Dawood . The trap for killing Gulshan Kumar was laid between July 15 and 20, while he was shooting for his forthcoming untitled film at the Jasdanwala Bungalow at Aqsa Beach , Malad. Two teams from the gang maintained a watch on his movements but failed to strike either because of the milling crowds around him, or for the fact that he was shielded by his Punjabi bodyguard.

When Gulshan Kumar refused Abu Salem's threats of extortion, he was enraged at the "Kafir" Hindu's insolence and ordered the hit. Apart from Kumar's 250-crore annual turnover from Super Cassettes and Music Industries, his religiosity and lavish expenditure for devotional purposes including a `langar' at Vaishnodevi temple, where Rs 5 lakh was spent every month had become eyesores for the Islamic Mafia.

Abu Salem had been chosen as the key operational head in Bombay by Dawood himself , due to his incredibly cruel and brutal nature. He was also given charge of handling extortions and hawala transactions on Dawood's behalf. In April, Abu Salem began by calling up top film producers asking them to pay up. About 20 top film personalities were personally contacted by Salem over the span of two months. The figures he quoted as extortion payments were in hundreds of crores. Over 95% of the Movie moguls simply paid and never informed the police. Salem 's men attacked producer-director Rajiv Rai at his Tardeo office, which led Rai to flee to London . He never returned since. Later that April an attempt was made on Subhash Ghai's life which was foiled by alert police. Salem himself had telephoned Subhash Ghai asking him to pay up. The Indian Film Industry was serving its purpose as the money making the machine which churned out Millions of Rupees in liquid assets for Dawood and ISI to create mayhem, death and destruction all over India. Not one moviemaker had the guts to resist, every single one of them was deeply involved in this deep-seated treachery and anti-national activity which killed Indian citizens every day.

Was it simply because Gulshan Kumar did not give in to this nefarious plan, that his body lay riddled with bullets in front of the Temple steps in Mumbai that day? Hardly. As the details began trickling in, it became apparent that the plot to kill Gulshan Kumar had been hatched on June 12 at Dubai when a galaxy of Indian stars participated in the opening of a luxury hotel owned by Vivek Goswami a narcotics dealer linked to Chota Rajan another underworld non-resident Indian don. As investigations continued, more rivalries began surfing. Ramesh Taurani - owner of Tips another rival to Super Cassette, was identified as an associate of Dawood Ibrahim's gang. The investigation led the police to interview filmstars Pooja Bhat, Salman Khan and Shravan among others.

Bollywood's links with Mumbai's underworld were always known. But the extent of its involvement with the Islamic Mafia became apparent only after Gulshan Kumar's death, a man who was murdered simply because he was a Hindu success story. "When the underworld approaches you, you cannot refuse.", these were the chilling words of Nadeem Saifee, the main accused in the Gulshan Kumar murder case.

A month later a casual friend of Gulshan Kumar and writer-director Mukul Anand died unexpectedly of a "heart attack" in his sister's home in Mumbai. Anand had been in the process of making a movie on Kashmir which went against the Islamic Mafia's propaganda plans. The film was being shot in USA on the pretext that the environs resembled those of Kashmir . The reality was quite different. Anand had been threatened and he and several of his associates were frightened enough to go into hiding when they returned to India to raise more money for the movie. A relative of the executive producer was slain by a killer on a motorbike. And then all of a sudden Mukul Anand suffered a surprise "heart attack".

What is even more shocking to discover is that EIGHT months before Abu Salem ordered the cold blooded of Gulshan Kumar , the CBI had requested his extradition from the UAE government. However, the request became just another of the 35 others pending with the Government of United Arab Emirates and like the other requests, this too was put on the backburner. The CBI is not too optimistic about getting back any of the members of the Dawood gang, hawala dealers and arms and drugs smugglers who are responsible for the most heinous crimes committed against India .

The Arab provision of shelter to these hard core terrorists and criminals provides convincing evidence that the conspiracy to create chaos and panic in India stems from the Islamic world in general. Dawood Ibrahim follows and carries out the directives of Pakistan 's ISI and oil rich Arabs, who take pride in their Islamic fanaticism. It is he and his deputies who mastermind all of the major terrorist attacks and hardcore crimes which take place in India . As the disturbing facts about Gulshan Kumar's murder were unearthed, an incredible pattern of internally linked networks which are sustained by the Islamic Mafia become apparent. The crimes begin with low level extortions and proceed higher up the ladder with the all too willing Indian movie industry, as well as heads of major corporations in India and finally goes all the way up to the politicians who hold the highest positions in the land.

The breadth and depth of this net of crime and the virulently anti Indian activities it breeds are spread unimaginably far. The extent of involvement is so deep, that the public knows not even one hundredth of the details of this story.
Original Post : Islamic Mafia of Bollywood: Death of Gulshan Kumar
#smblogcontest