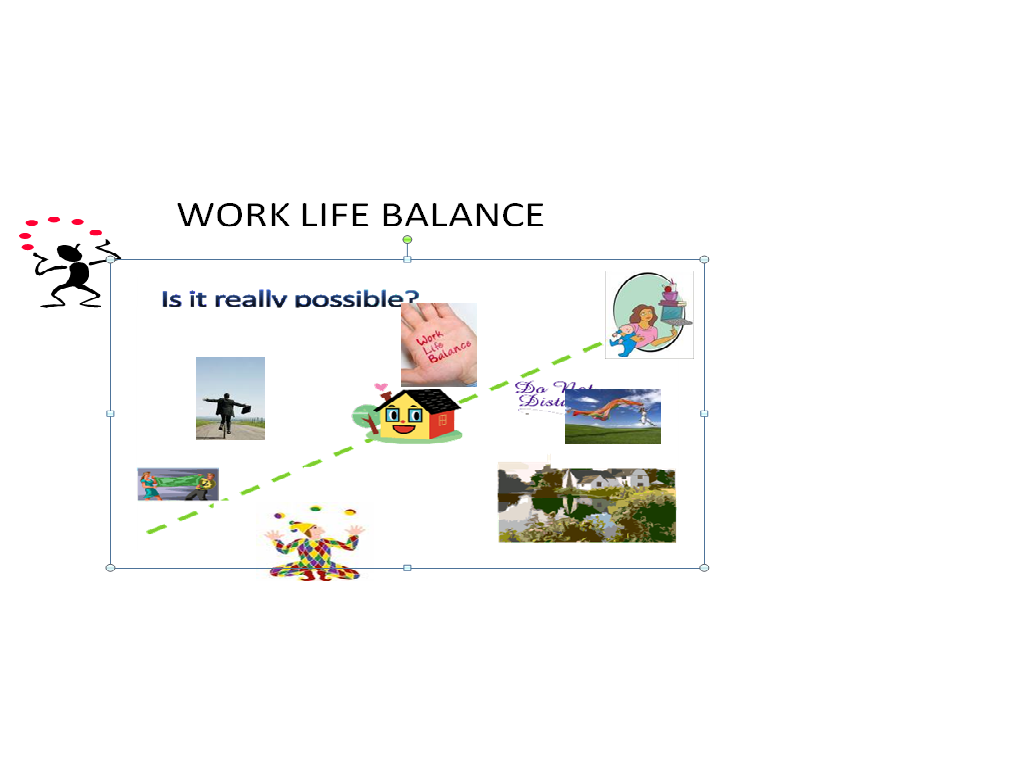 Don't we all wish we have more time !
I like my job.
I have a wonderful family and supportive spouse. But, it feels like I am stretched to the limit! No time to enjoy relationship ….
It seems that I never have enough hours in the day to get my work done and still have time for my family and friends.
There is just no such thing as "personal time" in my life !
I am not narrating my own story ,rather it is the story of we all . Does this story sounds familiar ?
For each and every individual there is a life at work and at home . But in the contemporary modern digital world globalization being the custom these days such issues have taken a back seat for quite sometime . In today's highly competitive business environment people are so engrossed with work it creates confusion and a challenge to balance work and life .we are not in a position to maintain harmony in our work and life .
It's needed we should maintain a balance of work and life . Our life is like a jigsaw . It is made up of different pieces. Ensure that you make time for each important aspects of your life – your relationship ,family ,leisure time ,work and self improvement – and begin to focus your life as a whole.
The Mathematician's View that- A balanced life is one where we spread our energy and effort - emotional, intellectual, imaginative, spiritual and physical – between key areas of importance.
The Analyst View that life is like a wheel .A wheel has spokes to ensure its strength and balance. Unequal spokes can make the ride very bumpy, or completely break down .So we should maintain equal spokes to make our journey of life a smooth one.
Why the Work-Life Balance debate?
Because OUR life should be about more than just our job!
"We live to work" not "work to live."
Balancing work and life will help you to understand what success is and how you can have a renewed vision and purpose in life . As you begin to achieve a better balance in your work and life you will discover a new level of creativity ,fulfillment and happiness.
We need Balance ....for living authentically , to do work for intrinsic rewards with inner satisfactions ,to pay attention to our connections to family, friends and self .Sometimes we were so engrossed with work we feel suffocated so balance remember us to breath .It help us to take care of our own health, our needs for rest, exercise, giving our body good food – making time for the people we love . With balance we remember that the work I do is important – but it is not my whole life –
If you realize the need for balance you know in a better way what work life means what it does not mean .
It is not about being perfect. It is not about being right .It is not about being clever and all the answers , about being a superman or superwoman . Work Life Balance does not mean an equal balance. It is not always same even for you. The right balance for you today will probably be different for you tomorrow. The right balance when you are single will be different when you marry or if you are blessed with kids . when you start a new career vs. when you are nearing retirement . There is no perfect one size fits all, balance you should be striving for . The best work life balance will be different for each individual as we all have different priorities and different lives .
Work life balance is nothing but integration of work and life . Work Life Balance is "… a growing recognition that individuals require a satisfactory balance between the demand of the work and rest of the life…" It is effectively managing the juggling act between paid work and other activities that are important to people like time with family ,participation in community activities, voluntary work, personal development ,leisure and recreation. "Meaningful daily achievement and enjoyment in each of life quadrants: work ,family ,friends and self."
Work life balance is an important issue in business as well in modern life. Today's organizations also focus on it to retain talent. In the contemporary globalized digitized business place customer is the king in the market to provide service to the customers the organizations are even ready to work 24 hours/7days .The world never sleeps with the creation of global organizations. Advancement of communication technology though is a blessing ,but demands technical professionals to work at anytime from anywhere .The unwritten extension of working hours creates pressure on people along with the tight deadlines and unrealistic targets. High performing work culture brings stress . Dual career couple is the trend in the society leading to many disturbances in family life .
The consequences of work life imbalance is not affecting to the individuals and organizations but it is having a great societal impact . Society is in an transit stage, Indian ethos and values are disappearing for which India was known and proud of . Juvenile crime , changing values in youngsters, drug abuse, marital distress ,health issues, reduction in care of the community all are grave consequences of work life imbalance.
Under these circumstances organizations who offer sound work life policies benefit in attracting talented staff, retaining valued employees, reducing work force stress , improving workforce health, increasing morale of the workers. The attrition rate of such organizations is influenced positively and work environment attracts quality people. It increases in individual productivity , accountability and commitment which enhance better team work and communication. Organization is perceived as genuinely innovative.
The organizations should realize the gravity of the impact and must play a proactive role in supporting the employees with a well design attractive work life programme making work place family friendly. Organizations should realize a happy worker is a productive worker . It must keep workload realistic and allow recreational activities during office hours. Organizations must be sensible and sympathies with fellow employees as fellow human beings. They must share each coworkers personal joy sorrows and worries and help the employees where needed . They may be flexible regarding the special needs of women employees and introduce life enhancement programmes .
The balancing act brings more value and balance in the daily life of us. Balance brings better understanding of what your best individual work life balance is . It helps in improved relationship both on and off the job and increased productivity. It reduces stress and brings happiness in life.
A great psychologist once said "modern man is sick as he is not a whole ." So try to understand the amazing wheel of life and make balance in each area of your life . Some tips are below that can help you to achieve a balance .
Review your goals regularly which will make you focused .

Make a schedule of your priorities yearly, monthly weekly ,daily and stick to them.

Family never negotiable ,vacations ,reunions in the priority list.

Budget your time wisely and efficiently.

Be Assertive. Be certain about what you want . Say yes to your priorities and no to be more authentic .Learning to say no will save your time and time for others .

Make your relations strong and honest .

A sound mind in a sound body is the mother of wisdom . so live a healthy life. Eat well ,sleep better and exercise regularly .

Deal effectively with stress . Practice yoga , art of living and relax.

Share the workload at home. Monitor your workload.

Increase your vitality.

Stay motivated.

Celebrate your Success. Treat it as an ongoing process not the final goal.

Change your life style

.
Achievement and enjoyment are the two sides of the coin of " work life balance ." We can not get the full value from life without these two . life will deliver the values and balance we desire …. When we are achieving and enjoying something every single day in all the important quadrants that make up our lives .
So, Achieve and Enjoy . Wish " You " – All the Best .