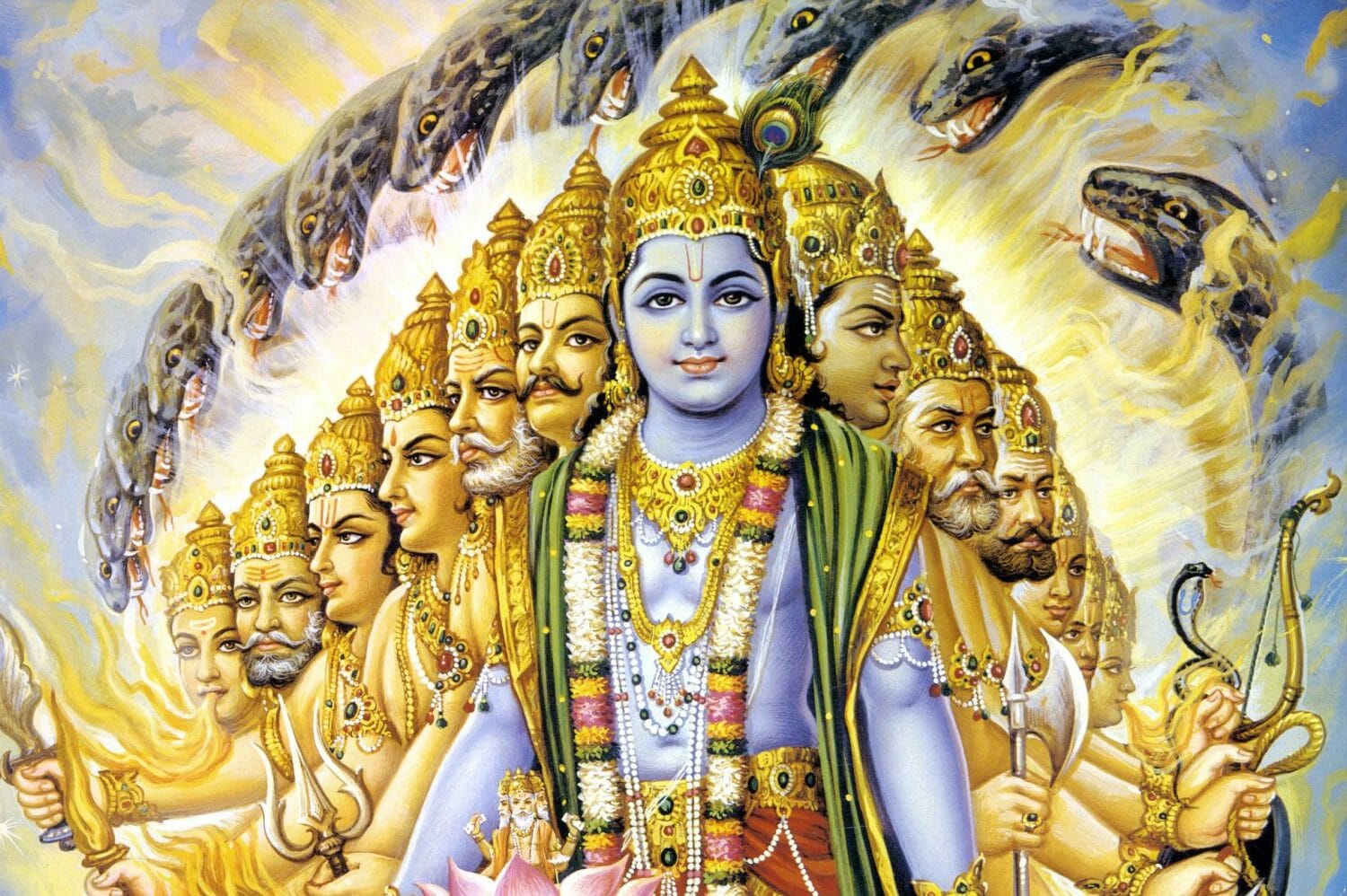 AUM - In Gita Verse 2.29 Some look on the soul as amazing, some describe him as amazing, and some hear of him as amazing, while others, even after hearing about him, cannot understand him at all.
Krishna says that person when becomes silent at that time suddenly and amazingly either he will see light or hear sound. But most of them become amazing and could not understand. This is the experience from where everything is created and everything is merging back into it.
Krishna is reminding Arjuna to become silent so that he can hear universal sound, Aum. Once he will either hear or see the light he will understand the mystery of life. Mystery of birth and death. Krishna tells Arjuna that you are right now uncertain, doubtful. Be like that.
A man of uncertainty, a man who is not decisive is in sanshaya – in doubt. This is not against trust because trust is to have trust in somebody. This is against self-confidence; you don't trust in yourself. That's a different thing. So whatsoever you do, you are not certain whether you want to do it or don't want to do it, whether it will be good to go into it or not...an indecisiveness. With an indecisive mind, you cannot enter on the path...not on the path of Patanjali. You have to be decisive. You have to take a decision. Difficult it is because a part of you always goes on saying no. Then how to take the decision? Think about as much as you can; give it as much time as you can. Think of all the possibilities, all the alternatives and then decide. And once you decide, then drop all doubt.
Before that, use it: do whatsoever you can do with a doubt. Think of all the possibilities and then choose. Of course it is not going to be a total decision; in the beginning it is not possible. It will be a major decision; the majority of your mind will say yes. Once you decide, then never doubt. The doubt will raise its head. You simply say, "I have decided – finished. It is not a total decision; all doubts are not discarded. But whatsoever could be done, I have done. I have thought it out as completely as it was possible and I have chosen."
Once you choose then never give doubt again any cooperation, because doubt exists in you through your cooperation. You go on giving energy to it, and again and again you start thinking about it. Then an indecisiveness is created. Indecisiveness is a very bad state of affairs; you are in a very bad shape. If you cannot decide anything, how can you do? How can you act?
How can Aum – the sound and the meditation – help? It helps, because once you become silent, peaceful, decision becomes easier. Then you are no longer a crowd, not a chaos: many voices talking together and you don't know which voice is yours. Through Aum, the chanting, the meditating on it, voices become silent. Many voices – now you can see they are not yours. Your mother is speaking, your father is speaking, your brothers, your teachers: they are not yours. You can discard them easily because they don't need any attention. When you become silent with the chanting of Aum, you are sheltered, calm, quiet, collected. In that connectedness you can see which is the real voice which is coming from you, which is authentic.
Be careful. How will Aum help you to be careful? It will drop hypnosis. In fact, if you simply chant Aum without meditating, it will also become a hypnosis: that is the difference between the ordinary chanting of a mantra and Patanjali's way. Chant it and remain aware.
If you chant Aum and remain aware, this Aum and its chanting will become a de-hypnotizing force. It will destroy all the hypnosis that exists around you, that has been created in you by the society and the manipulators, politicians. It will be a de-hypnotization.
Once in America, somebody asked Vivekananda, "What is the difference between ordinary hypnosis and your chanting of Aum?"
He said, "The chanting of Aum is a dehypnosis: it is moving in the reverse gear."
The process seems to be the same but the gear is in reverse. And how it becomes reverse? If you are meditating also, then by and by you become so silent and so aware, so careful, that nobody can hypnotize you. Now you are beyond the reach of priests and politicians – the prisoners. Now, for the first time, you are an individual, and then you become careful. Then you move with care, take each step with care because millions are the pitfalls all around you.