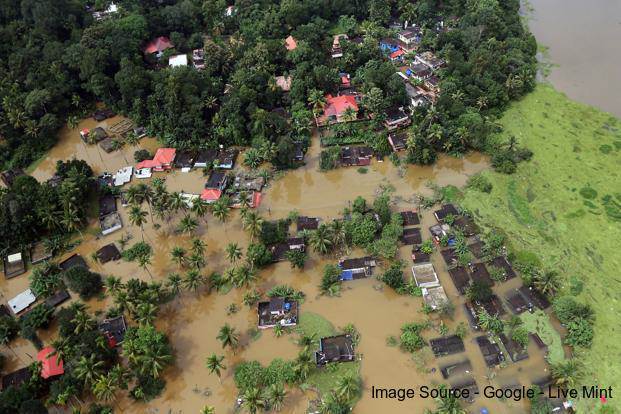 Help is a service that mankind deserves. When a hand lends something that rejuvenates a living, it glorifies our existence. Help does not have names, but it has a voice. It does not have a form but needs a firm heart. When you give without expecting, you get without insisting.

Let us stand united to help people in God's own country Kerala. A step forward will fill empty stomachs, will bring smiles back, will create ways for shelter.

The aim of writing this blog is to bring all collective helplines on a single page. I have tried to place all available helping outlets below. You can reach them to save Kerala.

Let us come together to save God's own country, most beautiful place, Kerala.

*Note – Before giving out help by any means(money, food, clothing, etc..), please make sure the helplines are genuine(As I have collected all these links/images from online). Please do not provide any kind of bank details or credential information to anyone. Make sure help reaches in correct and safe hands.

Those who cannot reach out for giving money, food or clothing, please pray for them, spread a word, become a voice, and use the social media platform as a medium to save lives.

If there any other helpline numbers/centres you want me to add, please let me know. Please do not provide any trolls/fake information. I will try to keep this page updated.
Aravind KS
Source - Referral from a friend on Whatsapp

With the help of our kind-hearted friends and colleagues, we had delivered basic essentials materials for flood relief worth of 1 lakh till today 18:8:18
Expecting more its not the amount matters it's your heart to help the needy on time
So friends do contribute...
One hand help for Kerala.

If anyone willing to contribute please contact my number 9633925394. We are planning to buy essentials things for our relief camps today



Twitter - Father Abraham: Pls help in finding myfrnds relatives PP.Mathai(95yrs),PM.Samuel,Thankamma Samuel,Annie&Child Manna(9yrs), approx gps 9.309920,76.683457,NearSVGVHSS
Source - https://twitter.com/aeasow/status/1031060279310864385



Let's unite together and do it for Kerala
Source - https://twitter.com/Equityplus_adv/status/1031062235890761728


Another set of Helpline numbers
Source - From a friend on Instagram


ACH - Anybody Can Help
Source - https://twitter.com/vmoorthynow/status/1031062170375573505

For all of us in Mumbai, let's do our best to help others in need
Source - https://twitter.com/pastiche_pooh/status/1030571215503601664

SIES College
Source - Via my friend Arun


Here's how you can help those affected by the unprecedented floods in Kerala. Now you can make donations online to Chief Minister's Distress Relief Fund through the site,
CMDRF - donation.cmdrf.kerala.gov.in/
Source - https://twitter.com/CMOKerala/status/1029363568725110784


The Food Army is known to reach out to people during any natural calamity. It's time to reach out to Kerala.
Source - Whatsapp

We are airlifting these groceries to Kerela.
You can join us by giving any of these items at a collection centre near you.
1) Dry roasted Upma without water (pack in a zip lock bag)
2) Rice ( 1 kg pack)
3) Dal (1 kg pack)
4) Milk powder ( 1/2 kg pack)
5) Sugar (1 kg pack)

Collection on Sunday 19th and Monday 20th August 2018 only
Please share this message and help us in helping them.
Thank you,
The Food Army



SOUTH MUMBAI



Vidhi Nerav Shah
407, Jewel bldg. 4th flr.
Behind Roxy Cinema.
Opera house
Mumbai 400004.
Time : 11am to 5pm
9821866157

Rupa Pithwa
A/9, 3rd floor,
Utkarsh bldg,
Sikka nagar,
Behind modern school.
9820510205

Rama Kela
101 Rushab Apts,
10th floor,
Dr. Parekh Street,
Opp H N Hospital,
Next to Girgaum Court,
Prathna Samaj
9987766664

Suman Shrivastava
Flat no 6. 2nd floor Shashidhar Apt.
Dr. Rajab Ali Patel Marg.
Lane Opp Breach Candy Hospital.
Breach Candy.
9892236193

Ronak Doshi
72, Sahakar Niwas ,
2nd floor,
20, Tardeo road ,
Next to Brand Factory Mall ,
Tardeo.
9820918030

Charmi Thakkar
D/2, Venus Apartments,
1st floor,
R. G. Thadani Marg,
Near Flora Restaurant,
Worli.
9820020202

WESTERN SUBURBS



BANDRA

Neetu Sing
B 702, Siddhi Vinayak Apt,
Patakar Block,
Bandra west.
9833559590

KHAR

Sneha Tejuja
601 Aditya Bldg,
11th Road,
Near Hinduja Healthcare,
Khar west.
9820461703

Nayab Butt
Klozet, Shop no 2.
20th Road,
Khar Danpada,
Opp Anand Vihar Chemist,
Khar west.
9833046477

SANTACRUZ


Radha Patel
1001, New Madhuvan Society,
10th floor,
81B Saraswati Road,
Opp Gokul Icecream,
Santacruz west.
9833058313

Sunita Hurkat
401, Kalpana bldg,
Near Mangal nursing home,
Beasant street,
Off SV road,
Santacruz west.
9320448366


Deepali Modi
A/601, Nandini bldg,
10th Road,
Behind Vijay Store
Santacruz east.
9819958999

VILE PARLE


Kavita Thakkar
Flat no.9, 1st floor,
Bharat Kunj,
Next to Daulat Vihar,
Bapubhai Vashi Road,
Neat east west flyover of Dadabhai Road,
Vile Parle west.
9821786817


Manasvi Vadhani.
101. Saroj Apartment,
Opp. Grasshopper Hotel,
Next to Nanavati School,
V. P. Road,
Vile Parle west.
9819171961


Dr. Krishna Desai
Shruti Clinical Laboratory
203 Royal Chambers,
Opp Millenium Club,
N.S. Road no 1,
Juhu scheme.
9322597460

ANDHERI


Sarla Nair
Palash Tower, B wing,
Flat no. 53, 5th floor,
Veera Desai Road,
Near Country Club,
Next to Gundecha Symphony,
Andheri west.
9870020248


Rachna Khurana
Flat no 34, 5 floor,
New Akandjyot CHS,
Bldg no 11,
Manish Nagar, J P Road ,
Andheri West ,
Next to 4 bungalows Gurudwara.
9892590692


Vaishali Vyas
B -14, Shivam CHS,
J.P.Road,
Opp Pathare Prabhu Hall,
Andheri west.
9819585586



Mrs vijaya Sailopal
603, Garden view.
Shashtri nager.
Above Gandhi nursing home
Next to oh! Calcutta Restrauant
Nr. Swami Samarth temple circle,
opp. Hdfc bank
Andheri West
Mumbai 53
9930248894



Jyoti Ajwani
605, A wing, Nandadeep,
17/18,
Sher-a-Punjab society,
Opp Hilton tower,
Malpa Dongri road,
Andheri east.
9687903630

GOREGAON

Kavita Doshi
802 B Mahindra eminents
S V road,
Goregaon West
9920602066

MALAD

Dr. Krishna Desai
Suburban Hitech Blood bank
206 Sugun,
Rani Sati marg,
Near Railway line,
Malad East
9322597460



Seema Bhatt
A 101, Maurya,
Raheja Township,
Opp 16 hours fitness gym,
Malad east.
9967560043



Payal Gadkari
704, Lotus,
Vasant Valley complex,
Film city road,
Before Dindoshi depot.
Opposite Oberoi mall.
Malad / Goregaon east.
9819470464

KANDIVALI

Ekta Acharaya
The Ocean Cake shop
Shop no. 6,
Vishwadeep Heights,
Opp Vasant Sadhna,
Mahavir nagar,
Kandivali west.
9930771849
9930771854


Falguni Shah
J 1438 govardhan nagar,
Opp Poisar gymkhana
Near Raghu leela mall ..
Kandivali west
9867999980

Mrudula Venugopal
9B-405, Whispering Palms xxclusive,
Lokhandwala complex,
Akruli road,
Kandivali east.
9892618004

BORIVALI


Mamta Gadhiya
502, Olive Apt,
Devki nagar,
Eksar road,
Near Lotus hospital,
Borivali west
9820251373

Tejal Solanki
C/202, Star Galaxy CHS,
Opp St. Anne' High School,
L.T.Road,
Borivali west
9323195233

DAHISAR

Dhiraj Saini
G wing, Flat no. 703,
Shree Shankeshwar nagar,
Ashokvan,
Landmark - Gokulanand Hotel,
Dahisar east
9987563427

CENTRAL SUBURBS


Dilshad Nensey
102, Shirin Villa bldg,
2nd floor, Room no. 7/8,
Opp Aqsa medical store ,
Shaida Marg,
Dongri.
Charnull
9664043825


MATUNGA

Vipul shah
590/30, Dr. B.A road,
Kapole Niwas,
Matunga
9833260150


SION

KISHIN TEJWANI
SHRI SATYAM STORES (ladharam DI hatti)
shop no V 5&6 opp bhaaji mkt
next to RAJ WINE SHOP OPP GOLDEN TEMPLE SION ,KOLIWADA
mumbai 400037
9833644970


CHEMBUR

Ri Kumar Mody
Flat no. 1,
Neelkanth Nilayam society,
Opp Joy hospital,
Near Jain Mandir,
D.K. Sandhu Marg ,
Chembur east.
8097110000


Jaya Amit Gangar
B-3, Vasant Prabhat,
608, S T Road,
Above Vodafone,
Chembur east.
9820302949

GHATKOPAR

Nehal Kapasi
A 601, Rajhans Bhavan,
Bldg No.5,
Opp Ganpati Mandir,
Above Dhanlaxmi bank,
90ft road,
Ghatkopar east.
9820385754


Yogesh Zaveri
Arpan Foundation
Flat no.2, Grd floor.
Poonam bldg, Plot no.160.
R. B. Mehta Marg,
Next to Natural ice-cream, Ghatkopar east.
9892988114
Time : 9am to 5pm

POWAI

Julie Srivastava
F/702, Raheja vistas,
Chandivali farm road,
Andheri East,
Powai,



MULUND

Rajal Shah
Neelam nagar,
Phase 1,
Building No.4/401
Gavanpada Road,
Above Om salon,
Mulund East.
9322610909


Tushar Gala
4 Pushpa Kunj CHS,
Dr. Ambedkar road,
Opp Vanividylay school,
Near Tirupati Balaji temple,
Mulund west.
9322507564


THANE

Jeetu Shah
Kaccha Limboo
5/6, Yashvardhan,
Ram maruti road,
Thane west.
9022935444


BADLAPUR

Kaustubh Vyavahare
A 403, Shree Krishna Jyot,
Samarth nagar,
Surval chowk,
Near New Marathon,
Badlapur
9870307109

NAVI MUMBAI


Mehak Hinduja
D1-102, Nilgiri Gardens,
Sector 24, CBD Belapur,
Navi Mumbai.
9819426404.


Sangeetta Vyas
C-33, Flat no. 89
Kendriya Vihar CHS,
Sector - 38,
Nerul West Seawoods,
Beside seawoods D'mart,
Navi Mumbai
9768124089


N. Anupama
C/O Vishwas Rao
Flat no. 403, Krishna villa,
Sector 21,
Ghansoli,
Navi Mumbai
9987706377

DOMBIVALI

Sonali Mhatre
Shantaram Sadan, 2nd floor.
Near Saankeshwar nagar,
Manpada road.
Dombivli east
8879747077




Alert: People in the low lying areas along Chalakudy river and its tributaries are requested to move to higher locations as a precautionary measure.
Source - https://twitter.com/CMOKerala/status/1030058958541619200

Change.Org
Source - https://www.change.org/p/united-nations-seeking-international-aid-for-kerala-floods-from-united-nations


Google has launched in partnership with the government to locate those who need rescue, please share this link or fill it for someone you know needs rescue.
Source - https://google.org/personfinder/2018-kerala-flooding


26 people have been trapped for more than 48hrs.
Source - https://twitter.com/akhiladundu/status/1030529660772184064


Food Facility
Source - https://twitter.com/Nithinsha_MS/status/1030842727896739840


People in Chennai, pls spread the word
Source - https://twitter.com/Vineeth_Sree/status/1030732144388141057


For those in Pathanamthitta District, please call these numbers for help
Source - https://twitter.com/NivinOfficial/status/1030032777373278208


This is to inform you that RohiniSilverScr will be a collecting centre from Sat 18.08.2018(12pm) to Mon 20.08.2018(12pm) to collect the essentials you would like to contribute
Source - https://twitter.com/RohiniSilverScr/status/1030643934643384322


There are 55 people stranded in one house near Aluva, Chowara Route. After Kondoti junction. Pls, contact this whatzp no 9744948580 NO food /Water/Other facilities. Very serious situation. Urgent rescue needed now.
Source - https://twitter.com/KisanWelfareOrg/status/1030666150290452481


Dear Chennai, Let's help in all ways we can, we are collecting relief materials for Kerala Floods at our Porur premises till tomorrow noon. Will be sent to Kerala via a truck, kindly donate what you can.
Source - https://twitter.com/GKcinemas/status/1030696458356318208


Kids Aashiq and Malavika. Parents are not with them right now.! They are at the Naval Base. They are saying, they are from Kalady. Let's get them to their parents. Kindly share.
Source - https://twitter.com/THM_Off/status/1030704614411186176


Those who need immediate assistance in Pathanamthitta can contact me on 9447010000,7561072202,9947385287,9446666971,9539599959
Source - https://twitter.com/antoantonyinc/status/1030718725488406529


Help These Girls
Source - https://twitter.com/Rhemaoffl/status/1030612455599136768


Sri Ramakrishna Ashrama, Mysuru is working tirelessly to extend a helping hand for flood-affected villages in Kodagu(Karnataka)
Source - Whatsapp



The need of the hour is the below necessary Items :

Rice (For Ganji)
Avalakki (Puffed Rice)
Clean Utensils
Clean Blankets
Water Purifying Tablets
Rusk (Not Bread)
Biscuits (Without Cream)

People willing to drop these off at the Mysuru Ashrama can do so at the below Address:

Sri Ramakrishna Ashrama,Mysuru
Vani Vilas Mohalla, Mysuru, Karnataka 570002
Phone: 0821 241 7444

Every day the items will be consolidated and sent to Ponnampete Ashrama which is set up as a relief camp :

Sri Ramakrishna Sharadashrama Ponnampet
Address: SH89, Ponnampet, Karnataka 571216
Phone: 082742 49369

People in other regions who are willing to extend their helping hand can do so by sending donations to Ponnempete ashrama directly
Bank Details as below :

Account Name : SHRI RAMAKRISHNA SHARADASHRAMA
Account Type : SB
Account no : 5201 0104 1790 428
IFSC : CORP0000032
Bank : CORPORATION BANK
Branch : PONNAMPET- 571 216
CONTACT DETAILS: : 08274-298244, 249555 (Ashrama)
Phone : 96866 64664 (Shankar)
email : ponnampet@rkmm.org
Website : www.rkmponnampet.org



You can help people affected by Kerala Floods through Rotary Club of Cochin with over 100 active members including me, helping the needy directly & effectively on the field.
Source - https://twitter.com/porinju/status/1030731502105985024


For any medical help. Save the numbers, please.
Source - https://twitter.com/Forumkeralam1/status/1030745221628407808


For EMERGENCY help and rescue.
Source - https://twitter.com/ajithucc/status/1029917979134160897



Urgent Requirements
Source - https://twitter.com/Mohanlal/status/1030770753375891458


Kindly note - Do for Kerala
Source - https://twitter.com/Mohanlal/status/1030659555384934400


As I see trolls with their sick mindset spread hate n vomit comments on social media...Left..right..or center....nature is unaware..it's a calamity... HUMAN LIFE IS IN DISTRESS....time to come together as human beings... please help.
Source - https://twitter.com/prakashraaj/status/1030781115047411713




A family has reached Chowara Railway station Alwaye with a 10 Day old baby. If someone can give them Shelter, Food and the necessary items for the Mother (Who has gone through a cesarean) & Baby will be great. Number: Nelson Paul 9495576688
Source - https://twitter.com/Forumkeralam1/status/1030771049560829952


Anyone needing urgent helicopter airlift, please call: 82812 92702, priority navy help - Navy's Joint Operation Cell: 93834 11526, 0484 2872353 (Kochi). If the lines are busy, please whatsapp Jyothish Jayan directly @9495382737. Please share.
Source - https://twitter.com/bacwaters/status/1030770399766827008


For food supplies contact the below numbers
Source - https://twitter.com/i_amspa/status/1030612025687371776


Save Kerala, Help Kerala.