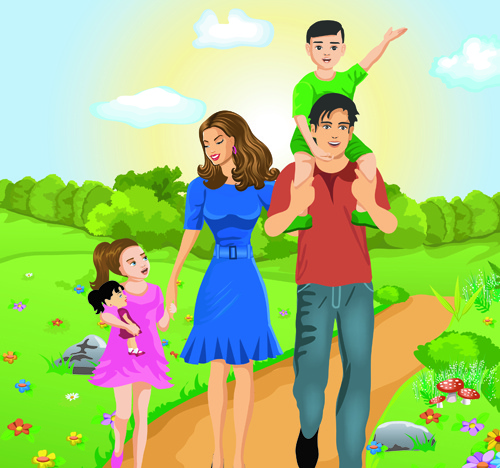 Parenting Workshop
Good Day Friends!!!
Below mentioned are some of the Key points I would like to share with you all regarding the Parenting Workshop delivered by Mr. Suraj Prakash Ji…
Hope these guidelines would be beneficial for you all…
(Trust your children… always listen to them and trust them rather trusting anyone else).
(LET CHILDREN COMMIT MISTAKES, LET THEM EXPLORE, LET THEM LEARN AS MISTAKES ARE THE BEST TEACHERS.)
ABILITY TO DISCRIMINATE BETWEEN GOOD AND BAD (DIFFERENCE BETWEEN THE RIGHT AND THE WRONG)
ALLOW CHILDREN TO QUESTION??
(THINK FROM CHILDREN'S POINT OF VIEW, LET THEM THINK, BE THEIR ROLE
MODEL, GIVE TIME TO YOUR CHILDREN. COMMUNICATE WITHOUT SPEAKING
WITH YOUR CHILDREN BY EXPRESSIONS. SIBLING RIVALRY IS NATURAL LET IT
CONTINUE.
MOTHER IS THE BEST COUNSELLOR & FATHER IS THE BEST ANGRAKSHAK.
NEVER DISCUSS ANYTHING WRONG ABOUT TEACHERS, SCHOOL, OR ANY RELATIVE OR FAMILY MEMBERS IN FRONT OF YOUR CHILDREN. THIS CREATES A WRONG IMPRESSION IN FRONT OF THEM.
LEARN TO LISTEN TO THE TEACHERS
THERE IS RELATION OF TRUST BETWEEN SCHOOL AND PARENTS… LET IT CONTINUE
LET THE CHILDREN DO ANYTHING BETWEEN THE FOUR WALLS OF THE SCHOOL
COME TO THE LEVEL OF THE CHILDREN
TALK TO THEM BY COMING AT THEIR AGE.
ATLEAST GIVE THEM 10 MIN TO YOUR CHILDREN, PLAY WITH THEM. DO WHAT
THEY WANT YOU TO DO AND THEN SEE HOW THEY LISTEN TO YOU.
TEACH CHILDREN TO RESPECT OTHERS
WE WANT OUR CHILDREN TO BE PHYSICALLY FIT

WE WANT OUR CHILDREN TO BE MENTALLY ALERT

WE WANT OUR CHILDREN TO BE FORWARD LOOKING
CHILDREN SHOULD LEARN TO ADOPT, ADAPT AND CONTRIBUTE TO THE WELFARE OF THE SOCIETY.
TEACH THEM VALUE NOT THE PRICE
CREATE OUR OWN SUPER HEROES WITHIN OUR FAMILY OUR NEIGHBOURS, SURROUNDINGS WITH WHOM YOU CAN RELATE YOUR CHILD…NOT THE ARTIFICIAL SUPER HEROES
TEACH THEM THE IMPORTANCE OF INNOVATION AND SPIRITUALITY.
DON'T BE IN YOUR BIOLOGICAL AGE… LEARN TO BE AT THEIR AGE ONLY THEN YOU CAN UNDERSTAND THEM.
WHEN THE CHILD REQUIRES US THE MOST WE ARE BUSY ….
THEY START BELIEVING THAT THE ONLY THING WE CAN GIVE THEM IS
MATERIALISTIC THINGS.
WE THE THE BEST COUNSELLORS FOR OUR CHILDREN
TEACH THEM THE ATTITUDE OF GRATITUDE.
TEACH THEM TO SAY THANK YOU
INVEST MORE TIME WITH YOUR CHILDREN RATHER THAN INVESTING MORE MONEY
This article note is inspired by workshop of Mr Suraj Prakash, THANK YOU