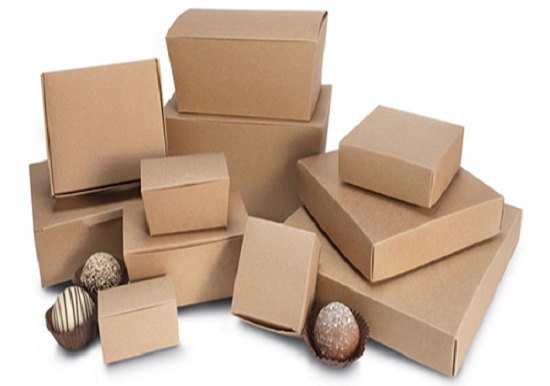 Compromising on packaging is to compromise the whole value of the brand. It is the packaging of the products provided by the company that builds the image of the brand in the market, attracts audience, increases sales, and develops customer loyalty or professional image that is necessary to stand out among the competitors.
Effective packaging is the one that covers all the aspects of packaging that is product protection, containment, eye-catching appearance, sustainable material, and quality boxes. Kraft boxes are the miraculous packaging boxes that are capable of beating the most competitive brands out there.
Bet ya!
The only thing that needs to be considered is to get the boxes that represent your brand so that they have a better impact on the customers.
If you are ready to order your custom kraft boxes here are few things that need to be considered to make them more personalized and effective in gaining the attention of the customers.
Type of Kraft Paper
Kraft paper is made up of soft wood through the same process like any other paper production but what gives it the brown color is that it does not pass through the bleaching process that makes it stronger and toxic free than the other paper packaging.
There Are Usually Three Basic Types of Kraft Paper
Solid bleached Sulphate: It is the most common kraft paper that is coated from one side and is used for printing.
Coated unbleached kraft paperboard: This is more durable and has a default brown color perfect for holding heavy items.
Specialty kraft paper: This is the most refined kraft paper, bleached, white in color, and perfect for printing and high-end packaging.
Strength
While choosing custom kraft boxes make sure of the strength you need that can hold the product in the most secure way whether it is about protection against damage, contamination, or weather conditions like water, moisture, or heat etc.
It is like every box is better than wrong box!
Custom kraft boxes are highly adjustable in terms of thickness that matters a lot. For example, robust products need regular kraft boxes where delicate items are better stored in specialty kraft box.
Size of The Box
There is no need to go over-sized with your boxes. Save the material, save money, save the environment, and save the customers from getting disappointed by larger boxes and smaller products.
Shapes
Make sure the custom kraft box you are going to order complement your product. Do not go apple and oranges with the shapes. Unique and relevant shapes help in giving a better perception about the product and the brand.
Printing
It is important to go for the best printing techniques for printing as it determines the quality of the product. The quality and grade of the kraft paper also affects the quality of printing. Get your kraft boxes in prints that represent your brand. Custom logos with pretty patterns and eye-catching fonts give a popping packaging.
Coatings
There is more to customization than shapes, sizes, and designs that are really helpful in giving a more luxurious, distinguished appearance and also increase the strength of kraft boxes.
Why not get the benefit with few adjustments in the customization and give your customers something that makes them feel special.
Health-Friendly
Health factor matters a lot if you are getting custom kraft boxes for food products as unbleached paper is the safest packaging option as it is free of any kind of toxicity.
Marketing Capabilities
Make sure if you are getting customized boxes for your brand they must be appealing enough and are designed in accordance with the brand. Company oriented packaging designs help in the marketing of the brand and also reinforce it with custom logos and lavishing boxes.
Cost Factor
There is no need to spend more than what is required. Custom boxes wholesale are most affordable packaging solution that is up to the mark in quality and other packaging aspects.
Negotiate!
Keep negotiating!
Negotiate a little more until you get the lowest price possible as wholesale price depends on the number of items you order per lot. Increasing the number of product can get you lower price but do not over stock.
Reusability
Why not give customers something extra that makes them more loyal towards your brand and gives a worthy feel. A little effort in lamination and aesthetically appealing designs make these boxes reusable in different ways.
Make sure to go through all the things that bother you before placing the order. Do not hesitate in experimenting with the designs and shapes as wholesale dealers provide physical samples for custom kraft boxes on demand to see how the product will look like.