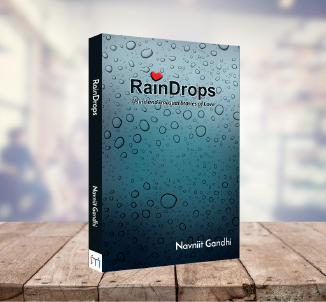 RAINDROPS
Usual and Unusual Stories of Love
Published/Released: February 2018

We first met Navniit when she was an eager beaver FYBA student of LU & MV College, Andheri, got to know her better as a young recruit in the Dept of Political Science, and then that relationship naturally grew and blossomed into a friendship based on mutual trust, respect and admiration. This in itself speaks volumes of Navniit's nature: her capacity to transcend barriers of age and physical distance, of language and subject...What is remarkable is the ease with which she is able to don different hats: friend, guide, mentor, critic, confidante. She has given of herself honestly in all these relationships. Drawn by this very nature, people have opened themselves up freely to her. And by and by, from a student of Political Science was born a student of human nature. Not surprisingly therefore, the characters in Navniit's stories seem so true to life. They could be your neighbours. You could meet them anywhere. They may be portrayed in a minimalistic way, but they are honest, as honest as the relationships she has portrayed.

Love is not an easy subject. People have waxed eloquent on it, poets have written odes to its glory or defamed its fickleness...but what does it signify to a common person? When we read Navniit's book, we will know that romantic love is but one of the myriad hues and shades of this emotion...that love is just as often cursed by those who suffer it as it is regarded as a noble feeling that inspires people to greatness. Sometimes love lies in letting go....sometimes, it lies hidden behind a harsh facade....who has been able to fathom its complexity? Freud said about a woman, 'she is a dark continent'! The same, we would say, is true of love!

Navniit's Preface to this neat collection of nineteen stories sets the tone for her
exploration of love: And we quote:

'Every experience of love is a story… and usually, an unfinished one. There is never: The End.
For some of us love is reciprocated; for some, it is betrayed after it is reciprocated; for some, it is unrequited; for others, it is returned and then it wrinkles and fades.... But love does not die. Never!!'

That's Navniit for you, the incorrigible romantic!

The titles, some expected, others unusual, give nothing away, about the different facets of love each depicts, whether it's "Moments of Doubt", "The Sting", "Stepping Back", "Together in Separation", or "Turning Full Circle".

Take the delightful story A Punjabi in Kerala which celebrates the love between two
teenagers.

One meets with an evocative description of love for nature in this story. The freshness of the monsoon rains on your face, the lifting of spirits and the itch in your feet, no matter what your age, is experienced vicariously through the gleeful delight of these two young friends, spontaneously dancing in the rains, carefree and uninhibited, as painted in the following words:

At the heart of the collection, and by the author's confession, is the seed of this little volume, the story, Together in Separation.

Almost two decades into a happy marriage, 'this alliance between two nationalities' in a third country is torn asunder by visa requirements. He returns to his first family and earlier life leaving behind a love who surprisingly bears no rancour.

The Mentor talks about a mature kind of love...where you release the person and continue to wish him well. You let go of your love because you love!

Then there's a story called A Peep a Little Deeper.

This story reveals the complicated nature of love. It tells of a young good-looking Kathak maestro who lived and breathed dance. His universe revolved around Kathak and nothing else. A disciplinarian and a taskmaster, no one suspects the depth of his devotion to his Guru till she passes away and he is left shattered. The story talks of how he transformed his powerful feelings for his Guru, a frail, old and unassuming lady, and his need to get back in control of his life, by paying tribute to her in his own unique way. But is that what the Guru would have liked? That question is irrelevant. What is noteworthy is that love, like politics, makes people behave in strange inexplicable ways which the world may consider irrational! As Pascal once said, 'Love has its own reasons that Reason knows nothing of'.

Betrayal and Hope, as the name suggests, is about hope in love. Love never dies! Or
perhaps its memory is just too comfortable to let go. Even when your loved one has
moved on to greener pastures.
Sulbha Aryaa unveiled the Book, RaindropsAnother touching story is entitled A Tale of Two Continents.

Mariam is ecstatic in her discovery of love, undeterred by the fact that her feelings
are not reciprocated.

And when Ivan's heart is broken by his ladylove, both indulge in self-pity: 'That night, they sat together on the bench outside their residential quarters till 3 am, unabashedly pouring out their feelings on love, life and relationships'.

Each of them, united in their anguish, probably thought that the only pure love was unrequited love. And the end, unexpected but gentle, leaves both of them 'smiling(smiled) through their tears'.

Nestled within this work is a sweet little vignette called Bridging It.

The lovers brave social taboo and personal inhibitions in a reverse of a stereotypical situation, and plunge into a relationship that 'neither of them was impatient to affix a label or a tag on...

This collection would have been incomplete without its last tale, Second Innings. Love, if not life, does give one a second chance, as this story suggests, and 'nothing could dampen(ing) the exuberance bubbling inside' the protagonist, Karthik that day. The rest is silence....and we hope we have whetted your appetite for the many facets of love that Navniit has so lovingly captured on verbal canvas! One thought lingers after reading these 'sketches' and that is that true love is always accepting. Each of the characters in these tales is willing to take the risk of entering into a relationship, of stepping out of their comfort zone, knowing full well that there is no surety in love. They accept love's reality and harbour no complaints or bitterness, against God, the world or their lover. In the words of one character, 'And Madam, life is like that only'. This endearing quality of the characters that people this 'rainbow' world makes this book unputdownable!
Lanch of 'Raindrops'She takes the readers along with her, on her sojourns into the lives and hearts of people all around her. There is a flow in the narrative which not only makes the content easy to absorb but also makes the characters come alive. RAINDROPS is an earnest attempt made by Navniit to listen to the hearts beating all around her…

If one looks at the stories critically, the first thought that strikes is that wish the emotions were weaved for a longer time and the nuances of the heart a little more elaborately explored and wish the end did not come so abruptly. At least, some of the stories end just about when the reader has begun getting involved in the lives of the characters. The narration (language) too is very simplistic and unassuming, whereas a dash of eloquence in the language could have made reading more enjoyable.

All in all, these stories are fresh as raindrops that fall on your cheek and renew your faith in nature.

Navniit, may your title make waves and see many a reprint!