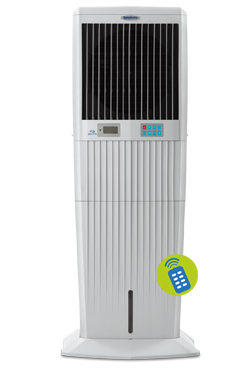 India is famous for its hot and humid climate conditions in summer. In times of such warm weather, most people prefer installing air cooling technologies. In such cases, coolers like Symphony air coolers act as a far better investment than air conditioning due to many factors. They are priced low and provide greater user convenience.
The air cooler industry in India is expected to reach a market valuation of more than $ 44 Billion with a Compounded Annual Growth Rate (CAGR) of 27%. Demand for air coolers is on the rise. The factors that make it such a popular product is listed below.
Advantages of Air coolers in India:
Variations:
Popular products like Symphony air coolers come in various shapes and capacities that are designed to suit specific needs. Depending on room size and the number of users, air coolers are customised products. There are many types like:
These invented for large areas. Featuring huge fans and powerful pumps, they are ideal for dry conditions.
These are meant to use in daily households. They are compact and portable. Compared to desert coolers, they consume less electricity and are suitable for smaller areas.
Tower coolers are designed for smaller places but are considerably powerful. They require less maintenance and are easy to clean. Their tall and lean design adds to its aesthetic appeal.
Capacity:
Capacity of an air cooler depends on their water holding capacity. Higher the amount of water an air cooler holds, higher is its capacity to serve its purpose of air cooling at best. Air coolers use cold water to cool down the air. However, different models of best air coolers come with different capacity.
These are generally designed to hold 50 to 60 litres of water. The vast tank capacity renders the cooler usable for long hours.
These have a water holding capacity of 20- 40 litres. It is for smaller areas.
Tower coolers generally come with 40 to 50 litres of water holding space. Because of their slim built, they can easily fit into small places.
Mobility:
All types of coolers devised with caster wheels. These provide excellent mobility to these machines. You can move your symphony air cooler around and use it in any of your rooms. Compared to air conditioning, the movement and ease of use they provide are unparalleled.
Additional features:
These coolers come with a host of other features. Some of them are listed below:
Different types of cooling pads like honeycomb and wood wool provide durability and superior cooling, respectively.
Thermal overload protector-
This feature protects the device from power surges and magnetic fluctuations, thereby increasing its usable life.
Best air coolers have a built-in humidity controller that optimises airflow according to ambient humidity measures.
It helps the air cooler to remove dust and other unwanted particles from its airflow.
An air cooler comes with a remote control feature for hassle-free use.
Air coolers are cheap and provide numerous benefits. If you are thinking about getting a good night sleep this summer, consider purchasing one.