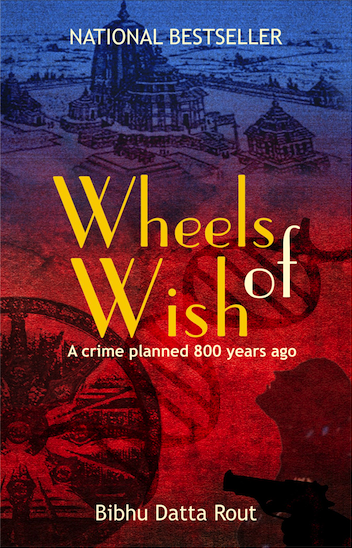 They say never judge a book by its cover.
But lets say I am guilty, for I loved the book cover.
Bright hews of red and blue, drawing of a familiar temple, a stone sculpted wheel and the silhouette of a gun.
It seemed that the whole bright ensemble was trying to communicate something to me. Something about the bright and mystic contents of the book…
I am glad I across the book. From the start, the book is an enigma in itself . An enigma whose layers you would have to peel and explore in order to reach closer to the truth.
The book transported me to lost times and I found myself living the pain, struggle and hopes of the major and minor characters.
I am myself quite a bit into Hindu Mythology, and the way the folk lore about Konark and Puri are woven, connected and presented, left me exhilarated.
Also, I am in awe of the detailing done by the author in terms of architectural entities.
There is a famous quote by the modern minimalist architect Mies van der Rohe. He says: "God lies in details".
Going by that, Bibhu's work is a dedication to God, for he has taken care of the minutest details.
Although I liked that book, I believe that the courtroom drama towards the end could have been made more believable.
Another thing is the length of the book, with three parallel stories and so much to be uncovered , the 200 pages seemed less. There was a scope for more.
I guess this is all I say, without giving away much for the fear of dropping in spoilers for the readers.
In my personal opinion, if you can pull off reading fresh and intriguing pieces, you should read the book for its sheer style and charisma.