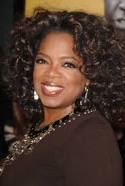 Oprah Winfrey (born Orpah Gail Winfrey; January 29, 1954) is an American media proprietor, talk show host, actress, producer, and philanthropist. She is best known for her talk show The Oprah Winfrey Show, which was the highest-rated television program of its kind in history and was nationally syndicated from 1986 to 2011 in Chicago, Illinois. Dubbed the "Queen of All Media", she was the richest African American of the 20th century North America's first multi-billionaire black person and has been ranked the greatest black philanthropist in American history. Several assessments rank her as the most influential woman in the world.
Credited with creating a more intimate confessional form of media communication, she is thought to have popularized and revolutionized the tabloid talk show genre pioneered by Phil Donahue, through which, according to a Yale study, she broke 20th-century taboos and allowed LGBT people to enter the mainstream.
Working in local media, she was both the youngest news anchor and the first black female news anchor at Nashville's WLAC-TV. She moved to Baltimore's WJZ-TV in 1976 to co-anchor the six o'clock news. In 1977, she was removed as co-anchor and worked lower profile positions at the station. She was then recruited to join Richard Sher as co-host of WJZ's local talk show People Are Talking, which premiered on August 14, 1978. She also hosted the local version of Dialing for Dollars.
In 1983, Winfrey relocated to Chicago to host WLS-TV's low-rated half-hour morning talk show, AM Chicago. The first episode aired on January 2, 1984. Within months after Winfrey took over, the show went from last place in the ratings to overtaking Donahue as the highest-rated talk show in Chicago. The movie critic Roger Ebert persuaded her to sign a syndication deal with King World. Ebert predicted that she would generate 40 times as much revenue as his television show, At the Movies. It was renamed The Oprah Winfrey Show, expanded to a full hour and broadcast nationally beginning September 8, 1986. Winfrey's syndicated show brought in double Donahue's national audience, displacing Donahue as the number-one daytime talk show in America. Their much-publicized contest was the subject of enormous scrutiny.
In 1993, Winfrey hosted a rare prime-time interview with Michael Jackson, which became the fourth most-watched event in American television history as well as the most watched interview ever, with an audience of 36.5 million. On December 1, 2005, Winfrey appeared on the Late Show with David Letterman to promote the new Broadway musical The Color Purple, of which she was a producer, joining the host for the first time in 16 years. The episode was hailed by some as the "television event of the decade" and helped Letterman attract his largest audience in more than 11 years: 13.45 million viewers. Although a much-rumoured feud was said to have been the cause of the rift, both Winfrey and Letterman balked at such talk. "I want you to know, it's really over, whatever you thought was happening", said Winfrey. On September 10, 2007, Letterman made his first appearance on The Oprah Winfrey Show, as its season premiere was filmed in New York City.
In the early years of The Oprah Winfrey Show, the program was classified as a tabloid talk show. In the mid-1990s, Winfrey adopted a less tabloid-oriented format, hosting shows on broader topics such as heart disease, geopolitics, spirituality, and meditation, interviewing celebrities on social issues they were directly involved with, such as cancer, charity work, or substance abuse, and hosting televised giveaways including shows where every audience member received a new car (donated by General Motors) or a trip to Australia (donated by Australian tourism bodies).
In 2009, Winfrey was criticized for allowing actress Suzanne Somers to appear on her show to discuss hormone treatments that are not accepted by mainstream medicine. Critics have also suggested that Winfrey is not tough enough when questioning celebrity guests or politicians whom she appears to like. Lisa de Moraes, a media columnist for The Washington Post, stated: "Oprah doesn't do follow-up questions unless you're an author who's embarrassed her by fabricating portions of a supposed memoir she's plugged for her book club.
Film
In 1985, Winfrey co-starred in Steven Spielberg's The Color Purple as distraught housewife Sofia. She was nominated for an Academy Award for Best Supporting Actress for her performance. The Alice Walker novel went on to become a Broadway musical which opened in late 2005, with Winfrey credited as a producer. In October 1998, Winfrey produced and starred in the film Beloved, based on Toni Morrison's Pulitzer Prize-winning novel of the same name. To prepare for her role as Sethe, the protagonist and former slave, Winfrey experienced a 24-hour simulation of the experience of slavery, which included being tied up and blindfolded and left alone in the woods. Despite major advertising, including two episodes of her talk show dedicated solely to the film, and moderate to good critical reviews, Beloved opened to poor box-office results, losing approximately $30 million. While promoting the movie, co-star Thandie Newton described Winfrey as "a very strong technical actress and it's because she's so smart. She's acute. She's got a mind like a razor blade. In 2005, Harpo Productions released a film adaptation of Zora Neale Hurston's 1937 novel Their Eyes Were Watching God. The made-for-television film was based upon a teleplay by Suzan-Lori Parks and starred Halle Berry in the lead female role.
In late 2008, Winfrey's company Harpo Films signed an exclusive output pact to develop and produce scripted series, documentaries, and movies for HBO.
Oprah voiced Gussie the goose in Charlotte's Web (2006) and voiced Judge Bumbleton in Bee Movie (2007), co-starring the voices of Jerry Seinfeld and Renée Zellweger. In 2009, Winfrey provided the voice for the character of Eudora, the mother of Princess Tiana, in Disney's The Princess and the Frog and in 2010, narrated the US version of the BBC nature program Life for Discovery.
In 2018, Winfrey starred as Mrs. Which in the film adaptation of Madeleine L'Engle's novel A Wrinkle in Time.
Publishing and writing
Winfrey has co-authored five books. At the announcement of a weight-loss book in 2005, co-authored with her personal trainer Bob Greene, it was said that her undisclosed advance fee had broken the record for the world's highest book advance fee, previously held by the autobiography of former U.S. President Bill Clinton.
Her memoir, The Life You Want, was scheduled for publication in 2017. It did not appear in that year.
Winfrey publishes the magazine: O, The Oprah Magazine and from 2004 to 2008 she also published a magazine called O At Home. In 2002, Fortune called O, the Oprah Magazine the most successful start-up ever in the industry. Although its circulation had declined by more than 10 percent (to 2.4 million) from 2005 to 2008, the January 2009 issue was the best-selling issue since 2006. The audience for her magazine is considerably more upscale than for her TV show, the average reader earning is well above the median for U.S. women.
Online
Winfrey's company created the Oprah.com website to provide resources and interactive content relating to her shows, magazines, book club, and public charity. Oprah.com averages more than 70 million page views and more than six million users per month, and receives approximately 20,000 e-mails each week. Winfrey initiated "Oprah's Child Predator Watch List", through her show and website, to help track down accused child molesters. Within the first 48 hours, two of the featured men were captured.
Radio
On February 9, 2006, it was announced that Winfrey had signed a three-year, $55-million contract with XM Satellite Radio to establish a new radio channel. The channel, Oprah Radio, features popular contributors to The Oprah Winfrey Show and O, The Oprah Magazine including Nate Berkus, Dr. Mehmet Oz, Bob Greene, Dr. Robin Smith, and Marianne Williamson. Oprah & Friends began broadcasting at 11:00 am ET, September 25, 2006, from a new studio at Winfrey's Chicago headquarters. The channel broadcasts 24 hours a day, seven days a week on XM Radio Channel 156. Winfrey's contract requires her to be on the air 30 minutes a week, 39 weeks a year.
Personal wealth
Born in rural poverty, and raised by a mother dependent on government welfare payments in a poor urban neighbourhood, Winfrey became a millionaire at the age of 32 when her talk show received national syndication. Winfrey negotiated ownership rights to the television program and started her own production company. At the age of 41, Winfrey had a net worth of $340 million and replaced Bill Cosby as the only African American on the Forbes 400. With a 2000 net worth of $800 million, Winfrey is believed to be the richest African American of the 20th century. There has been a course taught at the University of Illinois focusing on Winfrey's business acumen, namely: "History 298: Oprah Winfrey, the Tycoon". Winfrey was the highest paid television entertainer in the United States in 2006, earning an estimated $260 million during the year, five times the sum earned by second-place music executive Simon Cowell. By 2008, her yearly income had increased to $275 million.
Forbes' list of The World's Billionaires has listed Winfrey as the world's only black billionaire from 2004 to 2006 and as the first black woman billionaire in the world that was achieved in 2003. As of 2014, Winfrey has a net worth in excess of 2.9 billion dollars and has overtaken former eBay CEO Meg Whitman as the richest self-made
Winfrey was called "arguably the world's most powerful woman" by CNN and Time.com, "arguably the most influential woman in the world" by The American Spectator, "one of the 100 people who most influenced the 20th Century" and "one of the most influential people" from 2004 to 2011 by TIME. Winfrey is the only person in the world to have appeared in the latter list on ten occasions.
At the end of the 20th century, Life listed Winfrey as both the most influential woman and the most influential black person of her generation, and in a cover story profile the magazine called her "America's most powerful woman". In 2007, USA Today ranked Winfrey as the most influential woman and most influential black person of the previous quarter-century. Ladies Home Journal also ranked Winfrey number one in their list of the most powerful women in America and Senator Barack Obama has said she "may be the most influential woman in the country". In 1998, Winfrey became the first woman and first African American to top Entertainment Weekly's list of the 101 most powerful people in the entertainment industry. Forbes named her the world's most powerful celebrity in 2005, 2007, 2008, 2010, and 2013.
As chairman of Harpo Inc., she was named the most powerful woman in entertainment by The Hollywood Reporter in 2008. She has been listed as one of the most powerful 100 women in the world by Forbes, ranking fourteenth in 2014. In 2010, Life magazine named Winfrey one of the 100 people who changed the world, alongside such luminaries as Jesus Christ, Elvis Presley and Lady Mary Wortley Montagu. Winfrey was the only living woman to make the list.
In 2005, Winfrey was named the greatest woman in American history as part of a public poll as part of The Greatest American. In 1989, she was accepted into the NAACP Image Award Hall of Fame.
"Oprahfication"
The Wall Street Journal coined the term "Oprahfication", meaning public confession as a form of therapy. By confessing intimate details about her weight problems, tumultuous love life, and sexual abuse, and crying alongside her guests, Time magazine credits Winfrey with creating a new form of media communication known as "rapport talk"
"The Oprah Effect"
The power of Winfrey's opinions and endorsement to influence public opinion, especially consumer purchasing choices, has been dubbed "The Oprah Effect". The effect has been documented or alleged in domains as diverse as book sales, beef markets, and election voting. Late in 1996, Winfrey introduced the Oprah's Book Club segment to her television show. The segment focused on new books and classics and often brought obscure novels to popular attention.
Philanthropy
In 2004, Winfrey became the first black person to rank among the 50 most generous Americans and she remained among the top 50 until 2010. By 2012, she had given away about $400 million to educational causes.
As of 2012, Winfrey had also given over 400 scholarships to Morehouse College in Atlanta, Georgia. Winfrey was the recipient of the first Bob Hope Humanitarian Award at 2002 Emmy Awards for services to television and film. To celebrate two decades on national TV, and to thank her employees for their hard work, Winfrey took her staff and their families (1065 people in total) on vacation to Hawaii in the summer of 2006.
In 2013, Winfrey donated $12 million to the Smithsonian's National Museum of African American History and Culture. President Barack Obama awarded her the Presidential Medal of Freedom later that same year.
Oprah's Angel Network
In 1998, Winfrey created the Oprah's Angel Network, a charity that supported charitable projects and provided grants to non-profit organizations around the world. Oprah's Angel Network raised more than $80,000,000 ($1 million of which was donated by Jon Bon Jovi). Winfrey personally covered all administrative costs associated with the charity, so 100% of all funds raised went to charity programs. In May 2010, with Oprah's show ending, the charity stopped accepting donations and was shut down.
In the wake of Hurricane Katrina, Oprah created the Oprah Angel Network Katrina registry which raised more than $11 million for relief efforts. Winfrey personally gave $10 million to the cause. Homes were built in Texas, Mississippi, Louisiana and Alabama before the one-year anniversary of Hurricanes Katrina and Rita.
Famous Quotes
Be thankful for what you have; you'll end up having more. If you concentrate on what you don't have, you will never, ever have enough.
Think like a queen. A queen is not afraid to fail. Failure is another steppingstone to greatness.
Surround yourself with only people who are going to lift you higher.
The biggest adventure you can ever take is to live the life of your dreams.
The more you praise and celebrate your life, the more there is in life to celebrate.
Cheers to a new year and another chance for us to get it right.
Lots of people want to ride with you in the limo, but what you want is someone who will take the bus with you when the limo breaks down.
Passion is energy. Feel the power that comes from focusing on what excites you.
Turn your wounds into wisdom.
Breathe. Let go. And remind yourself that this very moment is the only one you know you have for sure.
She is one great example of a person who has succeeded to rise from poverty and overcome terrible experiences in her past because of her determination and hard efforts. Her decisions to constitute her own destiny and her self-confidence make her the perfect role model for any women in the world. She remains as a humble and warm-hearted person who continues to be an inspiration for every person. I believe from Oprah's life and achievements we can learn a lot, we can also become leaders one day through behaviour. We have to learn to care for one another regardless of religion, ethical group, and race. We should always learn to be optimistic about things in life not everything would turn out the way we want them always be thankful for what you have as Oprah said "Be thankful for what you have; you'll end up having more. If you concentrate on what you don't have, you will never, ever have enough".