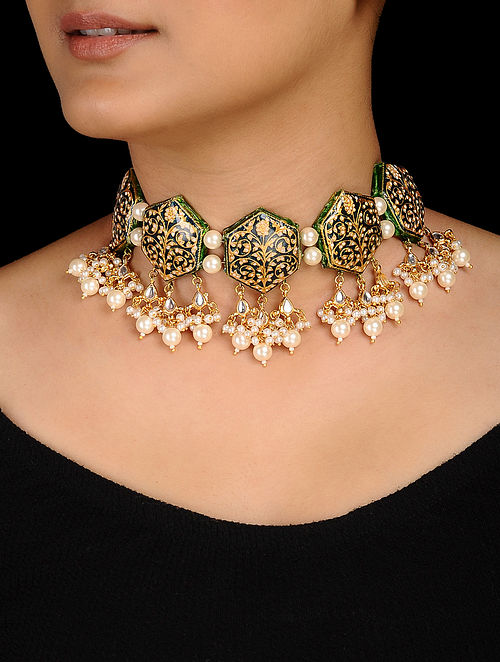 Gifting isn't always about roses or a box of chocolate. In fact, it is (and should be) about something that she can cherish for longer time like a handmade choker necklace or a delicate pendant necklace. After all, picking a perfect gift for any woman comes with a lot of expectations.
Feeling confused?
Well, don't be because we are here to help you! Check out these 5 Necklace Styles that any woman would love as a gift!
Boho Necklace:
Boho necklaces are meant to add a quirky vibe to even the simplest of the outfits. There is a wide range of designs available online but if you're looking for the best ones then nothing's better than a chunky silver necklace.
It looks extravagant but is comfortable to wear at the same time. So, don't wait and shop for boho necklaces online. To add a personal touch to your gift, give her a handwritten note along with the necklace.
Pendant Necklace:
A Pendant necklace is not just a necklace but a way to impress any woman (in seconds). Don't confuse the basic look of a Pendant necklace with boring appeal. It is, in fact, a sure-fire way to win any woman's heart and here's why:
The very first appealing thing about a pendant necklace is that it can be paired with ethnics, westerns and indo-westerns alike. The second thing is that looks classy and is comfortable to wear as well. If we talk about the third thing (and the most important factor), it is the fact that a pendant necklace comes with an affordable price tag.
So, what are you waiting for? Go to any online jewellery store and grab the best looking designs at affordable prices.
Threaded Necklace:
A Threaded necklace will give a classy update to her jewellery collection. Available in a variety of designs, a threaded necklace would make for an amazing gift for any woman.
Since there a plethora of designs available online, it might be a bit confusing for you to pick one design for her. If you ask us, you should go for Indian tribal necklace crafted in monochrome (single-colored) threads tied in knots.
Such styles will surely win her heart.
Choker Necklace:
Unlike every guy's expectations, a choker necklace is super comfortable to wear. You can gift her an oxidized silver necklace with a chunky appeal or a delicate choker necklace that will look good with her work wear outfits.
Choker necklaces are easily available online. To make it a complete gift you can club it with a pair of oxidized silver earrings or Meenakari jhumkas.
Layered Necklace:
Next up on our list is a Layered necklace and let us tell you one thing, you can never go wrong with layered necklaces. They can give a playful spin to any look. The best part is that they are in trend and work well with a wide range of western, ethnic, indo-western as well as work outfits.
The best styles feature double-stranded necklaces that are perfect for a standalone look as well as the single-chain necklaces that can be layered with other necklaces from her collection.
Which of these necklaces styles will you give her? Tell us in the comments below!