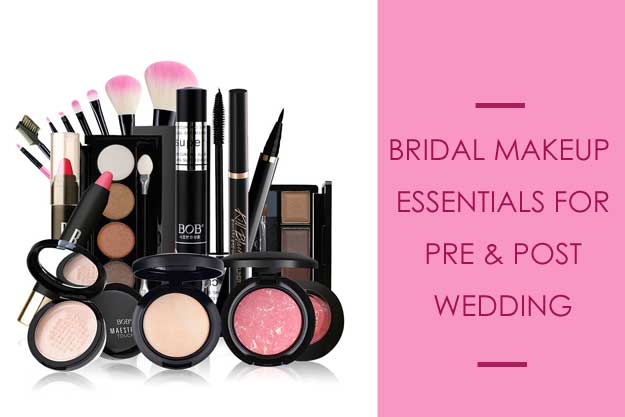 A wedding is an entire affair in every bride's life. Every bride-to-be wants to look her best on her special day of life. For this, You have to nail each & every preparation from wedding outfits to jewellery, hair styling to hiring a wedding MUA. But the most essential step, is what all items are needed in to complete a bridal makeup kit.
To help you out, we've created a short list of some basic products for makeup that needs to be kept handy around you before & after the wedding.
Scroll down and add these essentials to your makeup kit.
1. Moisturizer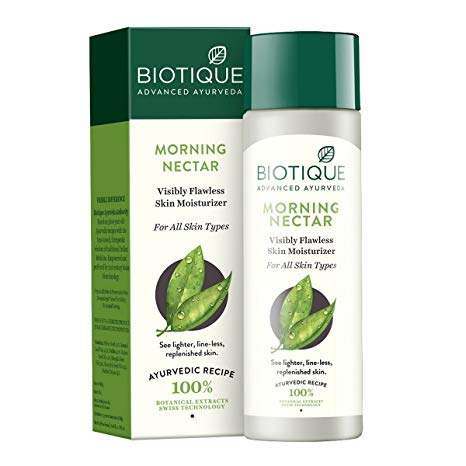 Start your day with a suitable moisturizer, after washing & cleaning the face well. Choose a moisturizer that is subtle to your skin type.
Recommended ones:
Clinique Moisture Surge Intense Skin Fortifying Hydrator
Biotique Morning Nectar
2. Primer
A good primer forms a base of your foundation & makeup as well help concealing the pores & reducing fine lines. Keep your wedding makeup, photo-fresh from the minute you walk into the event, and to after marriage.
The right primer regulates your dry & oily skin. So, don't skip this essential & primary step.
Recommended ones:
Pore fessional Face Primer by Benefit
Clinique Super Primer Face Primer
3. Foundation
One of the most popular makeup products among ladies! Foundation does the excellent task of hiding while filling the fine lines and the enlarged pores of the face.
Foundation is applied to give your skin an even tone and coverage. Choose the best foundation for your wedding here from the best foundations for Indian skin.
4. Concealer
Not everyone, is blessed with absolute pimple less & acne-free skin. In such conditions, what you need to hide all these imperfections from your skin? A concealer which rocks for you!
Conceal your blemishes, dark spots, and other imperfections from your face & look gorgeous on your special day by choosing the right concealer for you.
Choose from the best concealer for you from a list of the best concealers for Indian skin.
5. Blush
Want to look livelier at your wedding? So, get yourself a blusher & experience a pinkish look, use a brush to apply on your cheekbones (apple of your cheeks).
This product is available as a powder or a cream stick. All it does for you is to provide you with a natural-looking glowy skin.
Recommended ones:
Maybelline New York Color Show Blush
Note Terracotta Blusher
6. Eye Cream
This should ideally be applied regularly, a few months before the wedding to keep the under eyes areas of the skin well hydrated.
*Kiehl's' Creamy Eye Treatment with the goodness of Avocado is highly recommended.
7. Highlighter
You would be wearing fancy Ghagra, elegant clothing, and heavy lehengas with jewellery, one after the other during your wedding. You need to keep up the pace with the beauty of your attire by acing up your makeup game. This would only be done by adding a shimmery highlight to your naturally glowing facial skin.
Some best recommendations for Highlighters:
Bobbi Brown Highlighting Powder
MAC Prep + Prime Highlighter
Lakme Absolute Illuminating Blush, Shimmer Brick Highlighter
8. Eyeliner
This is undoubtedly a must-have in any of the basic makeup kit. Whether you are a fan of Smokey eyes or a winged look, good eyeliner is all that you need.
Choose from here the best eyeliners available in India.
9. Mascara
Brides' best friend that should never be forgotten! Mascara works super fast to liven up your eyes immediately. A significant touch of this magic application makes your eyes look VA-VA VOOM.
Ultimate Mascaras for those brides-to-be who can't handle false lashes.
Choose the best ones for you:
Benefit: They're Real
Tom Ford Extreme Mascara
Clinique High Impact Mascara
Smashbox Super Fan Mascara, and many more…
10. Makeup Setting Spray
A setting spray ensures to keep your makeup stay well in place and all that hard work your makeup artist did on you, does not go waste even after the long hours of the wedding.
Recommended ones:
MAC Prep+Prime Fix+
NYX Matte Finish Fini Matte
The best magic begins with the products you stock for your wedding. Ace a sophisticated bridal makeup look with this ought-to have essentials in your bridal kit. Remember, these makeup products are the most important that should be available with you in your bridal makeup kit.