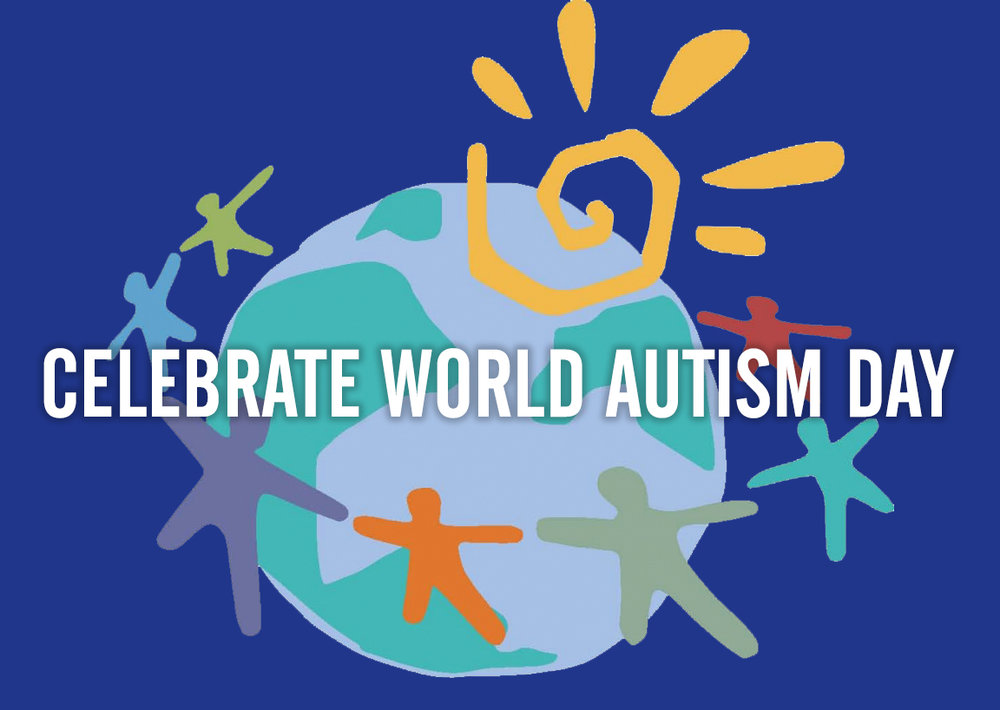 World Autism Acceptance Day is an internationally recognized day on 2 April every year, encouraging the Member States of the United Nations to take measures to raise acceptance about people with autism throughout the world. It was designated by the United Nations General Assembly resolution "62/139. World Autism Acceptance Day", passed in council on 1 November 2007, and adopted on 18 December 2007. It was proposed by the United Nations representative from Qatar, Her Highness SheikhaMozah bint Nasser Al-Missned, Consort of His Highness Shiekh Hamad Bin Khalifa Al-Thani, the Emir of the State of Qatar, and supported by all member states.This resolution was passed and adopted without a vote in the UN General Assembly, mainly as a supplement to previous UN initiatives to improve human rights. Since its inception autism awareness and research around the world has increased as a result
World Autism Day is also one of only four official health-specific UN Days.The day itself brings individual autism organizations together all around the world to aid in things like research, diagnoses,
treatment, and overall acceptance for those with this neurological variance.
The original resolution had four main components:
·the establishment of the second day of April as World Autism Awareness Day, beginning in 2008
·invitation to the Member States and other relevant organizations to the UN or the international societal system, including non-governmental organizations and the private sector, to create initiatives to raise public awareness of autism
The ·encourages Member States to raise awareness of autism on all levels in society
·asks the UN Secretary-General to deliver this message to member states and all other UN organizations.
2 April 2008
The first Autism Acceptance Day was highly mandated and hosted by the UN branches around the world. The highlighted events were held at the United Nations Headquarters in New York. The events hosted by the UN includes a panel discussion sponsored by Qatar and the UN representative responsible for the resolution, along with the World Health Organization. In addition, there was a briefing held for NGO's on topics relating to autism acceptance. Both of these events focused on personal efforts for acceptance raising and eliminating negative stigma associated with autism. In addition, there were highlights on the struggles of Autistics to be accepted and the importance of better understanding this neurological variance.
World Autism Awareness Day in Europe
In Europe the international association Autism-Europe runs a campaign every year, focusing not only on awareness but also on fostering a greater understanding of autism. Autism-Europe's campaigns to date have therefore focused on things such as employment for people on the autism spectrum, discrimination, neurodiverse societies and accessible products, services and communities.
Autism-Europe's member organizations, of which there are more than 80, also commonly work on the same campaign, and promote it in their respective countries.
The Power of One March
The Power of One March is The National Autism Awareness March and is a unique night-time march in Washington, D.C., on World Autism Awareness Day, which is 2 April 2016. The march aims to unify the autism awareness community and provide a time of healing and peace around the globe. Attendees may choose which organization they want to march for with proceeds of LED bracelet sales going to the organization of their choosing.
Ontario
Autism Ontario celebrates World Autism Awareness Day by "Raising a Flag" for autism. Municipalities around Ontario raise a flag to raise awareness for autism in their region.
Onesie Wednesday
In 2014 WAAD coincided with Onesie Wednesday, a day created by the National Autistic Society to encourage people in England, Wales and Northern Ireland to show their support for anyone on the autistic spectrum. By wearing a onesie or pyjamas, participants are saying, "it's all right to be different".
United States
In a 2015 Presidential Proclamation, President Obama highlighted some of the initiatives that the US government was taking to bring rights to those with autism and to bring awareness to the disorder. He highlighted things like The Affordable Care Act, which prohibits health insurance companies from denying coverage based on a pre-existing condition such as autism. He also pointed out the recent Autism CARES Act of 2014, which provides higher level training for those who are serving citizens on the autism spectrum.