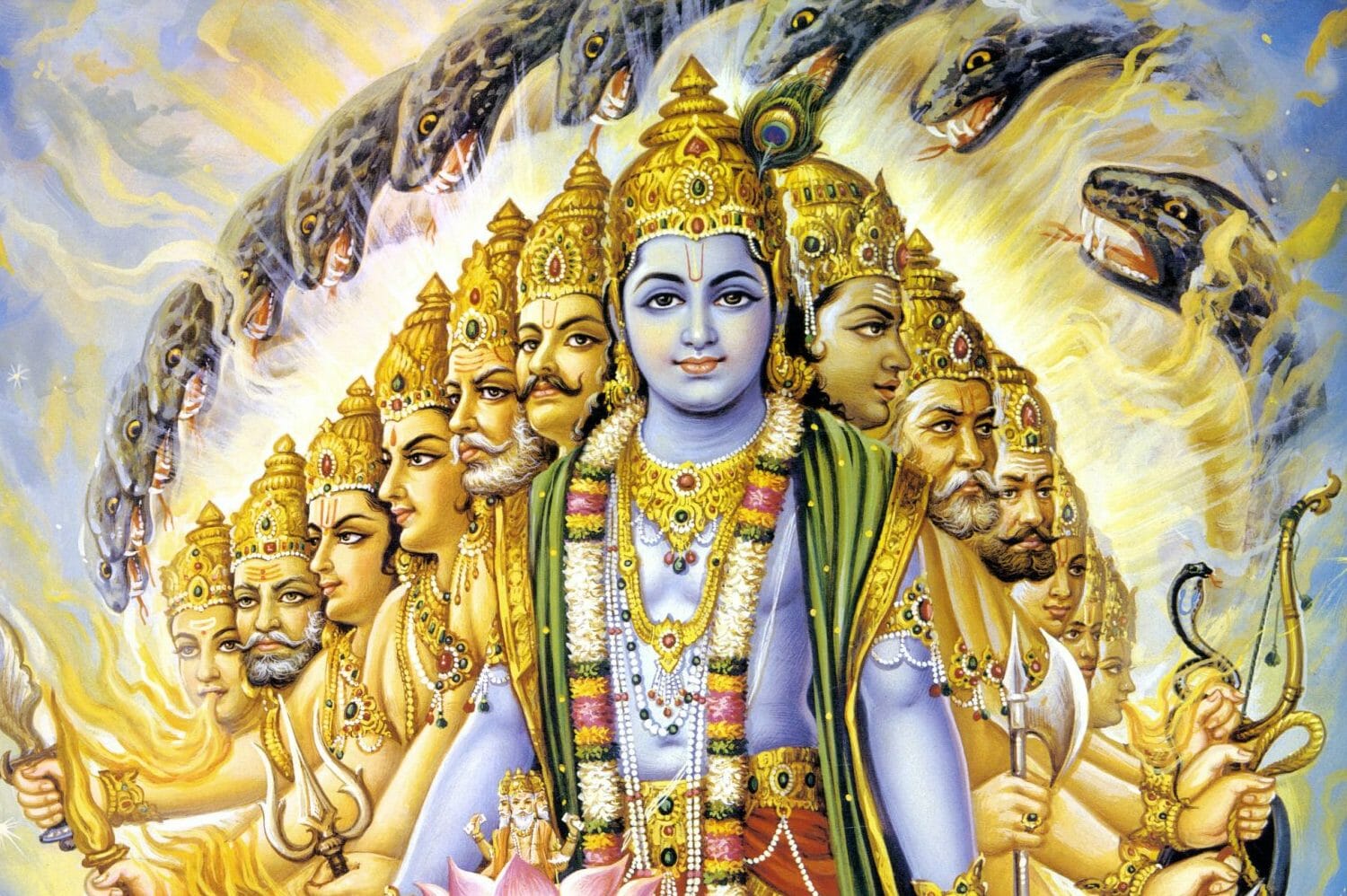 Blissful State - In Gita Verse 3.39 Thus the wise living entity's pure consciousness becomes covered by his eternal enemy in the form of lust, which is never satisfied and which burns like fire.
Krishna tells Arjuna that our biggest enemy is our desires. Which cannot be fulfilled. In my Bhagavad Gita Verse 1.12, I wrote that Needs can be fulfilled, but desires or wants cannot be.
What is desire? Have you looked into your desiring mind ever? Have you encountered it? Have you tried any meditation on it? What is desire?
You desire a certain house; you work for it, you work hard. You destroy your whole life for it – then the house is there. But is fulfillment there? Once the house is there, suddenly you feel very empty – you feel more empty than before, because before there was an occupation to achieve this house. Now it is there: immediately your mind starts looking for something else to get occupied with. Now there are bigger houses; your mind starts thinking of those bigger houses. There are bigger palaces…. You desire a woman and you have achieved your desire, then suddenly your hands are again empty. Again you start desiring some other woman.
This is the nature of desire. Desire always goes ahead of you. Desire is always in the future. Desire is a hope. Desire cannot be fulfilled because its very nature is to remain unfulfilled and projected in the future. It is always on the horizon.
You can rush, you can run towards the horizon, but you will never reach: wherever you reach you will find the horizon has receded back. And the distance between you and the horizon remains absolutely the same. You have ten thousand rupees, the desire is for twenty thousand rupees; you have twenty thousand rupees, the desire is for forty thousand rupees. The distance is the same; the mathematical proportion is the same.
Whatsoever you have, desire always goes ahead of it.
What Krishna says come out of the desire, - Buddha created technique for it. It will be simple and practical for us. Rather then trying to understand Krishna's word let's have our own experience with Buddha's technique.
Before desire and before knowing, how can I say I am?
Buddha used this technique and he said to his disciples not to do anything else but just one thing: when a thought arises, note it down. Buddha used to say that when a thought arises, note down that a thought is arising. Just inside, note it: now a thought is arising, now a thought has arises, now a thought is disappearing. Just remember that now the thought is arising, now the thought has arisen, now the thought is disappearing, so that you don't get identified with it.
It is very beautiful and very simple. A desire arises. You are walking on the road; a beautiful car passes by. You look at it – and you have not even looked and the desire to possess it arises. Do it. In the beginning just verbalize; just say slowly, 'I have seen a car. It is beautiful. Now a desire has arisen to possess it. Just verbalize.
In the beginning it is good; if you can say it loudly, it is very good. Say loudly, 'I am just noting that a car has passed, the mind has said it is beautiful, and now desire has arisen and I must possess this car.' Verbalize everything, speak loudly to yourself and immediately you will feel that you are different from it. Note it.
When you have become efficient in noting, there is no need to say it loudly. Just inside, note that a desire has arisen. A beautiful woman passes; the desire has come in. Just note it – as if you are not concerned, you are just noting the fact that is happening – and then suddenly you will be out of it.
Buddha says, 'Note down whatsoever happens. Just go on noting, and when it disappears, again note that now that desire has disappeared, and you will feel a distance from the desire, from the thought.'
This technique says:
Before desire and before knowing, how can I say I am?
And if there is no desire and if there is no thought, how can you say I AM? How can I say I AM?
Krishna says once there is no desire, you will find no thoughts or lust regarding life. Through your subjectivity you are connected with the whole, universe, that will use your body to respond in the present moment without expectation of fruits. In your blissful state you will be able to fight this war.