ORNAMENTAL PLANTS:
ornamental plants are grown for decorative purposes in gardens,for landscape designing,houseplants, as cut flowers and specimen display.They play an important role in human health and psychology. People develop positivity in plant settings. Human health depends on well functioning ecosystems.
USES:
INDOOR ORNAMENTAL PLANT USES:
Natural Healers --The Aloe vera plant also known as the'lily of the desert' is called the 'immortality' and 'medicinal plant. It cleans the air, the gel of the plant helps to heal cuts, soothes burns.
The leaves are boiled and are used as inhalants for asthma patients as the vapors help to alleviate asthma symptoms.
FRESH AIR--
NASA carried out a study called the 'clean air study' to find out which plants help to clean the air by eliminating the toxins.The spider plant(Chlorophytum comosum) helps to get rid of Benzene, Formaldehyde , Carbon monoxide and Xylene common volatile organic compounds.
Rubber plant (Ficus elastica) also removes toxins like Formaldehyde from the house.
BREATHE EASY:
Most plants take in carbon-di-oxide and convert it to oxygen in the day but the snake plant(Sansevieria trifasciata'Laurentii') or The Mother-In-Law's Tongue is the only plant which releases oxygen at night and can be kept in the bedroom.
NATURAL HUMIDIFIERS:
Areca palm(Chrysalidocarpus lutescens) also known as butterfly or golden cane palm releases moisture in a room.It is apt to be kept during dry winter months.
NATURAL SCENTS:
Fragrant plants like dwarf kaffir lime trees(Citrus hystrix) can fill the home with a wonderful scent instead of using artificial scents. It is a natural and chemical free way to freshen the house.
LESS STRESS:
Plants in the house and work-place create positivity among people. Plants like bamboo palm(Chamaedorea seifrizii) and weeping fig (Ficus benjamina) regulate humidity and reduce carbon-di-oxide emissions in the house and offices and this helps to reduce stress and brings about better productivity.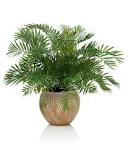 RESTFUL SLEEP:
Vapors from some plants like Jasmine(Jasminum) and lavender(Lavandula) can lead to restful sleep.Their fragrance in the bedroom can lead to tranquility and help in better sleeping conditions.
IMPROVE MENTAL HEALTH:
Studies have shown that flowers and plants in patients' rooms help them recover faster. Plants enhance positivity,give security and relaxation. They ward off loneliness and depression. African violets(Saintpulia) are lovely blooming plants and can be gifted to patients.
OUTDOOR ORNAMENTAL PLANTS:
They help to beautify a landscape and create an appealing environment.
PLAY AN IMPORTANT ROLE IN FENG SHUI--
They are used to balance the Yin and Yang energy of the place.
Beautifying landscape
FENG-SHUI PLANTS