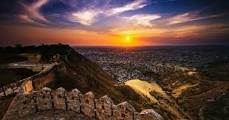 I have been in Jaipur for 3 years as my college is there, being a student we always go roaming around city or nearby places on weekends .So, this article is going to be helpful if you are planning to visit – the pink city (JAIPUR).Now, when I say pink city what comes in your mind that a city painted all pink, well that's not as it sounds like, modern Jaipur architecture and building shows vivid colors .But, dated back during regime of Maharaja Sawai Ram Singh ,when princess Albert and Victoria were about to visit India, the city was ordered to get painted terracotta pink as color represents hospitality and warm welcoming. From that day onwards, Jaipur is called the pink city as most of the old buildings of Jaipur are painted in pink.
Jaipur which has been capital of loyalty, is now serving as capital city of state Rajasthan. Jaipur has always attracted people across the world for its fascinating palaces, markets, foods, culture, music and art. If you love palaces and crave to have an insight on the lifestyle of the rulers of the bygone era, Jaipur is the city for you. Jaipur's palaces-turned-heritage hotels are where you need to stay for a lifetime experience. If you fancy elephant rides, you need to be in Jaipur to have a royal ride on the elephants. You can customize the rides the way you need, take elephant rides on jungles, through villages, in Biological Park and many more.
I will quickly brief you about places which you need to visit in Jaipur, but before that I must tell you how to reach Jaipur, Jaipur is located 280km from Indian capital New Delhi and 225 km from city Agra (where Taj Mahal is located) from both these cities one can reach easily by taking bus or train . Timing and booking can be confirmed from official websites viz,. www.irctc.co.in and www.redbus.in . Also, you need to carry clothes according to weather, winter in Jaipur lasts between October till March and the days during this period are chilly, but one can enjoy the sightseeing in the day time as the temperature lies between 20 to 25 degrees. But the night temperatures fall down terrifically and carrying woolens is a must to have a pleasant trip. Summers in Jaipur are very hot and the weather turns to be much humid between April to July. People may experience hottest and long days, but by nights the climate will turn to be warm. Wearing cotton clothes and having many fluids will help one to beat the heat and complete the trip safely.
Coming to Jaipur, you won't want to stay at regular Jaipur hotels, of course you can do that elsewhere! So enjoy luxurious living in forts turned hotels of Jaipur and if you coming down for longer period and want to have comfortable home life then Jaipur have ample of homestays and boutique resorts. Some of best places where I have been are: Devi Niketan which is budget friendly and has recreational facilities like pool, garden games & 1 acre campus with walking track. Next we have Biseswari palace, it's a 250 year old palace which is now converted into comfortable resort with modern amenities but it will give you the feel of loyalty living with red carpet, fine dining, and camping. Also there are Jaipur hostels if you coming in group, they have dorms ,from there you can hire scooty, car or even elephants for you tour across city. These dorms have mixer of culture, People from different parts of world stay here for research and culture exchange. They cook food together, enjoys indoor games, plays music and dance together.
Jaipur is also called shopper's paradise. When you are in Jaipur shop... shop... and just shop.What you find in Jaipur is nowhere to be found in the world. For all you know, people from across the world come to Jaipur to shop. For those who want to do jewellery shopping, Jaipur is the 'it' destination. It is famous for its jadau, lac and kundan jewellery of precious and semi-precious stones. Very recently, when Hugh Jackman came to India with his wife, they visited Jaipur and shopped for Rajasthani block printed fabric and lots of jewellery.The Hollywood celebrity couple Michael Douglas and Catherine Zeta-Jones visited Pink City. They were accompanied by their children.The family was spotted visiting Johari Bazar,Bapu Bazar and shopped for some artifacts. They were delighted to see Jaipur's City Palace. The couple was seen praising the beauty of the palace to kids.
The perennial favorite markets in Jaipur are: Bapu bazaar, Chaura Rasta, Tripoli bazaar, Maniharon ka rasta, Jauhari bazaar, MI Road among others. From Rajasthani kurtis (long tunics), jutis (sandals) to ethnic saris, it's a one-stop destination. And for block printed garments and blue potteries, the best place is the Saganer village. It is also known for its leather items like jutis, bags, purses.
Amidst palaces, hills, hot weather, Jaipur history has lot of impact on its cuisine too. As Jaipur is surrounded mostly by desert , cuisine focuses more on beans, jawar(barley), red chilies, berries which are commonly grown in area. Dry wild leaves are used in curries. Traditional dish of Jaipur(Rajasthan) is dal-bati-choka. Also common dishes are: lentil puff pastries,Ghewar(a sweet cooked in ghee),Pepper chicken,laal maans(meat), Mirchobadas (Made With Hot Green Chilies).Best layouts there are : Anoki café, laxmi misthan bandar,tapri café.Cafes in Jaipur are best and it doesn't matter wherever you staying you will always find a café nearby.Apart from this you can enjoy street food at MI Road, Fashion street, raja park and Bapu bajar.
A vacation in the mesmerizing city Jaipur will be a astounding experience as people of different taste and all ages can find something that entertains them. Also holiday in this princely city is a gateway to enjoy and explore the royalty. And I hope after reading this article your next tourist destination is JAIPUR .