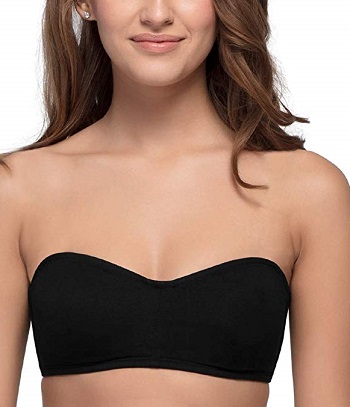 The modern dressing culture makes the bra with straps an obsolete thing. With the lucrative and enticing strapless and off-shoulder dresses, a strapless bra is the best companion. Further, the street fashion has made dresses such as bandeau tops and halter other free-style dresses hot numbers on the trend charts. All these dresses call for you to wear a strapless bra.
Strapless Bra - these two words have the power of raising the eyebrows of many girls and women out there who still have not tried them. Many women tend to avoid them because they think that it will simply fall off! On the other hand, many women think that strapless bras are not good enough for their body types. However, all of them forget that strapless bras are nothing short of a blessing when it comes to experimental outfits with risque necklines.
Further, if you shop properly and opt for the designs that are perfectly hugging your bodies, you can do all kinds of activities without any issues. In this post, we are going to discuss some of the best tips for shopping strapless bra. You can read and follow them to shop for the strapless bras. So, ladies, gear up for a knowledge session and make the best use of it by shopping your first strapless bra.
1 - Size is crucial!!
It is extremely important to KNOW your size and shop the bra that is a perfect fit! As loose bra can cause an embarrassing situation. So, go for offline shopping and try the bras one by one. Take help from the salesgirls and discuss the problem areas with them such as sagging breasts, side bulges, and other such issues. Many women have broad shoulders and back, but their bust size is smaller. In that case, opt for a strapless bra that comes with different levels for hooks. If you have heavy bust and are fearful of the strapless bras, you can also opt for the ones that come with silicone straps running from the sides of your cups.
Many other interesting options are available online, and you can even try them at home for a better judgment.
2 - Check the band; it should NOT move!
The band of the strapless bra should be perfectly hugging your breasts and should not move when you move your body. Therefore, it is important to resize your body and try the bra ON before making the purchase. Pay close attention to the band as it will be the only thing that will be holding the bra in place!
3 - Bigger Size?? More hooks!
The women with bigger bust sizes should opt for the strapless bras with more hooks for better and fuller coverage on all sides. Just two hooks at the back might not be sufficient for the ladies with fuller busts. This is also one of the major reasons that strapless bras are not loved by women with a bigger bust. However, they tend to overlook the fact that strapless bras are perfect when they are bought perfectly. Shyaway – an online lingerie platform offers a wide range of varieties in the strapless bra category with 3 and 4 hooks. The bras are available in many styles, designs, patterns, and colours. You can also couple your purchase with the Shyaway discount coupon and enjoy decent savings.
Likewise, you can opt for different strap options such as bras with convertible straps and bra extenders, etc. All such options will make sure that you can wear your strapless bras with multiple outfits and without a single worry in the world! The long line strapless bras are perfect for women with bigger busts. Silicon lining bras are yet another amazing option for them as they just don't slip!
4 - Don't ignore the sides!
Find the bras with better side boning. Boning refers to a stripe of metal or plastic that runs on the sides from the wings. It is embedded inside the bra fabric and is cushioned properly to avoid any discomfort as well. It is provided to keep the bra standing at all times and prevents it from losing the grip over the bust. You can find many different options that can be chosen depending on your bust size.
5 - Select the RIGHT fit clothes!
Make your strapless bra a perfect hit with the clothes of the right fitting. Don't wear clothes that are too tight around the bust. This will put excess pressure on your bra and can even cause slipping. We suggest opting for the clothes that are fit at the lower back instead of the chest area.
Also, stay away from lotions as they can cause sweating and bra might slip.
Now that you have been enlightened, don't waste any more time and shop your strapless bra right away. Don't forget to use the Shyaway Coupon code to enjoy big savings on every purchase!