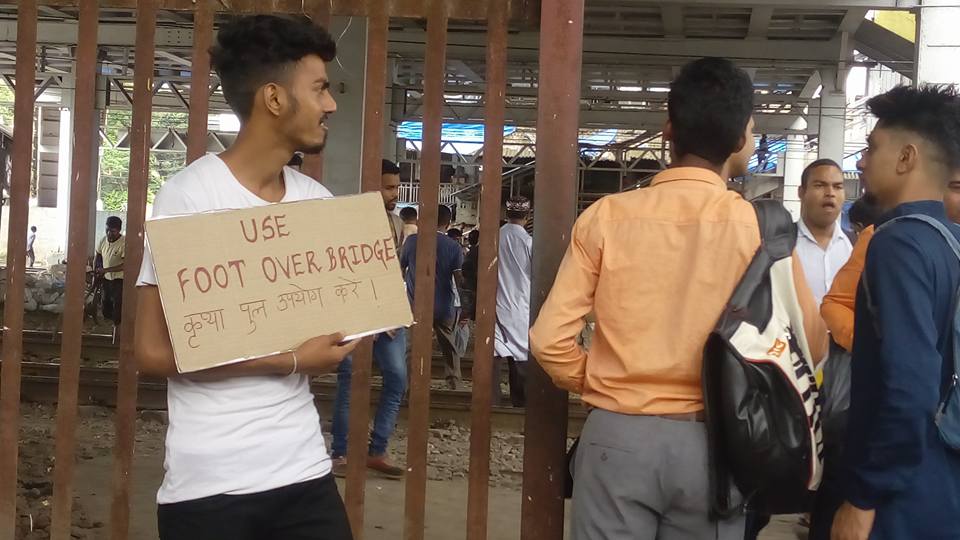 That day was pretty good. When I started walking towards Jogeshwari Railway Pathak to go to west. It's my daily routine. I suddenly surprised when I saw that 2-3 persons are standing near railway Pathak with request board. The message displayed was very clear.' Do not Cross, Use Foot over bridge. The guys standing there were not from any political party or there was no specific board, identity card, batch carrying out by them. It was the social work. Nothing would be beneficial to them from that task.
It was the pure request to people who want reach early at their destination. Someone wants to reach on time in the office. Someone's family was waiting for them to reach at home on time. Children, old age person, hawkers, disabled, everyone wants to cross the railway track.
Why? Why to die? If you use to go from east to west or vice versa. You may come across the one thing near jogeshwari railway Pathak and so other railway stations also-the Ambulance. Every month minimum to 2 bodies has been collected from railway track. The whole procedure disturbs the authorities, family and passers. It never to be seen that people using the foot over bridge. Free…. absolutely free….no one will charge you. And Safe. Condition is that you have to use it for you and your family, friend, colleges who knows your importance in their life.
It is quite disturbing that railway authorities failed to stop this. Railway police also tried. They constructed a wall, later it was demolished. The People do not understand the importance of their life. I come to know from the source that the ruling party planning to give escalator facility to people. That is good. We must thankful to them. But the question yet unsolved. Who will educate people?
Can Railway authorities put instruction board near railway crossing? The ruling party or social committee guide people constantly with boards and pamphlets. Or the celebrities like Akshay Kumar, Aamir khan's message may display of hoardings near railway stations.
First step towards this good work is to use Foot Over Bridge !!