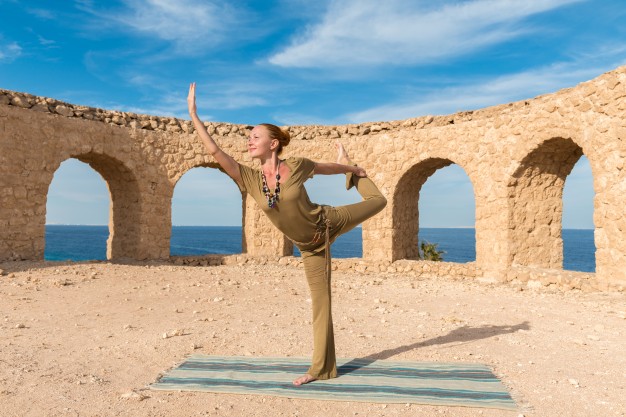 We live in a fast-paced world, where money and relationships are one of our primary concerns and the things we worry about the most. Staying in the cities can be a tiring experience. Now more than ever, people need a break from city life.
Now more than ever, people need a place where they can experience peace and a deeper connection to themselves, to those they love and to all of life. To host a yoga retreat is one of the best ways in which you can provide this space that people need.
Here are top 9 destinations to host a yoga retreat:
Kerala, India
Kerala is a tropical state located in the south of India. It is known for its palm-lined beaches, enchanting backwaters, tea plantations, coffee plantations, spices, traditional dance forms, and its diverse wildlife.
Not only this, but Kerala is also known and globally loved for being the home for yoga and Ayurveda. Many highly experienced and fierce yoga masters and teachers reside in Kerala.
Kerala is one of the best destinations to host a yoga retreat. It is abundant in luscious green mountains and landscapes. The pristine beaches of Kerala create a deep feeling of relaxation and connection.
You can host a yoga retreat on a beach in Kerala or in the lap of the Western Ghats in Kerala to give a profoundly spiritual experience to the participants of the yoga retreat.
Koh Phangan, Thailand
Think of clear blue waters, pristine beaches, refreshing waterfalls, luscious greenery, delicious food, and intense spiritual energy – that is Koh Phangan.
Koh Phangan is one of the most beautiful islands in Thailand. Yoga lovers and spiritual seekers from all over the world travel to Koh Phangan in search of more profound spirituality and connection to the divine.
Koh Phangan has strong spiritual energy, which makes it one of the best destinations to host a yoga retreat. Many people have profound spiritual experiences here. Many yoga retreats are held in Koh Phangan.
Doing yoga by the beach and feeling the profound peace of the oceanic sounds is one of the best feelings.
Bali, Indonesia
Bali, a magical island in Indonesia, an upcoming and one of the most loved spiritual hubs of the world. Here too, the spiritual energy is strong. Bali has terrific volcanic mountains, coral reefs, white-sand beaches, and an abundance of greenery.
Truth seekers, spiritual seekers, perma-culturists, organic farmers, yoga lovers, Ayurveda therapists – you will find all of it in Bali. It is a budding island filled with people who are passionate about healing and human expansion.
Bali is the perfect place to host a yoga retreat as it provides the ideal atmosphere and the right kind of people, which make the perfect yoga retreat.
Nosara, Costa Rica
Nosara is a magical village and is the yoga capital of Costa Rica. It is known for its diverse wildlife and also has a fantastic refuge for wildlife. Nosara has beautiful beaches, diverse wildlife, and amazing resorts for yoga retreats in Costa Rica.
People from all over America and all over the world travel to Costa Rica seeking the meaning of life, and Nosara is the most visited village in Costa Rica.
The luscious rainforests, pristine beaches, and hundreds of yoga lovers travelling to Nosara make it an amazing destination to host a yoga retreat.
Sedona, Arizona
Sedona is a sacred desert in the southwestern state of Arizona. Here you will find colorful markets, new age shops, and a vibrant arts community.
Sedona also has powerful energy vortexes. These energy vortexes hold powerful transformational energies that accelerate the spiritual growth of a person. Many people come to meditate in these energy vortexes.
With majestic canyons, red rock buttes, serene pine forests, and so many spiritually oriented people traveling and staying in Sedona makes it one of the best destinations to host a yoga retreat.
Puerto Vallarta, Mexico
A charming beach town in Mexico, Puerto Vallarta holds unique energy as the Ley lines pass through here. Ley lines are the spiritual veins of the land that hold mystical and powerful energy.
Ley lines are unseen lines of energy that connect other powerful and sacred places on the earth together. These ley lines are what make the energy in Puerto Vallarta healing and expansive.
Many a time, these ley lines bring up emotions and thoughts within us that do not serve us anymore and need to be released. Yoga and these powerful healing energies make Puerto Vallarta an amazing destination to host a yoga retreat in mexico.
Ojai, California
Ojai is a small and cosy city in the American state of California. Ojai is one of the places that many spiritual seekers and new-age spiritualists visit to take a time out from the noisy city life.
Ojai is nestled in the valley of the Topatopa Mountains and is the perfect place for the people California to take a break from the hectic city life and connect deeply to Mother Nature and themselves.
Ojai has some beautiful art galleries, small artsy shops where crystals and other similar things are sold, and fantastic resorts and landscapes to host yoga retreat.
Spiritually minded people, yoga lovers, and soothing landscapes make Ojai a fantastic destination to host a yoga retreat.
Koh Rong, Cambodia
An enchanted island in Cambodia, Koh Rong is loved for its sandy coves, coral reefs, and pristine beaches. Adding to the bays and reefs, the dense jungles, coconut palms, and lovely waterfalls makes this place a heaven on earth.
Koh Rong is one of the most beautiful islands in Cambodia, and people from Cambodia and all over the world travel here to experience the beauty and magic of Mother Nature.
The perfect resorts, an abundance of Mother Nature and yoga lovers travelling to Koh Rong, make it a fantastic destination to host a yoga retreat.
Unawatuna, Sri Lanka
With a touch of Buddhism, Unawatuna is the most popular beach town in southern Sri Lanka. The beaches of Unawatuna have hipster cafes and a vibrant nightlife.
Along with pleasant beaches, Unawatuna also has a luscious and dense jungle. With delicious food served at the beach cafes, people can also enjoy rope swing, a fun adventure sport that is loved in Unawatuna.
Unawatuna has a beautiful mixture of the jungle and beach vibe, making it one of the best destinations to host a yoga retreat.
The destination of the yoga retreat makes a world of difference. Make sure the destination you choose to host a yoga retreat is one that helps people relax, find a deeper connection to themselves and life, and, most of all, leave people with a renewed and refreshed spirit.