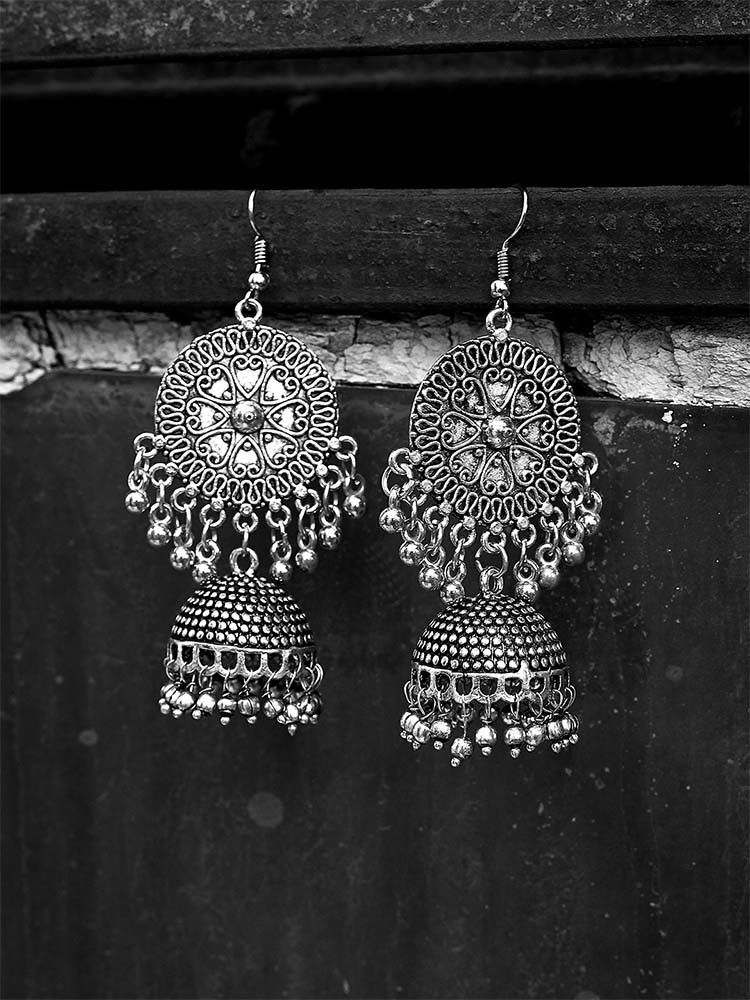 Wearing jewellery is loved by all, but what's more important is to adorn the right kind to create a head-turning look. Amongst the different jewellery options that we have, tribal jewellery is something which has become a hot pick for many. Owing to their bold appeal, captivating designs and unique look, they are a quintessential part of every woman's wardrobe.
When we talk in the content of Indian tribal jewellery, then the inspiration for the same is drawn from the tribal people and nomads. These pieces of jewellery are not intricately designed; rather, you can find unevenness, and that is the beauty of these pieces of jewellery. They are highly versatile, and you can easily don them with your Indian and western outfit. In this blog, we bring you some great ways to style the tribal pieces of jewellery for wedding parties.
Style them with charm :
Weddings in India are extravagant affair, everything is grand about them, the look, the attire and everything you can think about. So, one has to look different, stylish and beautiful. A good piece of jewellery can help you in achieving this, and if you are willing to showcase your bold avatar, then tribal pieces of jewellery are the best options.
All you need to do is pick the right one, and you are good to go. Here are a few options that you can try:
1. A statement necklace
If you are planning to create a subtle, yet appealing impact and don't want to wear a heavy 9-yard around you, then adding a tribal statement necklace to a plain saree will do the job. With a bold necklace you can amp up your look easily.
2. Chunky earrings
Planning to create a whimsical look for the wedding, then add chunky earrings to your attire. These look perfect with your Indo-wester outfit. You can find tribal jewellery online and on these portals, you can also explore various designs and patterns. Whether you are planning to wear a saree or a western outfit, the chunky earrings will be perfectly complementing the same.
3. Simple and sophisticated
Most of us associate tribal pieces of jewellery with bold look, but that is not necessary. You can even find the simplistic pieces of jewellery in this. If you have to attend a day function at the wedding, then you can add simple tribal jewellery online and make yourself look charming without going over the board.
4. Boho-chic
wedding looks are all about being extravagant, beautiful and attractive, so why not ditch the idea of everything being idealistic and adopt an avatar that will make you look different. So, go the boho way. It's a freestyle and looks perfect if you have a daytime wedding. You can wear layered necklaces or team up a long necklace with a pendant. They will look amazing.
5. Nomadic style
Got to attend a summer wedding on the beaches, then why not go for the gipsy, nomadic necklace. You can opt for suede chokers or shell chokers to complement the look.
6. The conventional Indian avatar
Sarees are the all-time favourite when it comes to the wedding. This 9-yard of beauty can make you look charming and elegant. So, if you have to choose a complementing tribal necklace to wear along with it, then you must go for a bold tribal necklace or a beaded necklace, they will complement your wedding look perfectly.
Well, dressing up is all about experimenting with your look. You don't have to spend a huge amount to look all dolled-up. If you are planning to attend a wedding, then the styling options mentioned above option will help you style like a pro.