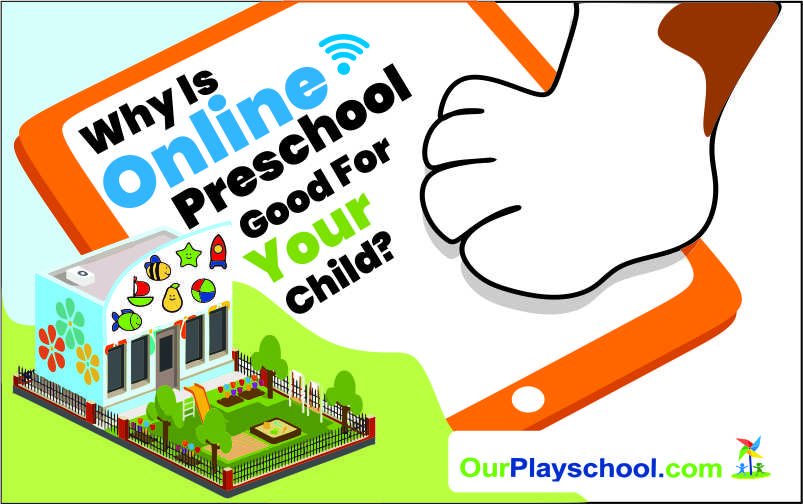 Attending preschool is an essential part of child development. The benefits of preschool go beyond just the educational purpose. As it is the first step of your child towards attaining knowledge, it has to be wholesome. Activities in preschool are geared to help kids to learn new things.

In the process, they also get to make friends and participate in group activities. As the current situation is not permitting offline education, we encourage parents and caretakers to consider online preschool classes. Read ahead about how an online preschool program can help your child to flourish.
Here Are the Reasons Why Preschool Is Good for Children
Online preschools might have become popular now due to the current situations that have been created by COVID-19 but these have been responsible for teaching children virtually for a long time. It is like having a preschool at home. If you are still not sure about online early preschools, read how they can benefit your child:
1. Flexibility
Unlike traditional preschools, online preschools allow your child to attend classes at their pace. We all know that toddlers can be moody and they are allowed to be. Also, they cannot train their bodies as adults. They still are not in control of when they feel sleepy or hungry. The flexibility offered by online preschools allows them to attend classes when they are completely ready for them.

2. Comfort Zone
As going to the preschool is out of their comfort zone, it is necessary to make the transition as easy as possible. Toddlers find it difficult to cope with change. Many toddlers end up crying all day when they are sent to physical preschools. As they can attend an online preschool in the comfort of their home, they will not feel that distressed and will happily learn new things.
3. Safety
Toddlers are highly susceptible to catching diseases faster than adults. Children develop immunity as they grow up. Thus, it is important that they are protected during their formative years. This has become significantly important during the current pandemic. It is safer for your child and for other children to stay indoors during these testing times and attend online classes.

4. Co-Teaching
According to studies, about 2.5 million children are homeschooled every year in the USA. Online preschools give you the perfect opportunity to find the middle way between traditional and homeschooling. You can participate with your child and become a co-teacher. Everything that your child will learn will be witnessed by you and you can contribute to it.
How Old Should Your Child Be for Preschool?
While most preschools allow children who are at least 2 years old to enroll with them, there is no right age for play school. It depends on the aptitude of the child and the parents. There are a lot of factors that decide at which age your child should go to a preschool.

Some children take longer than others. The best practice would be to not rush your child. If you are unsure, you can start with an online preschool.

What Are the Benefits of Sending Your Child to Preschool?
There is no doubt that early childhood education is important for the development of toddlers. Preschools have so much to offer. Many experts believe that sending your child to a preschool at the right age can set them on the right track. Here are the benefits that a preschool offers:
It helps kids to open up to people who are not a part of their immediate family. It allows them to come out of their shell and interact with society as an independent individual.
It introduces them to a whole new world of learning. As a young child, your toddler is very impressionable. Therefore, it is important to make sure they learn the right things.
Preschool enables them to make new friends and learn the art of teamwork. They get to interact with children of their age and collaborate with them on fun activities for kids and creative arts.
It helps them to get into a routine. It is a very crucial thing as it teaches them the importance of discipline.
It makes them independent as well. Since your kids will be doing activities on their own and attending classes without your presence, they will gradually learn to take care of themselves.
Since preschool is mostly about interacting with others, singing poems together, learning about your immediate nature, it ensures that your kid is ready for the next step, which is kindergarten.


What Is the Best Age for Preschool?
While early learning has proved to be beneficial, it does more harm than good if your child is not ready. The best age for preschool is when your child is ready. Ideally, you should not send your child to a preschool before they turn two.
The upper age is considered to be four. However, do keep in mind that every child is different and we should give them the opportunity to learn at their own pace.
How Do I Know if My Child is Ready for Preschool?
This step by step preschool checklist will tell you if your kids are ready for preschool or not:
Are they able to express themselves?
Do they have basic self-reliant skills?
How strong is their immunity?
Can they participate in group activities?
Are they comfortable meeting other people without you?
Are they in good enough health to attend school?
Can they stick to a basic schedule?
Can they tell when they are in distress?
Don't be in a rush to send your child to preschool early. If your child can do all of the above, you can consider them ready for preschool. We would also suggest asking them if they are ready for a new experience.
Conclusion
Sending your child to a preschool is the right decision but more than that, it is important to make sure that your little one is ready for it. OurPlayschool.com can help in making your child feel prepared for formal education.

Now, with our flexible timings, you can make it happen virtually through our preschool online classes. Along with flexible timings, we give you the liberty to choose the number of classes you wish your child to attend in a day. This will give you control over your child's screen time as well.