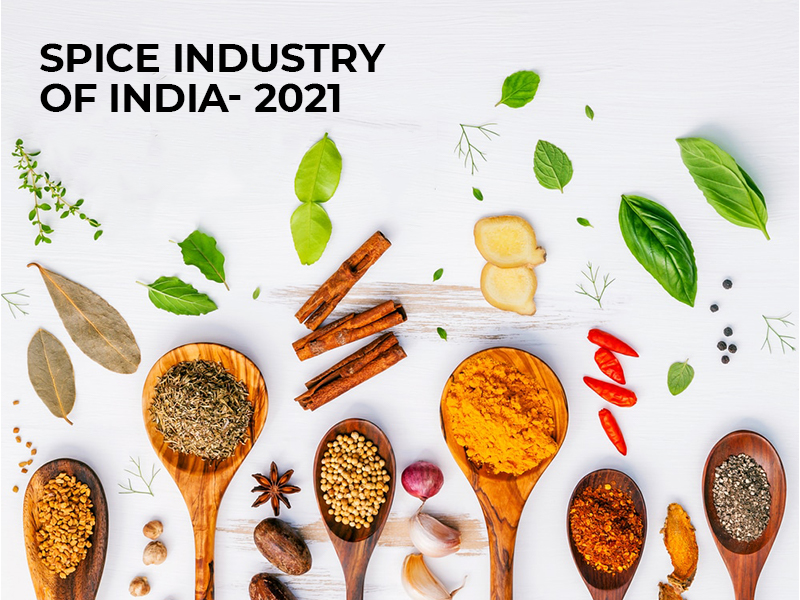 India is known as the "Home of Spices," as no other country produces and uses as many spices as it does. Provided their exquisite aroma, texture, flavour, and medicinal value, Indian spices are now the most sought-after in the world. India has the world's largest domestic spice industry.
Traditionally, spices in India have been grown on small plots of land, but with organic cultivation gaining popularity in recent years, the herbs & spices in India are now grown in large landholdings. India is the world's largest producer, consumer, and exporter of spices, manufacturing approximately 75 of the 109 varieties specified by the International Organization for Standardization (ISO) and accounting for half of the global spice trade.
Organic spices are in high demand all over the world. China, India, and Vietnam are currently the main exporters of organic spices. They produce a variety of organic spice products by incorporating many spices, including ginger, garlic, and chillies. It is believed that growing public perception of the medicinal properties of spices will fuel consumer development in the coming years by increasing demand for organic herbs and spices.
When the WHO (World Health Organization) proclaimed COVID-19 a global pandemic, people turned to Ayurveda for treatment. In the midst of the current pandemic, people all over the world are turning to herbal and ayurvedic remedies or homemade Kadhas for rescue. Spices such as turmeric, cinnamon, ginger, and others have now become an integral part of these medicines. The demand for major spices in India is rapidly increasing, contributing to the spice industry in India. In FY20, spices worth US$ 3.62 billion has been exported from India, and the overall value of spice exports from April 2020 to February 2021 was US$3.55 billion. The month of February alone witnessed an export of US$ 348.32 million spices. When it comes to which spices are exported from Indian in the majority, ginger shows the highest growth. In FY20, till December, ginger showed 47% growth in its export, i.e., 19,410 tones, followed by cardamom with 31% at 1,060 tonnes and cumin with 14% at 7,350 tonnes.
According to the state-run Spice Board of India- higher demand for immunity-boosting spices like turmeric, ginger, garlic, cinnamon, etc., has helped the country record a 19% increase in spice and spice product exports during the first half of the year. In the year 2021, Chilli, cumin, turmeric, coriander and ginger were the top five most-exported spices in India.
Let's have a look at some of the most demanded spices in the world and the largest exported spices of India:
Chilli:
Chilli maintained its place as India's most valuable export spice, with a shipment of 2,64,500 tonne worth Rs 3,605 crore.
Chilli peppers include capsaicin, which is being researched as a potential treatment for sensory nerve fibre disorders such as arthritis, psoriasis, and diabetic neuropathy.
Turmeric:
Turmeric saw a 42% increase in quantity, with a cumulative shipment of 99,000 tonnes globally estimated at Rs 858.10 crore.
Turmeric includes curcumin, a bioactive compound that serves as an anti-inflammatory and anti-oxidant agent. Because of the many therapeutic properties of this compound, Haldi powder can reduce the risk of heart disease and cancer.
Cumin:
Cumin came in second with a shipment of 1,53,000 tonne priced at Rs 2167.70 crore, representing a 33% and 22% growth in quantitative and valuation terms, respectively.
Cumin seeds are popular all over the world as a spice. These seeds have been the focus of medical research, as scientific literature suggests it has numerous health benefits. Cumin is said to help with metabolism, the immune system, and circulation.
Ginger:
A total of 23,700 tonnes of ginger has been exported worldwide, representing an increase of 86% over the previous year.
Ginger has long been used in conventional Ayurvedic medicine to cure colds, coughs, and stomach issues. Gingerol, a bioactive chemical, is responsible for the majority of the health effects. Ginger may be consumed as a dried powder, juice, or tea.
Cardamon:
Small cardamom was the spice that saw the most development in terms of both quantity and value. It contributed to total exports during the decade, increasing 483% in value and 369% in volume. During the year, 1,900 tonnes of small cardamom worth Rs 329.50 crore were exported.
Cardamom- An Indian spice that has gained popularity for its mildly sweet and savoury, mint-like taste. It is a magical winter spice that provides us immediate relief from colds, coughs, and other respiratory issues. It can be eaten raw or added to seasonal pods.
Apart from all these spices, the export of fenugreek, coriander, and other seed spices such as mustard, aniseed, dill seed, etc., increased significantly during the time, adding significantly to the spices export basket. Exotic spices like tamarind, saffron and others also shared a significant part in the spices demand in the world.
Many spice manufacturing brands like Vasant Masala are witnessing the increase in demand for immunity-boosting spices as more and more people are rushing to strengthen their immunity. The Spice Board of India is responsible for the production and global promotion of Indian spices, including quality management and certification. It also tracks exporters, records trade statistics, and provides inputs to the central government on policy matters that have increased the consumption of spice in Indian and worldwide. Even the COVID-19 restrictions have not been able to slow down the demand for Indian spices.
In 2018, the global spices industry was worth $8.4 billion. The spices market will rise at a typical compound annual growth rate (CAGR) of 4.80% during the forecast period of 2019-2025, owing to increased demand for spices as a result of expanding urbanisation.