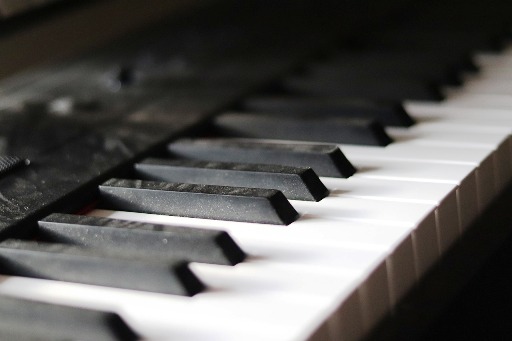 A keyboard has three major advantages over the acoustic piano:

It costs less: with 300-500 euros you can buy the right keyboard for those who start playing
It is less bulky and can be moved easily, it does not fear sudden changes in temperature or humidity
It can be played through headphones or at very low volume, so you can play whenever you want without disturbing anyone.

So, is it better to choose a keyboard to start playing? No, that's not the case at all. If you just try to sit in front of an acoustic piano and play a few notes, you will discover that the magic of a "real" piano is unique, no keyboard will ever give you the same emotion. However, starting with a keyboard has its advantages, it can also be a good idea to find out if you like studying music. You will always be able to switch to an acoustic piano later.


Buying a keyboard to start playing: what you need to know:

The world of electronic keyboards is extremely vast and if you've never played, you may find yourself lost among thousands of models, without knowing which piano to choose. The right keyboard to start playing must have a fundamental characteristic, more important than all the others: it must have a weighted keyboard. Instruments that have this feature are also called digital piano or electronic piano, and have a keyboard that mimics that of the acoustic piano.

Other types of instrument such as organ, synthesizer, workstation, controller etc. they are similar in appearance but have a softer fingerboard under the fingers and therefore are absolutely not suitable for starting playing. If you want to buy a digital piano to get started, make sure it has a weighted keyboard.


How much does a digital piano cost to get started?

The price of a low-end digital piano is between 300 and 500 $. You will hardly find a cheaper instrument that has a weighted keyboard. If you see any ad that says "plan to start", "perfect beginner tool" etc. but at a lower price, this is certainly a bad tool. Advertising is made to sell, after all!

Don't even trust the wording of the half-weighted keyboard because even that isn't good for those who start playing the piano. If you are sure you don't have room for an acoustic piano but can spend more, there are more expensive digital pianos that have wooden keyboards. They are quite expensive instruments but they are certainly better than cheap electronic pianos.

After choosing the right instrument for you, you may be interested in our video course to learn how to play the piano. It is the most popular course on this site, and many have already used it and are using it to take their first steps on the piano. FIND OUT MORE'

Do you want to spend even less?

Starting to play for very little money is difficult, especially it is not a good idea to save on the instrument. But if you want to start playing the piano but also a cost of 300-500 euros is too much for you, you can still fall back on a third option, completely temporary and transitory: buy a toy keyboard.

Someone will think that I am crazy, especially fellow music masters: how can you learn to play on a toy keyboard? The answer is very simple: if you absolutely cannot afford to buy a digital piano, then don't be tempted by cheaper instruments, perhaps beautiful and with many functions. It's just wasted money.

To learn to play, a piano with a weighted keyboard is essential. If you can't have one, you might as well make do for a few months with an instrument that is as cheap as possible. Don't spend money on intermediate instruments, from 200-300 USD, take a 50-USD keyboard, in a supermarket at Christmas you can find them in the toy department.

With a toy keyboard you can learn where the notes are, start reading music and do your first exercises. You won't get far, but at least you won't have spent any money on anything. The toy keyboard needs to have only one feature: to have normal sized keys. So don't take keyboards with tiny keys. If you want more information on the site you can find an article on how much it costs to start playing the piano.


Conclusions: which piano to choose?
Choosing the right piano is important

We have therefore answered the piano question which one to choose, proposing three different solutions:

PIANO A Choose an acoustic piano. You will spend over 1000 euros and you will have to choose carefully where to place it, but an acoustic piano is better than any keyboard, it will give you unique emotions. If you can choose the piano to start without budget and space problems, turn without hesitation to an acoustic instrument

PIANO B If for reasons of cost, space or neighborhood you choose to start playing on a digital piano, choose one that has a weighted keyboard. It is an indispensable feature, more important than all the rest (brand, functions, design, etc.). A digital piano is fine to start with, it also has some advantages. However it doesn't have the magic of an acoustic instrument

PIANO C If you really can't buy a digital piano with a weighted keyboard, arrange for a while with whatever you can have at minimal cost: borrow or buy a keyboard as cheap as possible. If you don't have a weighted keyboard, you'll still need to change instruments within a few months.

If you want to start playing the piano, which one to choose is a very important question. I hope these tips are useful to you, if you like, leave a comment below, or write me. See you soon!