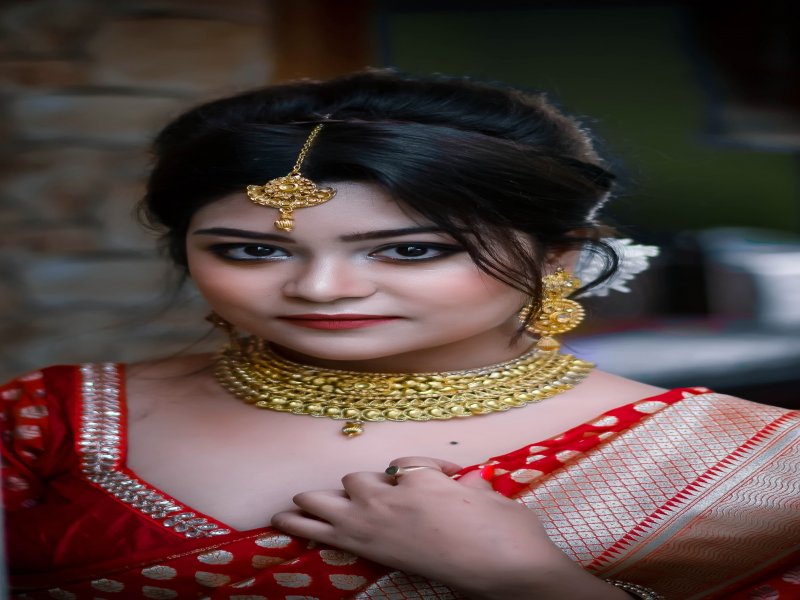 Traditional Necklace
Traditional necklaces are the necklace designs that are inspired by our historic designs. These designs are deeply rooted in Indian culture and traditional values. They have traditional designs which consist of motifs such as mangoes, floral motifs and the old coins(ancient times currency) and so on(inspired from the available flowers, fruits, birds and animals from those times). These represent the traditional values in the historic period and we are passing it to the generations ahead.
Antique Necklace
Antique jewellery is also kind of traditional jewellery but it's pre-owned by our ancestors and passed on to us. Usually, Antique jewellery would have at least a 100-year-old history. So the designs are done by extremely skilled professionals and artisans. And these are designed with pure gold and studded with high-quality gemstones.

Simple Necklace
A simple necklace can be chosen if you're a minimalist, yet wanted to own a necklace for any parties. Usually, you can prefer a thick gold chain with a heavy pendant with studded gemstones to make a simple yet classy neckpiece.

Lightweight Necklace
Gold is malleable enough for just 1 gram to be hammered into a transparent sheet. So it's highly possible to design a lightweight gold necklace out of a minimal gold. In case if you're on a budget or if you are a person who can't handle a heavy neckpiece, a light weighted necklace is the best choice for you.

Modern Necklace
A contemporary necklace is the best opt for a millennial woman. Not every woman is the same, so are her choices. When traditional models can't impress you anymore, there are numerous contemporary designs available in the market for your next pick.

Bridal Necklace
A bridal necklace is a usual necklace either with traditional touch or with diamond stuffed. It has no specifications but bridal necklaces are designed keeping the bridal requirements in mind. Generally, a bridal necklace comes with a set of bridal jewellery which compliments each other. So, instead of choosing different pieces which don't go well together, a bride can pick a bridal set for her wedding.

Heavy Necklace
Gold of any quantity is just not enough we agree. For those who can carry much quantity of gold gracefully, a heavy necklace is of great choice. These heavy necklaces are usually worn as a part of wedding jewellery.

Long Necklace
Long necklace, the name itself suggests these are really long necklaces. In general, Necklace is meant to be short and wrapped around the neck level. But long necklaces are indeed different and would be worn in combination with short layered necklaces. These come as a part of bridal jewellery in bridal sets.

Unique Necklace
"Unique Necklace" – There is nothing in specific like a unique necklace, but if a piece is unique than the usual, those can be considered as unique necklaces and these are usually designed by top jewellery designers. So can be called designer necklaces.

Bengali Necklace
Bengalis have a different traditional touch to their jewellery and so as their necklaces. Usually, these are lightly weighted and come with noticeable designs.

Choker
Chokers are heavy yet short necklaces which are pretty near to the neck. These can be used as a primary level neckpiece while layering a jewellery set. Chokers are the masterpieces in a bridal layered set.

Malabar Necklace
Malabar necklaces are designed using just pure gold. These are heavy neckpieces and sometimes studded with diamonds to add some glamour to those heavy gold necklaces. These Malabar necklaces come assets for a Malabar bride and they are extremely dazzling. They are wow and filled with gold, gold and GOLD.

Temple Necklace
Temple jewellery is jewellery inspired by the designs on historic monuments and temples, embossed with depictions of gods and goddesses from the temples in south India. These are simple, unique yet artful pieces. However, the temple necklace designs are little costly, it's always to check the gold rate before deciding to buy this temple necklace.

Temple necklaces are preferred by South Indian brides. Though they are old they are making a comeback into the world of fashion recently. There is no way we know the historical designs unless we have had these carved on sculptures. By taking inspiration from these oldest monuments, we are incorporating the history into our jewellery and in our lives. These designs go well with South Indian Kanjeevaram sarees.

Diamond Necklace
Diamonds are precious, so as the diamond necklace. Those who can afford a diamond necklace can go for it without any further thought because the combination of gold and diamond is a charm and nobody can deny the fact that they are the best. Choose a diamond necklace undoubtedly when your pocket allows.

Peacock Necklace
What is a peacock necklace? A necklace inspired from either peacock design or peacock colour gemstones can be considered as a peacock necklace. Peacock designs aren't something new. We have been using peacock design in our jewellery from historic times. So these designs have a huge value as they are close to our tradition.

Ruby Necklace
Rubies are deep pink or blood red gemstones, considered as the best gemstones to be used in gold necklaces. And these have a huge value in Indian traditional jewellery. Especially Ruby and Emerald necklaces are still in high demand and they go well with any traditional Indian outfit.

Maharashtrian Necklace
Maharashtrian necklaces are simple, short and unique. Unlike any other traditional jewellery from rest of India, these designs are extremely simple yet appealing. One can differentiate a maharashtrian necklace to any other design.

Pearl Necklace
Pearls are unique among gemstones because they don't arise from the depths of the earth but from the sea. They have been a part of Indian jewellery from ages. Be it any size, a pearl is a pearl and it looks amazing when added to your jewellery. Though it has been part of Indian culture, there entered some unique jewellery designs with Nizam culture. So you can choose either a traditional or a contemporary design with a pearl necklace. And your choice with a pearl necklace never disappoints you.