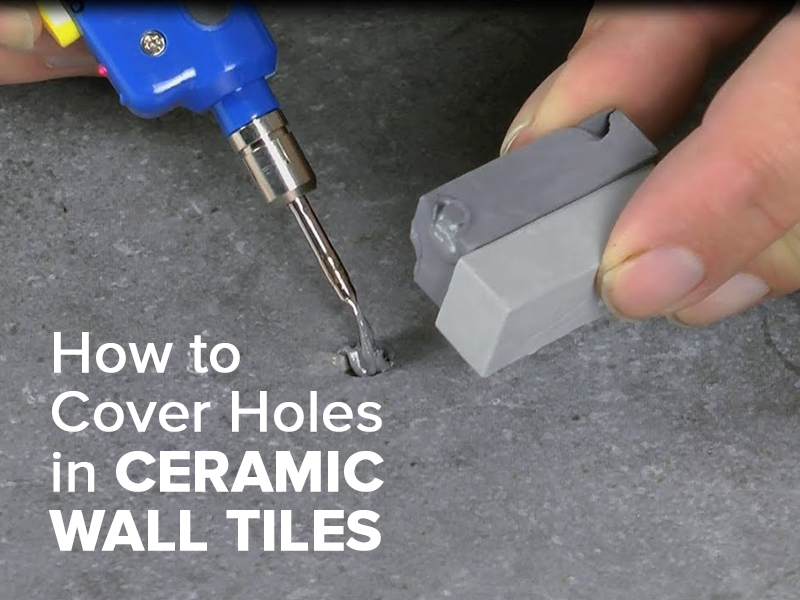 Patching undesirable holes in ceramic tile may be a difficult task. Here's a solution that, while not always flawless, will make a significant difference. In this article, we'll have a look at some creative ways to cover holes in ceramic wall tiles.
Many homeowners never attempt to conceal drill holes in ceramic tile because they are unsure of what to use to cover the holes. Because of their tendency to shrink, common household repair materials such as paintable caulk and drywall mud are inappropriate. A two-part car body putty can repair gaps in ceramic tiles effectively and without shrinking. Matching paint conceals the putty by mixing it with the colour of the surrounding tile.
There are several additional ideas to cover holes in tiles, let's have a look at the most simple 3-step method on how to repair drill holes in tile:
1- Patching
Purchase a 2-part car body filler online or at your nearest auto supply store.
Pour enough putty material onto a paper plate to fill the hole.
Then, as directed by the manufacturer, mix the activating hardener into the putty and activate it.
Typically, a tiny quantity of hardener is squirted into the putty substance and manipulated with a chisel until the colour and texture are consistent.
You may level out the filler with the putty knife's sharp blade by sliding it at a 35- to 45-degree angle over the tile.
Fill the hole with filler, scooping and scraping until it is entirely covered and a bit thicker than the surrounding tile.
2- Painting
Grab a clean razor blade and get ready to shave! As you run the razor blade over the filler, keep it at a 35-degree angle.
Start at the edges and work your way towards the centre of the hole with a blade in your hand.
Continue scraping off the extra filler until it is flush with the tile. Smooth the patch with a sheet of 600-grit sandpaper in moderate circular movements.
Surface sanded for 15-25 seconds until smooth and uniform. Use the paint that came with your filler instead.
Other options include a porcelain touch-up kit, which can be purchased in most hardware stores.
Combining the different colours on a paper plate with a paintbrush until you achieve a hue that closely matches the surrounding tile.
Wipe the patch's surface gently with a dry towel to remove any sanding dust. Apply the paint on the spot with a brush dipped in it.
Use straight brush strokes and refill them with paint as needed. To integrate the filler into the tile, cover the seam where it joins the surrounding tile.
Wait at least 24 hours for the paint to thoroughly dry once you've coated the filler.
Also Read: WALL TILES VS WALL PAINT, WHICH IS BETTER?
3- Hiding the Hole
If the hole is less than 12 in (1.3 cm), you may simply seal it with caulk to keep things simple. Using a caulk tube in a colour that roughly matches the tile, apply a few dollops of caulk to the hole.
Smooth it out with your finger, then wipe away the excess caulk with a clean towel.
Find a picture or a lightweight canvas to cover the hole. Then, above the hole, attach an adhesive command hook or a strip of mounting tape.
Dangle a photo or small artwork from the hook or mounting tape and let it hang over the hole to totally conceal it.
If you want to replace the damaged tile, make sure to check out the AGL Tile collection, you will surely find a tile similar to the one. They have a wide range of wall tiles and floor tiles for you to choose from.
Original Source: How to Cover Holes in Ceramic Wall Tiles?