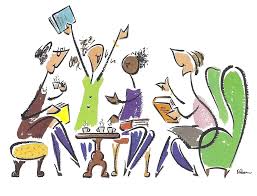 I am not at all comfortable in discussing the books I read with others. Often my excitement before and after reading a novel takes the form of a euphoric outburst tolerated by my parents and friends. I may blather away about a book that I have read recently and need to be stopped by the listener who isn't able to comprehend a single thing in my overexcited tones. But when it comes to book clubs or any such discussions, I am always hesitant. Maybe I am not yet comfortable with the idea of deconstructing a novel with others, despite the fact that I do the exact same thing inside my head and outside with my friends and family. It may also have to do with the idea of keeping the practice of reading private and personal. The course (English Honours) that I am pursuing requires analyzing and discussing literary texts so I am opening up a bit to having book-related discussions.
On 5th January 2020, after midnight I opened my Instagram app and saw that RosendeReads had started a live stream. RosendeReads is an Instagram book club started by Alberto Rosende, one of the cast members of the television series Shadowhunters. Shadowhunters is based on The Mortal Instruments book series written by Cassandra Clare. I knew about this book club and followed its page on Instagram and Twitter but never thought about participating in it. That day I thought to peek in for a while and just watch the live for some time. They were discussing Go Set A Watchman by Harper Lee. I had read the novel a few years ago. It is the sequel of the much acclaimed novel To Kill A Mockingbird by Harper Lee, one of my all-time favourites. While watching the live stream and reading the discussions taking place I felt the urge to participate in the discussion. I put forward my opinions and reflections on the plot. The other participants as well as Alberto saw my comments and responded to them. It felt great to be a part of the book club discussion, to get to know different perspectives on the plot, to be able to express my opinions and be heard and responded to. It gave me courage to try and be part of any such book club discussions in the future. When it comes to anything related to books – reading or writing – I prefer the conventional pen-and-paper way and not at all the digital way. Ironically, I am writing this blog and I participated in a book club discussion on Instagram – both are a part of the digital media. I have also recently been following the Twitter account of Shadowhunters Books and frequently comment on their posts. I love reading paperback novels – the feeling of holding a book in your hand, the touch, the smell – but I am inclined to read on Kindle too because of the heavy expenditure on buying so many books.
Maybe I can learn to keep up with the technology as far as reading and writing is considered while maintaining my love for the traditional way.