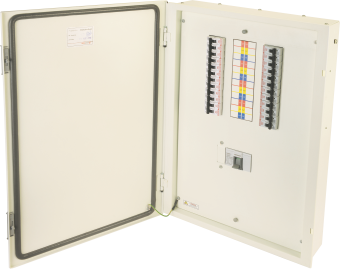 The distribution board is a piece of electrical equipment that consists of electrical switches and fuse and serves as a supply and protection system for any commercial or residential premises. The distribution board is beneficial for easy and safe handling of incoming power supply and protecting the electrical equipment of the premises from being damaged due to various electrical faults that might occur in the line.
Distribution boards not only require to be made out of high-quality materials but also be aesthetically pleasing and have various functionalities. Safety is another important concern since the whole electrical system of premises depends on one distribution board.
INTERNAL PARTS AND USAGE

The distribution board consists of many internal systems that help in dividing the main power supply via breakers to power various secondary units on the premises. They have neutral links, earth leakage units, buses, fuse, electrical switches and sockets, and connecting wires. The various types of electrical faults such as Earth leakage, electrical surge, overload, short circuit, power sags, and dips, etc cause damages to the Electrical units, and a dB helps protect against these.
TYPES

The main two types of Distribution boards are Single door Distribution Board and Double Door Distribution Board which are available in 4 way, 6 way, 8 way, 12 way, and 16-way configurations. The number of incoming connections can either be more than the outgoing connections or have the same numbers of outgoing connections. Single door DBs are preferred for normal duty work like residential complexes and double door DBs for heavy-duty operations like commercial complexes. Tin plated copper bus bars, detachable grand plate, neutral links, circuit Identification labels, IP30 and IP42 degrees of protection, and box insertion marks are some things to look for when buying Distribution Board
INSTALLATION

Precautions must be taken while installing Distribution boards keeping in mind some factors. A distribution board must be installed in an area that has proper ventilation to prevent accidents caused due to overheating of the power lines. The height of the board should not be very high but In the usable range of the consumer. It is generally installed in isolated locations such as in garages, under stairs, or basement for security reasons.
AESTHETICS

Over time apart from the technology, aesthetics and design also have evolved. Even though the main function of a distribution board has remained constant over the years the appearances have changed making them look more attractive. Innovative designs and other attractive shades like Pearl make them look more appealing. Bare single door and bare double door phase selectors are also available in various enclosures like metal and plastic with glass doors.
When looking for Distribution boards, there are several options available from IndoAsian with various materials, finishes, looks, colors, etc. The vast range helps you get a distribution board that blends in well with the appearance of your complex and also is following the standard electrical configurations.