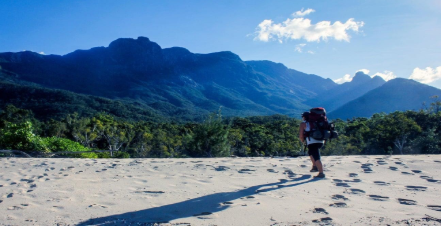 You do not need to be a camper to enjoy the beautiful flora and fauna of Queensland and Australia in general. Hiking and biking have incredible benefits for a person's well-being. They significantly decrease blood pressure, reduce cholesterol, and therefore, prevent diseases like diabetes and dangerous heart conditions.
Aside from physical health, hiking and biking help maintain good mental health by controlling depression. Outdoor activities also have the advantage of helping people make friends while connecting with nature.
Australia and Queensland have some of the best hiking, biking, and running trails that you can find. From Brisbane camping trails to Castle Hill and Queensland, the area has over 208 moderate trails. The following are examples of the range of trails that one can visit when in the area.
Off-road Adventure Trail Examples from Western Australia to Queensland
Walsh's Pyramid

Walsh's pyramid is the highest, natural standing pyramid in the world. Standing at 922 meters tall, the site is only used for hiking.
Motorcycles cannot access the trail due to its steep topography and rough terrain. Experienced hikers complete the hike in an average of 3 hours. The location features a Pyramid race every year where hikers compete for a 5,000-dollar price.
Walsh's Pyramid offers a spectacular view at the top of the pyramid which makes the tough-climb an excellent adventure that is worth all the effort.
Moreton Island
As the world's third largest sand island, Moreton island provides some of the best attractions that Australia can offer. It is easily navigable and hence convenient for hikers, motorcycle riders, and campers. While there, one can visit Mount Tempest and Queensland's lighthouse for the view, or the Blue Lagoon for a swim.
Fraser Island Great Walk
Fraser Island is another one of Australia's treasures. It is visible from the Eastern Beach Infinite Drive and features a whooping 90Km trail. It has plenty of camping locations and a terrain variety that supports hiking, driving and motorcycle rides.
The island also has over a hundred freshwater lakes that a visitor can enjoy. The complete exploration adventure of the island can take up to two weeks as the 90 Km hiking trail alone may take a minimum of 7 days.
Battle Frere
Battle Frere is another spectacular mountain hiking adventure location. It is the highest mountain in Queensland and stands at 1,622 meters high. It has a thick rainforest terrain which requires a hiker to climb using his or her hands occasionally. The canopies and the moss-covered rocks through the ground create a completely remote feeling to the adventure.
The hike to the top and back takes approximately a whole day, and one is advised to bring enough water and food-stuff to the walk.
Examples of Off-road Adventure Requirements
Regardless of whether one chooses to go biking, camping, or hiking, all off-road adventure activities require that one carries the right accessories for maximum enjoyment. Campers require several items during their adventure, whereas bikers or hikers require a different set of things.
The following are some of the items that one may need to prepare him/herself with before embarking on an off-road adventure:
An Off-road motorcycle and Other Bike Accessories
Before a biking expedition, one will need to acquire the adventure motorcycle, adequate for the terrain of the intended trip location. There are dirt-bikes specially created for off-shore events. These motorcycles are lighter and have a high suspension to enable them to manage rough terrains.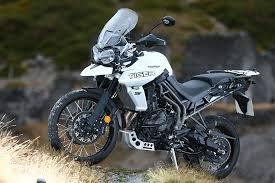 When going camping or hiking, one needs to get to the location that he or she intends to begin his adventure. The route to these starting points usually is of uneven, rocky, muddy or sandy terrain. For convenience, it is wise to use a 4-by-4 vehicle that will be able to maneuver through the challenging terrain. Vehicles are available for hire at different locations in case you do not already have one.
For van-campers, they may need to convert the van to incorporate facilities like, kitchenettes or sleeping areas that they will need during the trip. The modifications made entirely depend on the duration of the journey and the climatic/weather conditions of the intended adventure location.
During the camping, hiking, or biking adventure, one will require a convenient bag to carry utilities like water, foodstuff, and emergency necessities. The ideal bag-pack for an off-road adventure should be light and portable enough for ease of mobility. It should be spacious and strong enough to support the light luggage.
Conclusion
Off-road adventures have significant health and psychological benefits. Considering the size of Australia, it is no wonder why they offer a vast variety of these outdoor activities. Those travelling with extra luggage should use a car with a roof rack basket to support all the hiking gear.The country has plenty of mountains, deserts, and rainforests to entertain any off-road activities enthusiast.