In 2001, Farhan Akhtar came up with the story of 3 best friends and their inter-dynamic relationships. Dil Chahta Hai depicts the lives of Aakash, Sameer and Sid, who have completely different perspectives but are bound by a strong loyalty for each other. Aakash(Aamir Khan) is the philanderer in the group and does not believe in love until he meets Shalini (Preity Zinta). Sameer(Saif Ali Khan), on the other hand, falls in love way too often and finally finds his soulmate Pooja(Sonali Kulkarni) through an arranged marriage setup. Sid(Akshaye Khanna) is the most sorted out of the three and has a clear goal of becoming a painter. But when a much older woman, Tara(Dimple Kapadia) moves into the neighborhood, he is mesmerized by her strong personality. A misunderstanding between Aakash and Sid drives a wedge in the group and the three go their separate ways. Yet, a crisis brings them back together and the trio realize how strong their bond is.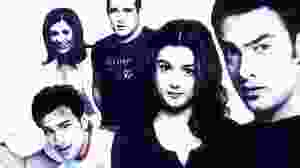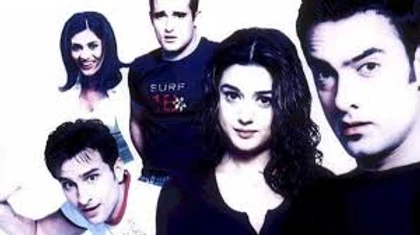 The interactions between Aakash, Sameer, and Sid are so real and endearing that the audience is instantly reminded of their own friends and banters. Sameer is the goofy one, and Aakash leaves no stone unturned to tease him to death. In a particularly funny scene, Aakash convinces Sameer to be "a man" and stand up to his dominating girlfriend. When Sameer leaves, Aakash hilariously manipulates the situation and Sameer gets dumped instead. The trio's trip to Goa is filled with such amazing moments of friendship, that we are bound to get nostalgic and plan a trip ourselves. There is a dialogue in the film where Sid wonders whether they will be able to meet so often, once they get embroiled in their own lives after college. Aakash ensures that they will be friends forever. Isn't it a reminder of what we told our friends on the last day of college? Dil Chahta Hai warms our hearts and we are reminded of the immense value that friendships have in our lives.
Aakash, Sid, and Sameer resemble each one of us in some way. The characters are flawed and make several mistakes throughout the film's narrative. Aakash is manipulative, Sameer is naïve, and Sid is a recluse. They are egoistical about relationships and confused about life. But aren't we all? This is exactly what makes Dil Chahta Hai such a beautiful movie. The issues in the movie are real and the characters are relatable.
The exemplary performances in the film make the complex relationships appear realistic. Aamir Khan is excellent as the bratty Aakash, who scoffs at his friends but also loves them to death. Saif Ali Khan brings a cute charm to the goofy Sameer and Akshaye Khanna is brilliant as the soft-spoken but determined Sid. The female characters in the film are also well-etched out and strongly depicted. Preity Zinta shines in the role of the quiet Shalini, who makes Aakash believe in the power of true love. Dimple Kapadia brings a strong demeanor to the character of Tara, who is battling with alcoholism and depression. In a relatively small role, Sonali Kulkarni provides the perfect complement to Saif's character.
The movie has attained cult status for its refreshing screenplay, amazing characterization, and chartbuster music. Even two decades after its release, the film teaches the value of friendship, love, and hope. The film set a clear path for debutante directors to make movies on new and real-life themes. Farhan Akhtar did a commendable job of depicting a slice-of-life story of friendships that stand the test of time. Dil Chahta Hai is a must-watch for all those who want to relive their old days once more. A wonderful experience is guaranteed!