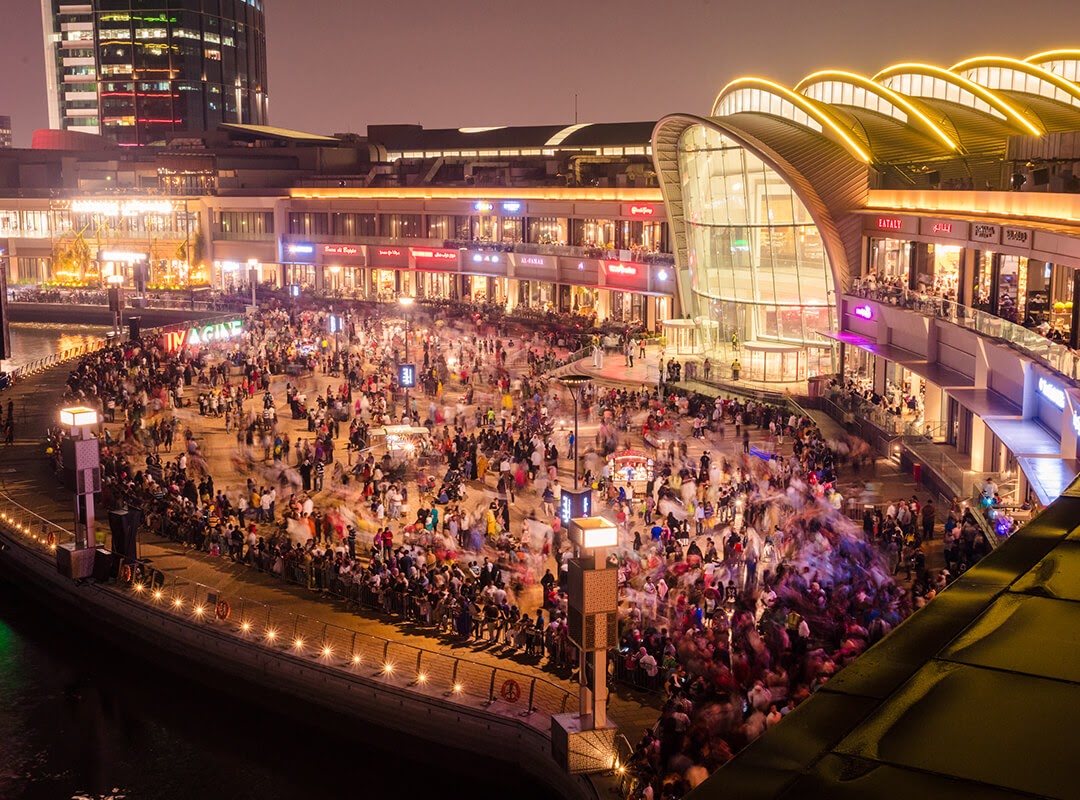 In a land that's filled with iconic monuments and magnificent buildings, the 'Dubai Festival City Mall,' is yet another testament to just that. The mall has a wide array of fun and exciting activities that is sure to keep you on your feet. Whether you're travelling Dubai trip with family, friends or are a couple, the mall has something in it just for you.
Popularly referred to as one of the most premium shopping destinations in the world, the mall offers everything from - high range boutiques, exclusive showrooms, food courts, restaurants, movie theatres, gaming zones, kids areas and so much more. The mall also houses all of your high street brands, you name it and you're sure to find it.
A complete guide to the Dubai Festival City Mall is what you need to journey through this large mall and enjoy its exclusive best! Make sure to take back a souvenir or two, as your most definitely going to want to take back memories from your phenomenal shopping experience.
Things to do in Dubai Festival City Mall
The 'Dubai Festival City Mall,' is one of the most sought after and popular attractions for tourists in Dubai. The mall has over 400 stores and houses a wide array of luxury brands, international and local brands as well. In addition to the above, there are also over 90 restaurants within the mall, ranging from International, local and multicultural cuisines. Tourists can also enjoy a fun-filled evening at the 18-screen cinema screen coupled with a fantastic bowling alley to top it off.
Shops in the Festival City, Dubai
There are a plethora of shops that are located within the city mall and it's almost impossible to keep a tab on all of them. We've jotted out some of the most popular brands across varied segments - beauty, fashion, design, jewellery and so on.
Popular fashion brands in Dubai Festival City Mall
The mall is a shopaholics paradise as it is home to over 300 fashion stores and boutiques. Tourists can shop their hearts out and not be sorry, while at the mall. Some of the most popular stores being - DFC, Ted Baker, Ralph Lauren, Plug-Ins, Stadium, Sun & Sand Sports, Michael Kors, Nyx, MAC, Sephora, Bobby Brown and every other possible brand you can think of. Tourists can indulge in all the shopping they want, across segments with not a single person to stop you. Tourists get the best of the best garments, accessories, bags, intricately crafted goods and much more.
Restaurants in Dubai Festival City
The waterfront mall is flooded with a large number of notable restaurants, cafes, gourmets, food courts and even some speciality high-class restaurants. This, in turn, provides for a variety of cuisines and cultures, all intricately aligned together under one roof. So regardless of where you're from - Chinese, Indian, Italian, French; you name the cuisine you're craving and you'll definitely find countless eateries within the premises of the mall. Tourists need to keep in mind that most of the restaurants are located in the 'Festival Bay Wing,' of the mall whilst overlooking the beautiful waterfront arena. Also, the mall is the only place where tourists will find the famous,' Hard Rock Cafe,' while in Dubai. If you're a food lover, the 'Dubai Festival City,' is where you should be headed to!
Attractions in Dubai Festival City Mall
If you thought shopping your heart out and to enjoy a king's meal is all that the 'Dubai Festival City Mall,' has on its cards - you're wrong! Tourists can also be part of a wide variety of activities, that is a must-try if you're visiting the mall for the first time.
Festival Wheel
The massive 'Festival Wheel,' is located on the southern bay of the mall and ranges to about 40 meters in height, with 30 capsules listed out for tourists to enjoy amazing views from. If you love a splendid sunset, the view from here offers spectacular views of the sunset. It's a picture-perfect shot that is sure to create a lasting impact on your memory for a long time to come.
Dhow Rides
Have you been looking for something a little more traditional? The 'Abra Ride,' along the coast of Dubai Creek is something you should try out. Soak in the traditional culture and heritage of the region, whilst floating through the pristine waters that overlook some of the most stunning of views.
Dream Aero Flight Simulator
The 'Dream Aero Flight Simulator,' helps make all of your dreams of becoming a pilot come true, all at once! This flight simulator gives tourists the opportunity to experience a replica scenario of what it would be like to fly the Boeing 737 for yourself.
Fabyland DFC
Looking for ways to keep your kids entertained? The 'Fabyland,' has got to be your life saviour. There are a wide array of rides available for kids to choose from. The children are preoccupied with attractions such as the - Bumper Cars, XD Dark Ride, Family Swing, the Play Area and so much more!
We hope this blog has been the complete guide to Dubai Festival City Mall experience. Are you planning a trip to Dubai? Be sure to reach out to expert travel planners like Pickyourtrail, who offer customised Dubai honeymoon tour packages just for you. Happy planning!