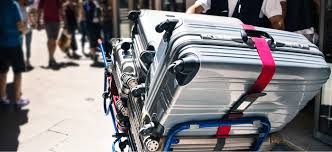 India is one of Asia's vast countries that boasts a considerable culture. The country has a population of over 1.3 billion and an expanding economy. India has a vast cultural heritage and many tourists' attractions like the awe-inspiring Taj Mahal.
You could be visiting India for travel purposes, relocating, going to study, or visit family. Most airline customers know that they don't let you travel with specific items, and there is a restriction on how much luggage you can go with. This can be disappointing and thus lead you to request other means.
While traveling might be easy, but shipping from USA to India can be a daunting experience. There are many chances of losing your luggage or breaking of precious items. And you want your luggage to be secure and delivered to you in one piece.
This mostly can only happen if you spend a lot of money that can lighten your pockets significantly, especially over long distances.
Mostly luggage transportation occurs through airlines that can be a stressful and costly experience, especially overseas. There are many ways to ship your belongings to India. You can be traveling on an extended trip or are relocating. Many companies offer you many deals and ideas to send your luggage in cost-effective ways.
Ways of transporting luggage
There are two ways you can choose from air freight and sea freight, depending on your budget you can choose whatever you want.
Airfreight takes around two to three days to transfer your luggage from one place to another. But this can be a costly experience depending on the weight and size of the luggage.
This can be stressful as you will have to hire a customs agent too to get clearance for your luggage. This can be an added expense, and furthermore, if you're not traveling to one of the major cities with the international airport, you might have an extra liability to move your luggage.
The other way is sea freight or container shipping, and this is an excellent option to move bulky items. This will be less expensive but will also require a customs agent to clear your luggage.
Also, in this, you will have to make sure that you have arranged a transport way. It will send your luggage from the ports to your required destination.
Conclusion
My Baggage, Send My Bag, universal relocation, and many more companies cater to the needs of travelers or relocators. These companies offer you excellent services and can make your life easier as some of them take the luggage from your doorstep and deliver it to where you want.
They help you have a stress-less journey and make your traveling experience more comfortable. If you are questioning yourself that how will I send my luggage to India? Consider a company to make your life easier.