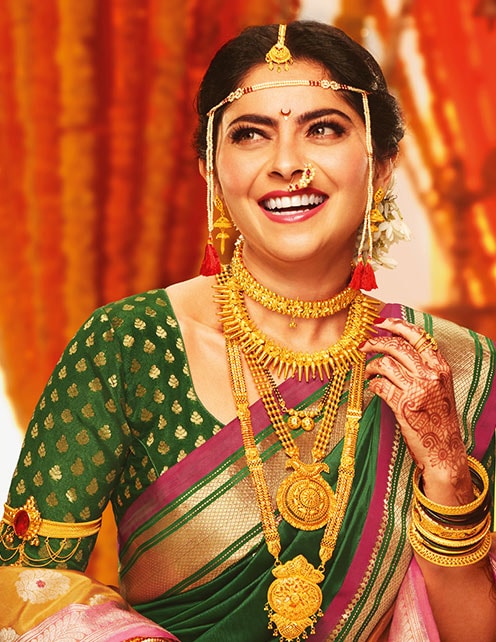 Maharashtra is blessed with a plethora of traditional jewellery styles that are not only famous among Marathis but also worldwide. The state is well-known for its artistic work done on each and every jewellery piece.
All of the traditional pieces of Maharashtrian jewellery are crafted with hands by the artisans.
Being the state with the history of wars and battles, Maharashtra's jewellery styles are inspired by the great warriors and kings who used to live in the state.
Here's everything you need to know about the traditional styles of Maharashtra jewellery.
Kolhapuri Saaj:
This is the most famous and most worn style of Maharashtra traditional jewellery.
It contains 21 engraved pendant leaves. Out of the 21 leaves pendants, 10 pendants represent the ten avatars of Lord Vishnu, 2 pendants have ruby & emerald stones, 8 pendants signifies ashtamangal and one pendant is taviz.
The crafting of a traditional Kolhapuri Saaj requires a lot of skill and precision. There are a few Artisans left who can actually craft a traditional Kolhapuri Saaj with precision.
The modern version of Kolhapuri Saaj consists of 10 or 12 leaves and is handcrafted instead of handmade.
Vaaki:
This is a baajuband-embellished with stones and adorned with floral motifs.
Crafted with 23-carat gold wire, vaaki makes for a must-have Maharashtrian jewellery style for every Maharashtrian bride.
Putli Haar:
A Putli Haar consists of round gold coins that are held together on a silk braided cord. Because of the coins, it is also known as Coin necklace or temple necklace.
These coins are embossed with the figure of Goddess Lakshmi (a symbol of wealth).
Ambada:
This is a golden pin adorned with pearls and gemstones.
Worn by the Mahrashtrain brides, Ambada is pinned on the hair bun of a Marathi bride. The most popular motif used in this traditional Maharasthra jewellery piece is the sunflower with jowar beads.
Kudya:
Kudya are the pearl earrings that are adorned by a Marathi bride.
Made with Gold, Kudya earrings come in a variety of color combinations and are embossed with gemstones.
Tode:
These are heavy Gold bangles (also known as kadas). Each bangle contains approximately 250-300 gm Gold and is adorned with intricate work.
Handmade by the artisans, these beautiful bangles take almost a month to get ready.
Dholki
Dholki is a type of Maharashtrian jewellery necklace that consists of rounded pearls along with a gemstone (placed the centre).
Dholki necklace can have different colors as the pearls that are used in it come in a plethora of color variations such as white, yellow, and red.
A Dholki necklace is worn with other necklaces at the wedding ceremonies as well as festive occasions.
Challa (Waist Keychain)
This is the keychain worn by a woman on her waist.
Made of gold-plated copper or oxidized silver, this style of Maharashtra traditional jewellery is embossed with stones and floral motifs.
A traditional Maharashtrian challa is worn by the Marathi women on festive occasions/weddings.
Which type of Marathi jewellery did you like the most? Drop comments and let us know about your favorite pick.