Business Card
A business card is a small card with your name, company name, and designation printed on it. In a digital world, business cards are still considered a relevant tool for personally networking with clients, peers, and promoting your business.
Here are some of the advantages of business cards
Business cards are cost-effective even for small businesses. With the option of buying in bulk business cards are an affordable marketing tool. Dura Chop can produce quality printing at affordable rates which is vital for the first impression.
Networking is about genuinely connecting with someone. Sending contact over emails and text is convenient but impersonal. Engaging with someone, making eye-to-eye contact is all about building relationships.
In today's world, there are many ways to promote your company digitally but business cards are still relevant because they involve a face-to-face meeting where engagement with a potential client or lead.
Creative business cards are a great marketing tool. Your business card is a physical card that stays with a potential lead. A creative business card makes an impression and is more likely to sharewith other potential clients.
Business cards show you are prepared for a meeting, with all your relevant contact details already printed on the card it is a great way to end a meeting with a client

Dura Chop is Singapore's best printer of business cards. Dura Chop allows a lot of of customization customers can choose their business card from three different sizes, option of single side or double side printing, the material of the business card, and finish. Dura Chop has in-house designers who can make sure your business card makes a great first impression.
Name Cards
Name cards or visiting card is used in a more informal setting. You name card contains your name, relevant contact details. The card can also contain relevant social media links, websites. A name card usually has less information about your business than a business card. A name card is more focused on the individual while a business card is focused on the nature of business. Visiting cards are ideal for freelancers and artists.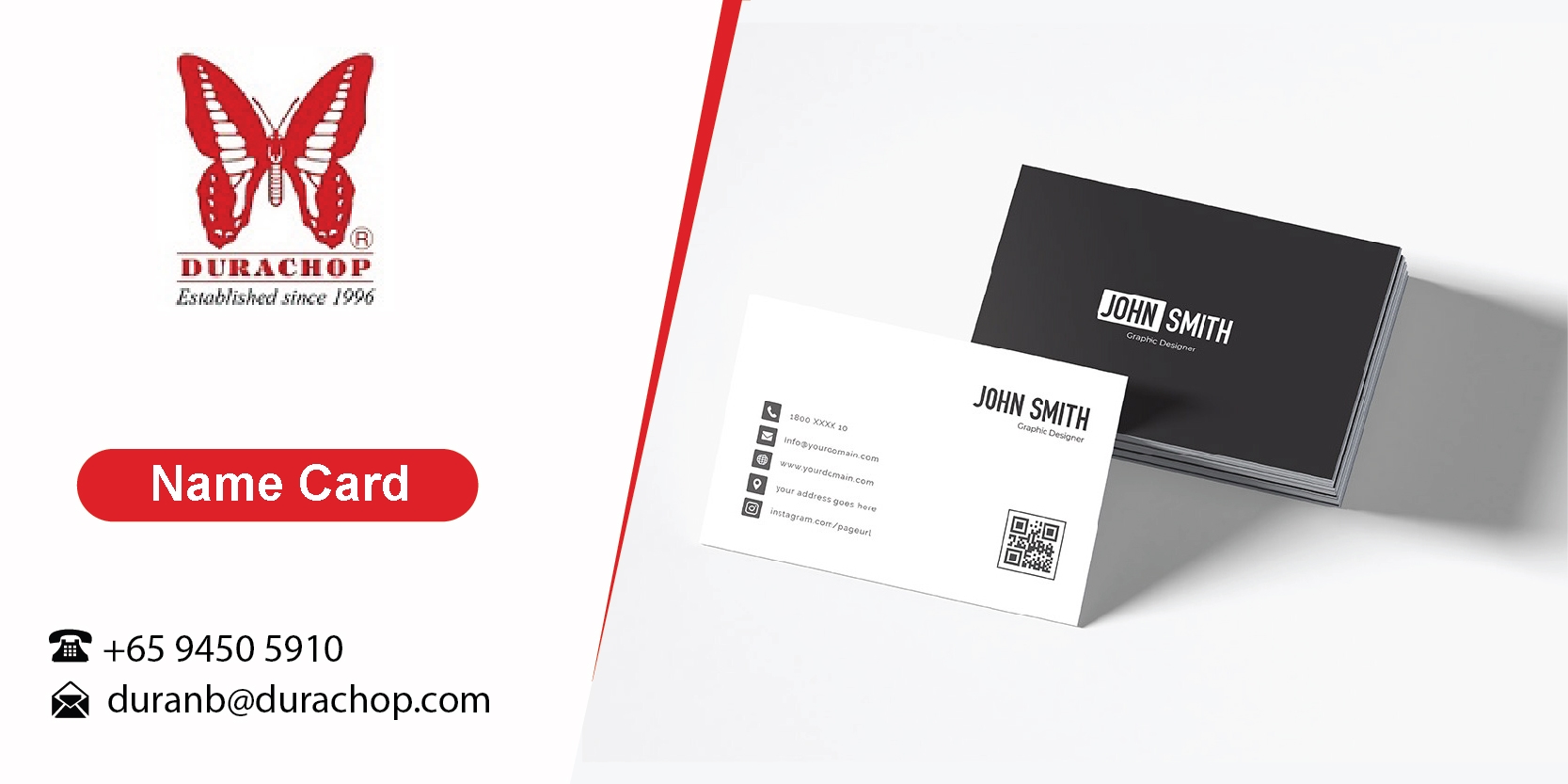 Rules for effective name card printing
Include only relevant information and avoid information overload.
The font should be easy to read and decipher. The logo if any should be prominent.
Use quality paper while printing name cards. A good quality paper will help create a good first impression. Select finishing that is relevant to your brand.
You should avoid do-it-yourself name cards and get it printed professionally. Professional printers can not only offer cost-effective options but can give a professional look to the name card.
Incase you have diverse business interest it is advisable to have separate visiting cards rather than clubbing them together.

Dura Chop is Singapore's go-to solution for printing name cards. Name cards are available 90mmx 54 mm size, with a variety material options and the option of in-house graphic designer and ready made template. Dura Chop offers the convenience of express delivery at affordable prices.