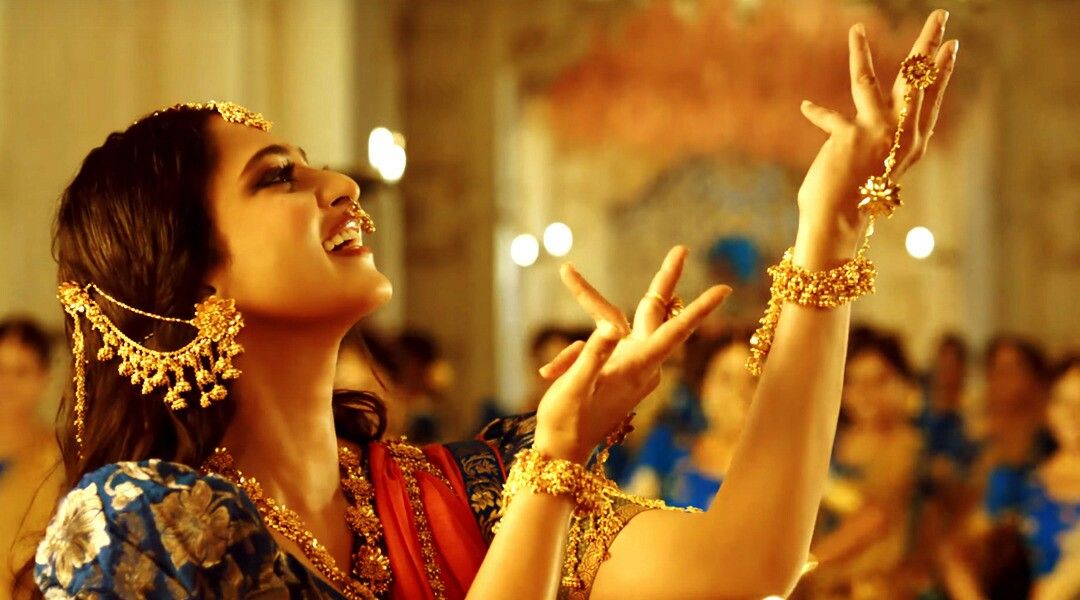 Movies have never failed to inspire and entertain people of India. The craze for actors, the love for movies and the entertainment don't seem to subside! Over 100 years, the emergence of movies and die-hard fan, fashion trends have always become a common part of life.
Madhuri Dixit's Backless Blouse
Kuch Kuch Hota Hai Polo T-shirts
Anu Aggarwal's netted ribbons
Bhagyashree's blue skirt
Sonam Kapoor's Lady Dior bag
And what not!
Fans get crazy with the clothes, accessories, and hairstyle and create a unique movie-inspired fashion statement!
Do you agree? Comment Down Below with Your Favourite Movie Outfit or Jewelry.
To add to the huge list of fashion inspirations, we now have Bahubali Earrings!
Does that create a sense of FASHION MOTIVATION in you?
BAHUBALI – The greatest south Indian film can really make you amaze with the picturization, storyline, costumes, and the characters. Bahubali's breath-taking costumes, jewelry, and the visual effects set a standard for the upcoming movie makers. For the jewelry and fashion designers
– They can create a buzz!
From Sivagami's Royal Jewellery to Avantika's natural jewelry
Whether it's Sivagami's royal intricate Necklace, Bangles, Nose rings or Avantika's natural, uniquely crafted jewelry made from feathers, flowers, and leaves. There's a lot of inspiration that nature has to offer. Colorful prints, finger rings, and recycled ornaments are fuel to creative minds.
Devasana – the bold, the beautiful and the most crucial character of the film
She is bold, beautiful, royal, and admirable! There are many Devsenas among us, looking to create a unique story with every piece of jewelry they choose. Adorning Bahubali earrings will not only make you look beautiful, but it will give you a dose of confidence and strength. Amidst every single jewelry that holds a special place in your heart, Bahubali 2 jewelry can make the best part of your jewelry pouch.
Spread the echoes of happiness, creative thoughts and get ready for a fashionable occasion and celebration with the best Bahubali Earrings and Jewellery for the next big event.

Never-ending romance with gold jhumki earring

When you are dressing up for a traditional Indian wedding draped in the best saree, choose this pretty golden Bahubali style earrings. Match it with temple jewelry and you are great to go!
Gorgeous pair of earrings for your Lehenga
latest Jhumka design with a hint of fusion fashion. Match it up with your Bridal lehenga or any outfit of your choice. Create a colorful statement with this adorable piece of jewelry that's perfect for every occasion and look like a fashionable Devsena. Finish the look with matching bangles.
Bahubali Anushka look with Indian Polki Jhumki set
Bahubali Devsena Jewellery look is something every girl would look up to. This easy to manage earring is a perfect accessory to look stunning. A pretty saree in dark blue, pink or green will make you look gorgeous.
Mesmerizing Jhumka for a simple look
For all jewelry lovers who want to look simple yet elegant, deck up yourself with this amazing earring. You can also try out gold necklace or choker to get the perfect young Devsena look.