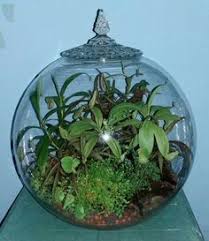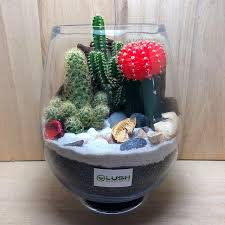 TERRARIUM:
A plant aquarium made in an open- top glass container.It looks like a miniature garden or forest in a sealed container.
WORKING:
These indoor gardens in a sealed container contain both plants and soil which release water-vapour--water recycling.Water collects on the sides of the container and trickles into the s oil.They are self-nourishing and require less maintenance.
PLANTS FOR THE TERRARIUM:
Many kinds of plants like bromeliads,African violets,ferns, cactus,orchids,succulents are suitable for terrariums.
CARE:
Light is needed but indirect light is required
Open terrariums require water to keep the soil moist.Half a cup of water is added after 7-14 days depending on the weather.
Soil should be kept moist but not soaking.
In closed terrariums,less water is required.
Pruning of plants and removal of dead plants is required
If due to over-watering plants rot,they need to be removed immediately
Periodically the glass container should be cleaned with a damp cloth
Sometimes black flies appear which can be controlled with pyrethrum
Every terrarium needs a drainage layer and a 1inch layer of charcoal helps in drainage and prevents root rot.
BUILDING A TERRARIUM
USES: a terrarium is a closed environment which can be used to illustrate the working of an ecosystem. Photosynthesis,respiration and water-cycle is visible and the best tool to educate students on these processes.