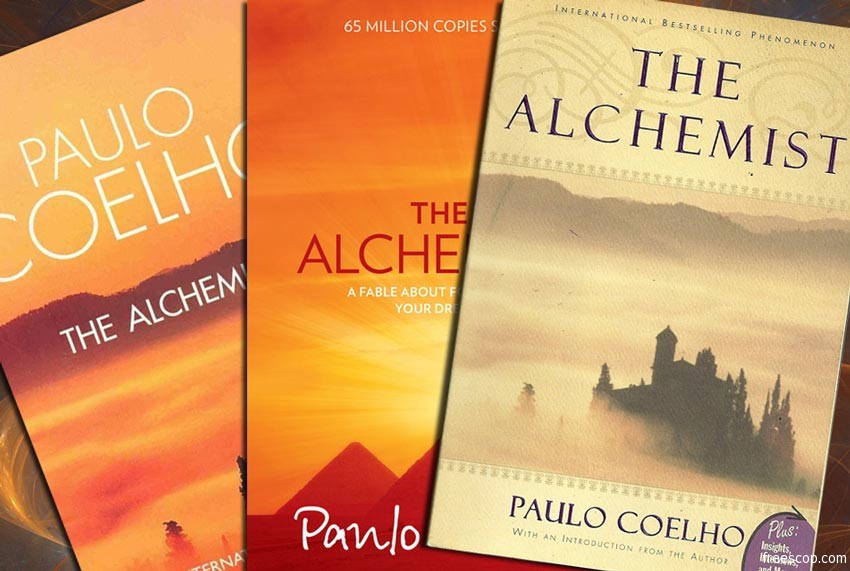 This is not just a book, it's the push you need in your low times. It's the motivation you need to keep moving forward. It's the humbleness you need when you've reached the top. I promise this is not just a book, it's an experience. I know it's one the most popular books but every single bit of the hype is worth the learning that you receive.
The alchemist is a self-discovery fiction book written by Paulo Coelho published in 1988. Originally it was written in Portugese, it has been translated into 70 languages, as of 2017. It has been on the New York Times Best seller list for 5 years straight. This book has sold over 65 million copies. It is also listed under Wikipedia's list of best selling books.
This is a story book which follows the story of a young shepherd named "Santiago" and is based on finding one's destiny. An old king tells Santiago "when you really want something to happen, the whole universe conspires in making it true". So he decided to follow his dream of going to Egypt. This book is a masterpiece in metaphorical literature and thus stills remains to be one of the top rated books to read, even after 30 years after its publishing.
The deeper understanding of the story is where the heart of the book lies. I personally think we're all Santiago, since we are all trying to figure out what the purpose of life is. During his journey to the Pyramids, he meets many characters who change or shape his understandings of the world. His personality in the end is very mature. His character is extremely relatable. Paulo, did a fantastic job at character development in only under 161 pages.
One of the first people he meets is the gypsy who tells him about his dream and inspires him to follow it. He then meets an old man who claims to be the king of Salem who tells him how he must choose to follow his dream and not give in with the comfort of familiarity. "He had to choose between something he had become accustomed to and something he wanted to have."
He meets a merchant for whom Santiago worked for. Who in the beginning was not too excited about his job but when Santiago introduces him with this idea of how his shop would run better as a café than just a glassware store. He notices the scope of the opportunity. He also meets an English man who portrays the presence of desires but not knowing how to go about it. The characters in this book are developed as such, that you either feel like you've been in their shoes or you learn something from them.
I read this book in 2016 and have already re-read it thrice. It certainly is one of my best reads because of how deeply I could resonate with the message. It provided with the exact amount of motivation needed to develop a clear vision of my goals and keep moving forward. It will always be one of top books for self help.
The writing structure is really simple yet poetic and easy to understand. Paulo does a great job at laying out such a strong story in such a manner that you can put it down. The Alchemist is the kind of book you would always go back to. You will want to re-read a book like this, to extract the actual essence of the book. The book explores the reality of practicing to follow your guts, to have that sort of courage to follow your dreams and this makes it one of the most popular novels to read.
"His book have had a life-enhancing impact on millions of people" – The Times
"A beautiful book about magic, dreams and the treasures we seek elsewhere and they're on our doorstep" – Madonna
"One of my favorite books is 'The Alchemist' by Paulo Coelho. I just believed that. I believed I can create whatever I wanna create. If I put my head on it right, study it, learn the patterns. It's hard to put in metaphysic non-sense but I believe that we are who we chose to be." – Will Smith
"My colleague suggested that I read the book "The Alchemist" and it changed my whole life. Because I realized all of the people who have conspired to get me to this place."- Pharrell William
Paulo Coelho in an interview about the alchemist with Oprah Winfrey:
Then we got to talking, and I was delighted to learn that the passion and conviction that led him to write this truly inspired book still guide his life today.
OPRAH: Oh, I'm so happy to be here.
PAULO: Thank you very much for coming. My God.
OPRAH: "My God" is right. I'm here with the man who wrote The Alchemist!
PAULO: But I'm not a guru.
OPRAH: I know—you're not a guru.
PAULO: No, no, no, no, no.
OPRAH: You're just an author and a teacher and a...
PAULO: An ultimate student.
OPRAH: Absolutely. So last year marked the 25th anniversary of The Alchemist. And it is truly a phenomenon. I was trying earlier today to describe it to someone—and the word I used was talisman. It has really become a talisman for a lot of people. It doesn't matter how many times I read it; I always get something else from it. Does that happen to you? Have you reread it?
PAULO: Many times. And I often have a sense of amazement: How did I write this book? Because I was not the best writer. I'm still not the best writer.
OPRAH: Is it true that you wrote it in two weeks?
PAULO: Yes. And then I wrote the title. And then I wrote the first two pages. The first sentence is "The boy's name was Santiago."
OPRAH: Right.
PAULO: Because I was fascinated by Ernest Hemingway's The Old Man and the Sea. The main character in that book is also named Santiago.
OPRAH: I wondered if you had named him after the trail in Spain, El Camino de Santiago, which you wrote about in your book The Pilgrimage.
PAULO: No, it was because of Hemingway.
OPRAH: And The Alchemist was not an instant best-seller.
PAULO: That's right. Not long after it came out, my publisher said, "It's not selling." And I said, "Give it some time," and they said, "No, no, no. This book is never going to work." But there is a sentence in the book that says, "When you want something, all the universe conspires in helping you to achieve it."
OPRAH: Yes.
PAULO: And I thought, "I wrote this. I have to live by these words."
OPRAH: Wow.
The book is listed under Goodread's top selling books and has been shelved 26 times. This book is a must read fiction book for anyone going through hard time. Once you start reading this book it's very hard for you to put it down since you start reflecting at yourself along with Santiago. If you're looking for a fiction book to read that teaches you something, that inspires you to rush towards your dreams will full force. Then, you must go ahead and pick this one.