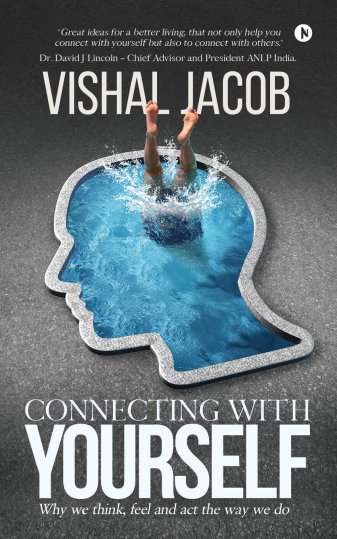 Book Title: Connecting with Yourself:Why we think, feel and act the way we do
Author: Vishal Jacob
Format: Paper Back
Total Number of Pages: 164
Language: English
Publisher: Notion Press
Publishing Date: 7 June 2018
ISBN-10: 1643244760
ISBN-13: 978-1643244761
Every life is an interesting story, and this story is best written when people go through life's experiences by staying connected to who they truly are. To stay connected to yourself, you need first to start listening from within.
This book gives a perspective on why we think, feel and act the way we do, through concepts from neuroscience and psychology. It attempts to answer some of life's key questions, such as-
-Why do we all perceive things differently?
-Why are we designed to do different things?
-Why do we all learn things in different ways?
-How are habits formed?
-What role do emotions play in our lives?
-What makes us happy?
And finally, what it means and takes to stay connected to ourselves and others.
Here is what people have to say about the book:
"Great ideas for a better living, that not only help you connect with yourself but also to connect with others."
Dr. David J Lincoln - Chief advisor and president ANLP India.
"The simplicity of ideas and the depth of knowledge make this book a must-read for leaders everywhere."
Rajat Garg
Master Certified Coach & Director, Global Board of Directors for The ICF (International Coaching Federation)
"Vishal brings to life and connects many aspects of living with facts about the brain and how the human mind works. These easy to read and well-structured reflections 'from the heart' show the simple aspects of living life fully."
Chitra Ravi
Founder & Principle consultant at SeedTLC, Regional Representative for India & Asia on the Board of Trustees of the ITAA (International Transactional Analysis Association)
My Take
The title of the book Connecting with Yourself and cover of the book is apt according to the plot. The title is catchy it gives the hint's to the readers that it will be a self help book.
The true secret of happiness lies in taking a genuine interest in all the details of daily life. -William Moris
The book is a combination of neuroscience, philosophy and psychology. The book is divided into ten chapters Perspectives, Intelligence, Learning, Habits, Decisions and Biases, Emotions, Happiness and where author explains the connection with yourself in different situations. Every chapter starts with a inspiring quotes and the end of every chapter there are key points where you get important point from the particular chapter. The author had done lot's of research while writing the book and it's highly appreciable.
The words were simple and the language is lucid which eased the reading. Narration is done well. The book is free from any grammatical errors and has been perfectly edited.
All in all, a good easy book to read in one sitting.
I'll recommend this book to all the readers who want to know more about yourself. I won't say that reading this book entirely changes your life but I'm sure your approach towards life and many other will surely get influenced.
Overall Rating 4.5/ 5 Stars
Grab your copy here- Amazon.in | Amazon.com | Amazon.co.uk
About the Author
Vishal Jacob is the Vice President, Digital Media & Marketing at WaveMaker India (created from the merger of GroupM India's Maxus & MEC). He has over 17 years of experience in the field of digital marketing, communication planning and consumer behavior. The works of some of the teams he has led and mentored have won recognition and accolades both in India and globally.
Vishal is also an executive coach certified by the NeuroLeadership Institute and holds certifications in TA (Transactional Analysis) and NLP (Neuro-Linguistic Programming). He has co-authored two books on Digital Marketing and is a guest lecturer in some of the top B-Schools in the country.
Here are some of links via you can contact Facebook |Twitter|Instagram