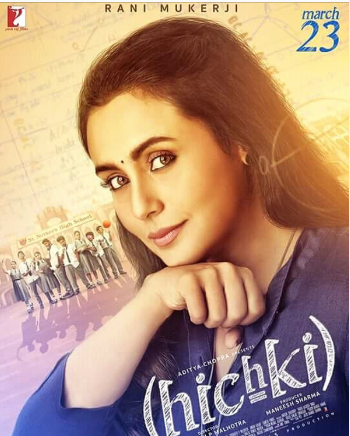 #Hichki
Film: Hichki
Director: Sidharth P. Malhotra
Cast: Rani Mukerji, Supriya Pilgaonkar, Sachin Pilgaonkar, Neeraj Kabi, Shivkumar Subramaniam, Asif Basra, Ivan Rodrigues, Harsh Mayar and Kunal Shinde
Calling Hichki an exceptional film would certainly justify Rani Mukherji's great come back after her maternity break. The silver screen was glorified by her performance, after a three-year lapse. And all of us, being fans of Rani, know her keen interest in promoting films. The film is based on hampering one's flaws, therefore Rani aimed at promoting the movie on a very positive day. The day of Makar Sankranti was chosen to initiate the 'Hichki campaign.' "Rani wants to start her promotions for Hichki on Makar Sankranti, which is a holy day. The festival is dedicated to the Sun God, and it marks the beginning of a six-month long auspicious period known as Uttarayana. It is a day to pray and express thanks for success and prosperity. It couldn't have been a better day to start the promotions," says a source from her team.
Rani decided to visit Ahmedabad to connect with her fans as well as students, in order to promote her film. "There is a slew of activities that have been planned. The team wants to drive home the message of the film right from the start. Ahmedabad is the first city that Rani is visiting. She will visit eight more cities to promote Hichki," adds the source. The entire Ahmedabad was decorated with beautifully designed kites, according to the tradition of Gujarat. Rani took part in the auspicious occasion. She flew a kite, promoting the film as well as communicating with the local media.
Rani Mukherji apart from being a dedicated actor believes in having fun too. In Big Boss season 11 episode, Rani was there to promote Hichki. "Everyone expected the episode to be wild and it was a mad shoot. Rani was on Bigg Boss to promote Hichki. While introducing the film, Rani suddenly brought up Salman's hichki when it came to marriage. Salman was stumped," said a source on the reality show's set. "She went on to say that Salman's "hichki" on marriage was here to stay and he should just become a father.
Salman was quite surprised before he realized, how good the idea was. She asked Salman to give it a thought so that Adira, Rani's daughter could play with his child.
"India, Let's get to Work" motto has been followed. It demonstrates how people struggle for jobs, where the viewers see the protagonist on her way to pursue her dream job. The movie features the journey of a common girl with a nervous system disorder called, Tourette Syndrome, which makes people who are suffering from it to make repetitive movements or sounds, involuntarily. Alternatively, Hichki is about the positive attitude of turning one's defect into strength and hence accepting challenges head-on.
The larger campaign aimed at connecting with the new India, one where the socially conscious youth is focused on helping the nation move forward, depicting a new India which is marching forward towards employment. It highlighted how people overcome obstacles related to various aspects of their lives in order to carve new paths for themselves, as seen in the film as well.
Hichki is based on Brad Cohen's autobiography Front of the Class. Rani is so committed to it that she has embarked on a two-month promo campaign.


Indeed kick-started the social media leg of its campaign to promote Hichki on March 12, 2018 and has so far garnered over 90,000 total impressions on Facebook, with a reach of close to 70,000. It has also achieved a total engagement of over 5700 across Twitter and Facebook. As part of its contest for job seekers, it has received over a hundred entries – stories from job seekers who have overcome their 'hichki' towards achieving their professional goals. Indeed has also engaged with celebrities such as Soha Ali Khan and Anusha Dandekar, among others, who shared their personal experiences of overcoming 'hichkis', inspiring the audience to keep going in the face of difficulties.
Hichki's new poster was unveiled recently. It features a dreamy looking Rani and a bunch of school kids on either side of her. Taran Adarsh, trade analyst, and film critic, shared this poster with the caption, "New poster of #Hichki...Stars Rani Mukerji... Siddharth P Malhotra directs... Produced by Maneesh Sharma... Presented by Aditya Chopra... 23 March 2018 release."
Rani Mukerji's Hichki has wrecked the opinion that married actresses are a dead commodity. Hichki has already made its way to theatres and the protagonist is being appreciated for her marvelous performance in the film. Talking about married actresses who return to films after a hiatus, she told a leading daily, "I think the definition of success with this film, for me, is the fact that it has broken the perception that married actresses, or actresses who are making their comeback after motherhood do not work and are dead commodity. After this I hope, more women come out and work in movies.''
The film's success at the box-office, Rani said, ''The film has not only entertained, but also made a difference in people's lives. Thanks to social media, I am able to gauge the reactions from the aam junta who have loved the film.''
Unlike her peers, who scoff at the term 'comeback', Mukerji doesn't take offense to it. ''I have actually returned to movies after three years, so it is a comeback,'' she said.
Rani recently shared her experience of shooting for Hichki whilst embracing motherhood. The actor had stated, "I think for me, post motherhood shooting for a film was altogether a different experience because my daughter was there at home waiting for me. So, obviously, I was concerned that I have to balance my work and my home life," Rani said while adding, "I had devised a plan to complete my work early in the morning then return back to take care of my daughter by afternoon. So that kind of worked for me very well. The team was actually quite prepped. We completed the film in 38 days which is quite an achievement since Hindi films take a long time to get shot."
The film reveals how as a student she was expelled from twelve schools before finally being accepted wholeheartedly at St. Notker's High School. The same school later accepts her as a teacher, mid-term, not because of her brilliant academic credentials but because of a crisis situation. She is hired to teach a class of underprivileged, reluctant misfits. How she wins everyone's hearts, forms the crux of the tale.

Looking back periodically to show Naina as a child, the film is most powerful in some of those flashback sequences.
How as a child, she convinces herself that Tourette Syndrome is her lifelong companion and that could teach her important lessons about human nature. That bit of disassociation which is crucial helps her cope with otherwise difficult situations. This comes through in her strained relationship with her father and also when she tells her school teacher, Mr. Khan, "Treat me like other students."
The film is packed with dramatic moments that are as truthful as they are inspiring. Every scene resonates with sentiments. With apt metaphors and lingo, the writing is simple and straightforward. And while the film intends on communicating life-affirming values, there are moments in the first half that seems forced.
The second half, despite the painstakingly moralistic notes, touches the right chords. You get so immersed in the characters especially Naina. You feel sorry for her when despite her sincere efforts, her class gets suspended, for no fault of theirs.


What elevates the film is the brilliant performances by the supporting cast. You can relate to every character as each one of them is well-etched. The ones that stand out apart from the gang of students are Sachin and Supriya Pilgaonkar as Naina's estranged parents, Ivan Rodrigues as the School Principal, Neeraj Kabi as Naina's colleague at school who is keen to dismiss Naina's students from the school and of course the character who plays Naina's brother.


The loving relationship between the siblings is well-defined.


With ace production values, the film is well-made. The only sore point is the loud background score that kills the subtlety of the subject.

Overall, 'Hichki' remains in your mental space long after you leave the theatre.