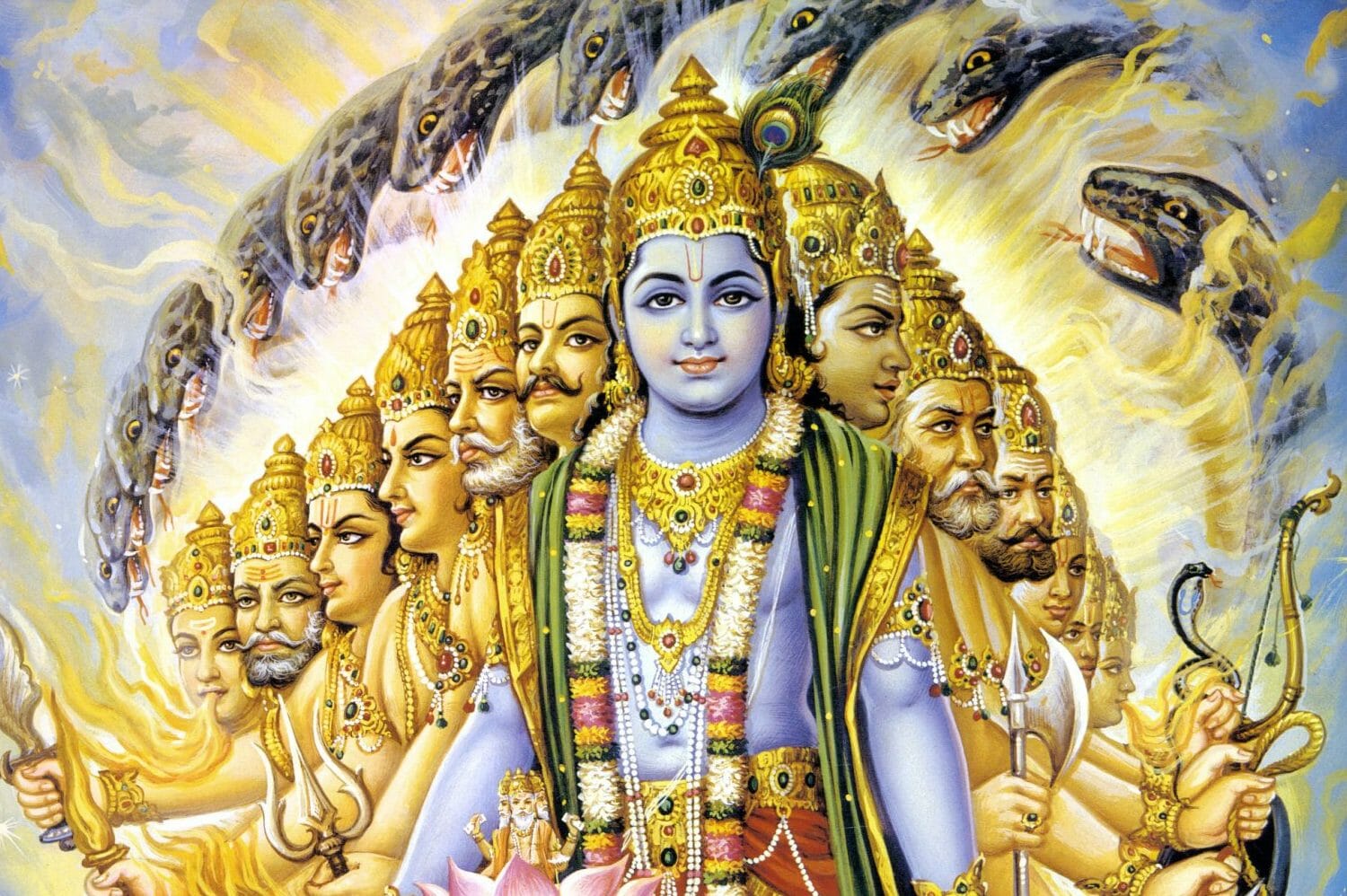 Listening - In Gita Verse 2.32 O Pārtha, happy are the kṣatriyas to whom such fighting opportunities come unsought, opening for them the doors of the heavenly planets.
Krishna addressed Arjuna as Parth again, to give him little jerk so that he can come back to his subjectivity and he can listen and not hear.
Listening is very different from just 'hearing.'
You can hear, there is no trouble about it - but you cannot listen. Listening is totally different from hearing. Listening means hearing without mind; listening means hearing without any interference of your thoughts; listening means hearing as if you are totally empty. If you have even a small trembling of thinking inside, waves of subtle thoughts surrounding you, you will not be able to listen, although you will be able to hear. And to listen to the music, the ancient music, the eternal music, one needs to be totally quiet - as if one is not. When you are, you can hear; when you are not, you can listen.
If you are listening with all kinds of prejudices, that is a wrong way of listening; it is really a way of not listening. You appear to be listening, but you are only hearing not listening. Right listening means you have put aside your mind. It does not mean that you become gullible, that you start believing whatsoever is said to you. It has nothing to do with belief or disbelief. Right listening means, 'I am not concerned right now whether to believe or not to believe. There is no question of agreement or disagreement at this moment. I am simply trying to listen to whatsoever it is. Later on I can decide what is right and what is wrong. Later on I can decide whether to follow or not to follow.'
And the beauty of right listening is this: that truth has a music of its own. If you can listen without prejudice, your heart will say it is true. If it is true, a bell starts ringing in your heart. If it is not true, you remain aloof, unconcerned, indifferent; no bell rings in your heart, no synchronicity happens. That is the quality of truth: that if you listen to it with an open heart, it immediately creates a response in your being - your very center is uplifted. You start growing wings; suddenly the whole sky is open.
It is not a question of deciding logically whether what is being said is true or untrue. On the contrary, it is a question of love, not of logic. Truth immediately creates a love in your heart; something is triggered in you in a very mysterious way.
But if you listen wrongly - that is, full of your mind, full of your garbage, full of your knowledge - then you will not allow your heart to respond to the truth. You will miss the tremendous possibility, you will miss the synchronicity. Your heart was ready to respond to truth.... It responds only to truth, remember, it never responds to the untrue. With the untrue it remains utterly silent, unresponsive, unaffected, unstirred. With the truth it starts dancing, it starts singing, as if suddenly a sun has risen and the dark night is no more, and the birds are singing and the lotuses are opening, and the whole earth is awakened.
When you listen immediately love triggers in you. In the middle of the war field if in Arjuna's heart truth will arise then immediately love will arise in his heart. Which means with compassion he will be fighting. Unless love is transform into compassion Arjuna cannot fulfill his assignment of the universe, Fight Without Enmity. Not only for Arjuna but it's opportunity for whole kṣatriyas, as this war will give them opportunity to fight for the ethic and not for any victory.
Compassion is the highest form of love.
The greatest anguish in life is when you cannot express, when you cannot communicate, when you cannot share. The poorest man is he who has nothing to share, or who has something to share but has lost the capacity, the art, of how to share it – then a man is poor.
The sexual man is very poor. The loving man is richer comparatively. The man of compassion is the richest – he is at the top of the world. He has no confinement, no limitation. He simply gives and goes on his way. He does not even wait for you to say a thank-you. With tremendous love he shares his energy.
This is what therapeutic.
Unless compassion has happened to you, don't think that you have lived rightly or that you have lived at all.
Compassion is the flowering. And when compassion happens to one person, millions are healed. Whosoever comes around him is healed. Compassion is therapeutic.
Krishna's whole effort is to see that Arjuna turns his energy into compassion. So that whoevers body will be killed they will be liberated. In state of compassion whatever happens it is with alignment with Universe. Some point of time death is best healing.