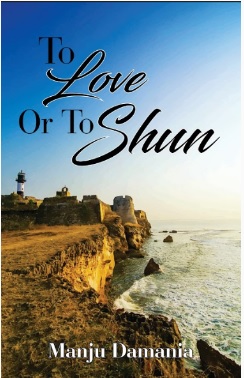 I will start my review with the book cover. The Cover is indeed apt. Since the book based on the backdrop of freedom struggle at Diu, the cover meaningfully depicts a fort at the sea side.

The prominent blue color from the book signifies depth and melancholy. Both of which go with the theme of the book.

The book is based on the basic premise of the right to love.

Whether or not one should accept Love . For Love is not easy

What I liked about the book is that it holds within itself a simple story . A story about first love about family and about basic human instincts. All that is done beautifully in the backdrop of the political turmoil and quest for independence at Diu. The local way of life and the surroundings of Diu are vividly expressed.
The book is a quick read and is more like a long short story than a novella.

The storyline at times seems just too linear for folks who rather enjoy stories with thrills, twists and turns . There are not many sub plots either.

Also, I personally feel that the characters are a bit under developed. There was a lot of scope to portray the emotions of Gauri and Shankar, the two protagonists.
All said and done To Love or to Shun is good read. Do read it for its sheer simplicity and to know more about the underrated beauty of Diu.