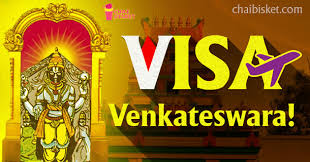 Visa God
Does your mind ever wander to go to the land of your dreams? Do you ever wish to reach your wonderland without the hectic documentation process? Life would have been such a fairytale if we could walk anywhere without the fear of crossing the boundaries and getting ourselves into some sort of trouble.
Well, Indians are quite fortunate in this regard. They have a magic wand to convert this imagination into reality. Welcome to Hyderabad's Chilkoor Balaji Temple or more popularly known as the 'Visa Balaji Temple'. Situated on the banks of the Osman Sagar Lake, it is one of the most ancient temples of Lord Balaji in Hyderabad. Built to honor Lord Venkateshwara Swamy, who once came in the dream of an old man and asked him to dig a particular place at Chilkoor, today this temple stands strong to honor and safeguard every man's wish that come to visit this temple.
Faith has led many people to believe that Lord Balaji approves their Visa Application within a short span of time, subject to certain terms and conditions, of course! These conditions are easy to follow and once done, people can reach their destinations without many hurdles, with the blessings of the visa god.
If you are applying for a US visa application, you have to visit the temple before the visa interview and take 11 rounds around it. Once the visa gets approved, which is bound to, you should complete 108 rounds as a mark of gratitude for the visa god.
Simple process. A give and take relationship. Isn't it?
A cursory look at this process makes your excited self-closer to your dreamland. The daydreaming follows and suddenly everything's perfect, with you being 'the Alice of your wonderland'. You want to hold on to that dream and never let it go. But apart from this fairy world, one needs to ponder on the actualities that it brings with itself. Some really hard-hitting questions come up at the back of your mind that disputes the logic behind the immense success rate of the visa approvals. Is faith the sole driver of spiritual energy? Does faith defy belief? Are hard work and merit somber plain words in today's demanding age?
A closer look at these questions conflicts with the concept of belief in a particular system. It feels strange to think of this phenomenon to be true. But, considering the vast IT demographic dwelling in and around Hyderabad and visiting the temple each week in a bid to make it to the paradise abroad, the successful numbers of visa approvals just makes the case more credulous and exciting.
This visa approval faith, earlier a word of mouth but now has spread far and wide with the temple receiving visitors as whopping as 100,000 a week. Students, employees, doctors, women, be it anyone, is making his way to the temple for getting their desires fulfilled.
With so many people turning up each week, a simple mental calculation would let us believe that the temple is a cornucopia of wealth, with donations, gold, and cash deposits overflowing its vaults. But the irony is that this temple is one of the few temples in India that does not accept any monetary assistance from its devotees. In addition to that, it circulates a monthly magazine, called 'Vak' (Speech of God) priced at a very nominal rate.
With this information in the background, one might wonder whether it's the power of faith or that of the divine which brings so many people in unity and fulfills their expectations. Or maybe its gods own way of telling the mortal beings that they can achieve anything that they want to.