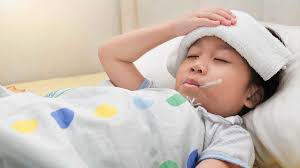 CHILDHOOD DISEASES:
A lot of diseases are common during childhood ,we will discuss about symptoms and cure of these diseases.
CHICKENPOX:
Chickenpox is a common and mild childhood disease.Symptoms of the disease are
Fever,rash, itchy spots which turn into fluid -filled blisters which later turn to scabs which eventually fall off.
Fever and itchiness cause a lot of discomfort and makes a child irritable.
Spots occur on face,ears,scalp,under the arms,chest, belly,arms and legs
The incubation period is 10-21 days
No specific medicine is there to treat chickenpox, only paracetamol is used to lower fever and calamine lotion to soothe the skin.
If fever is left untreated sometimes secondary bacterial infections may occur.
Immunisation can help prevention of the disease.Varicella Vaccine if administered helps to prevent the disease.
COUGHS,COLD AND EAR INFECTIONS IN CHILDREN:
Coughs:
In children cough is common caused due to a cold.If the cough becomes nagging and doesn't go away it may be due to-
Croup
Whooping Cough
Asthma
Pneumonia
Swallowing foreign objects
The symptoms are----
High temperature,persistent cough, breathlessness,listless,discomfort,occuring at night all these require immediate medical attention.
SORE THROATS:
Sore throats are caused due to viral illness caused due to cold and flu.The child's throat becomes sore for a day or two before the commencement of a cold. Paracetamol or Ibuprofen can be given to relieve throat ache.Sore throats go away after 3-4 days but if swallowing becomes difficult doctor should be consulted.
COLDS:
Colds are common among children as their immunity level is low.As they grow their immunity develops and they experience fewer colds.
Colds last for 5-7 days
Fluid intake of the child should be increased
Saline nasal drops can relieve a stuffy nose
Fever can be controlled with Paracetamol
Hygiene should be maintained
The Influenza Vaccine should be administered yearly to the child to get protection from cold and flu.
EAR INFECTIONS:
They are common in babies and small children following a cold.Sometimes due to an ear infection fever might crop up which can be controlled with Paracetamol.No ear drops should be put in the child's ear without the doctor's advice.The infection goes away in two weeks.
GLUE EAR:
Repeated middle-ear infections may lead to Glue Ear(Otitis media with effusion) due to which sticky fluid builds up and can affect the child's hearing.Immediate medical attention should be sought.
DIARRHEA AND VOMITING IN
CHILDREN:
Babies often have loose stools, breastfed babies are more prone to loose stools than formula fed babies.
Diarrhoea occurs in infants and small children too due to unhealthy food or contaminated water.
Medicines should be given immediately to prevent dehydration.
Symptoms of diarrhoea and vomiting are--
Sunken eyes,dark urine and a dry mouth are symptoms of the disease.
If the child has fever, green vomit,blood or mucus in the poo and abdominal pain then the child needs urgent medical care.
MEASLES:
It is a contagious viral disease spread from person to person through air droplets.
Symptoms are-fever,cough,cold,lassitude,sore throat,watery eyes,rash appears on the 3rd or 4th day.Spots are red and raised.Illness lasts upto 10 days.The child should be isolated from other children.
Prevention--Vaccination is the best way to prevent measles
MUMPS:
A contagious viral infection of children from 5-15 years.But in the present day it has become uncommon due to proper immunisation.
Symptoms---painful swellings appear at the side of the face under the ears giving a 'hamster face'appearance.Headache,fever and joint pain are the other symptoms.
Prevention is with the MMR vaccine.
FEVERS AND HIGH TEMPERATURE IN CHILDREN-
Mild fevers to high temperatures are common among children.If the thermometer shows temperature above 98.4'F then the child has fever. Mostly the fever is due to viral infections but sometimes it may be due to bacterial infections which requires a course of antibiotics.
Symptoms-the child feels uncomfortable,has chills,shivers,mild dehydration and sometimes seizures may be there.
If the child shows listlessness,having seizures,difficulty in breathing,not passing urine and a severe headache then the child should be hospitalized immediately.
Treatment--make the child wear loose clothes
Cover the child and give the child lots of fluids to prevent dehydration.
Paracetamol and Ibuprofen are best to reduce fever.