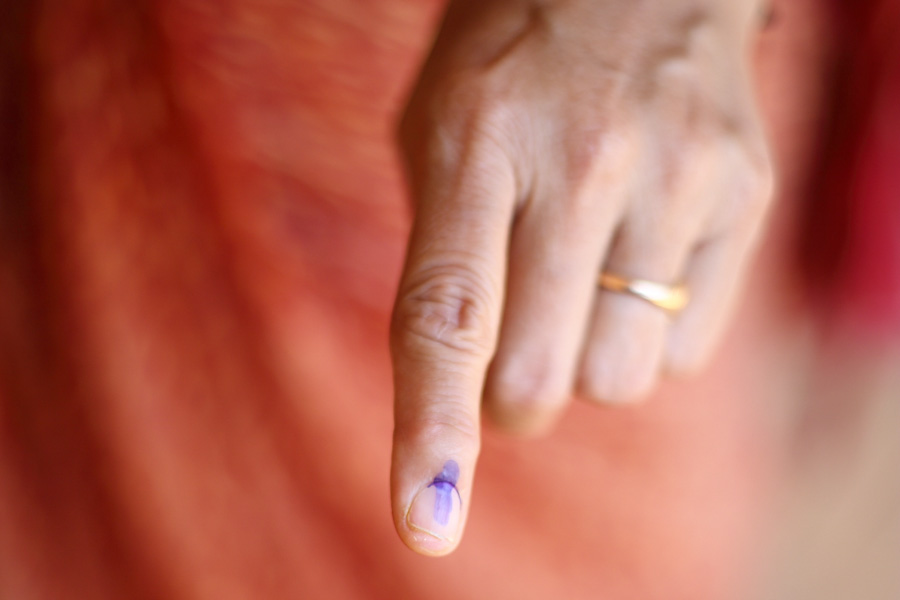 Indian Election
Elections is basically a decision which is taken by the public to choose an individual to run a district, state or a country. Elections not only help in forming a government but it also helps in private organizations.
The election came in practice from the Vedic period. The king used to elect another king from their sons. At that time there was no role of the public in elections. When the country did not get free and there was British rule in India, elections were held at that time also. But when India got independent, Indian public also got an opportunity to participate in the electoral process and to vote his/her choice of an individual. The process of vote transactions is called the election which is used to maintain the status of democracy. These political programs began to establish in the year 1950 and were established in the form of the non-lateral program. In 70's election were held after every 5 years.
The election commission is the main functioning body which conducts and regulates the election. The schedule is also prepared by the election commission. This commission is a constitutional body. It prepares the electoral rolls, voter id cards and makes an election booth where the public can come and vote for their individual. This body keeps an eye on everything happening in a booth so that no discrepancy should occur. It also appoints staff for supervising the election. The commission issues some code of conduct and all the party have to strictly follow certain codes. These code of conduct are basically some guidelines which need to be followed by political parties and candidates.
On the day of the election, people used to visit the booth and vote for their candidate either through ballot paper method or electronic method. The voting is done area wise and once the process voting is completed the counting of votes are done in the presence of candidates. The one who gets the largest number of votes is declared elected by the district magistrate.
The scenario of Indian election-

In India, a person above the age of 18 has the right to vote and play a prominent role in forming a government. The preparation of election starts in advance. Every party finds a way to convince people to vote them by making banners, poster or organizing rallies and meeting people and giving a speech to convince them. Some also try to convince people by going door to door for votes. There is a chief officer is assigned to each and every polling booth who supervise all the arrangements and ensures that voting is done fairly and smoothly. The voting begins in the morning and ends at 5pm. But there are some parties who use unfair means of getting votes. These parties give money to poor people and many more things just for getting votes. They create a political atmosphere. Just because of these guys India is not able to grow. Today everyone wants to be an engineer or a doctor but no one wants to be a politician. In fact, everyone just ignores the politics happening in front of them just by thinking why to dip our hands in this. In my point of view a sweeper is much better than these politicians, at least he dumps in sewage and cleans the dirt of the city.
After 70 years of independence also India is said to be a backward country and the reason is public. We are the one encourages corruption and for some money, we give a vote to the wrong party who does not deserve to be elected. We are the one who thinks of ourselves and not about our country and just say that politics has ruined our country. Its neither politics nor corruption it's we who have destroyed our country.
In India, there are many ways through which unfair polling is done. Either the politicians bribe the public or they give them warning to give them vote or else they will hurt them or their respective family members. Even these politicians bribe the officials to change the counting of the vote. No one knows how they did but they did it.
Constitution of India is the supreme law and this law is been copied by other countries law. Our constitution is a compilation of many countries law and this shows why India is still a developing country. India is a democratic country, we are secular and we must have a separate constitution. If this change is done it might change our country.
Apart from this India is captured by reservation also. Even in elections reservation quota is there in which some Lok Sabha seats are allocated to reserved category. In India's Parliament, there are 543 seats and out of which 84 are reserved for another category. This reservation is now misused by the politicians for their vote bank. The politicians have an added advantage over this category for their vote bank. They support a reserved category to get some votes. This nuisance is supported by them just for a vote. Reservation is a painkiller. Instead of killing the problem, nipping it in the bud, they hide the symptom and harm the body in the long run. Reservations by design, cannot help those who are genuinely oppressed, but only those who are incompetent.
Importance of voting-
Voting is important because it gives the right to a common person to choose his or her ruler. The public gets an indirect control over the functioning of government and they also have the power to raise a voice against unfair means
Voting is our right and we all should actively participate in the election and only then we'll have good governance.
Today India is also on his knees and it needs someone to who can run this country properly.
If we all can come together and fight for GST then we all can also fight for corruption. First, we need to change ourselves then only we can change the world. Instead of promoting Swachh Bharat Abhiyan first we should look inside ourselves and become a Swachh person then only India can become Swachh.