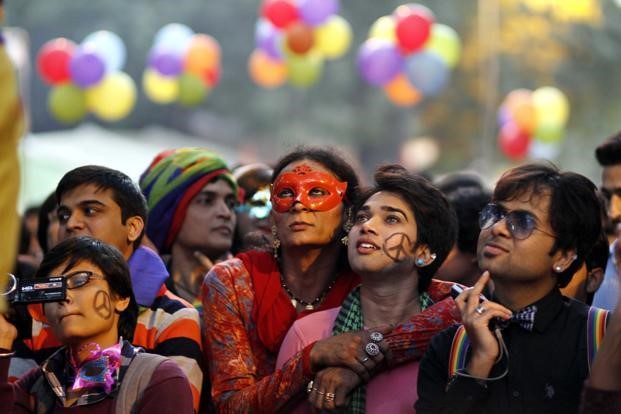 In this beautiful phase of mankind where we have everything and the most important thing on which our life is grounded in, it's our fundamental rights. These rights are the basic and the most important structure of our whole Indian democracy. Our sovereignty, freedom, justice, liberty and dignity are based on these rights. Just imagine what will happen if someone stops you from entering in the restaurant when you are very hungry or if someone denies you to give an admission in any educational institutes or if someone put you behind bars for no reasons. If this thing really happens then your life means nothing but just a living hell for you. But we all are doing such stuff with the most remarkable personalities and we call them homosexuals or gay or lesbians.
We are in the 21st century where everyone is free to live his life in his/her own way, where everyone can choose their love freely, without being afraid of anything.
While hanging out with my friends late at night on the streets of Ashok Vihar, New Delhi. I came across a very strange incident. A group of few, beating two strangers just because they were gay and holding each other's hand in a public place. After saving them from those stupid people we sat down on the sidewalks and had a bit of chit-chat with them.
We first introduced ourselves and had a formal conversation. Then I asked a few questions which I really wanted to know.
ME: How you find this special trait in you?
He smiled and replied, well this is not a trait which is given by your parents. It's a choice that who you want to be. Being a boy is an honour for me, I respect this gender but I also respect my feelings and myself. Being a gay is not a shame for me but it is a shame from those people who think that we are different from them. I always have a soft corner for boys and always wanted to be in a relationship where I am accepted as who I am. My partner and me respect each other the way we are, we don't want to change our Facebook status to let people know that we are in a relationship because we know they will never accept us.
ME: Choosing your partner is not a crime then why are you hiding your relationship?
Well, when he replied to this question I am totally shocked and got to know about the most disastrous thing that our government planned for them. This is the Section 377 of Indian Penal Code which criminalises same-sex marriage. He said we don't have any entitlement which we can claim and live happily ever after. Government have planned a lot to teach us a lesson of consequences after choosing our love.
ME: What is the best moment of your life?
For me, the best moment is when Ahmed (his partner) expresses his love towards me and purposed me on 15th of August. But at that time I didn't say yes because it was a memorable day for our whole country and everyone was celebrating their Independence but I didn't feel that I was free and independent. I want to spend my rest of the life with Ahmed without having any second thoughts in my mind, want to hold his hands, want to walk freely with him on the streets, want some respect from everyone and the most important I want acceptance in the society.
But finally, on my birthday eve, I couldn't stop myself when this stupid (Ahmed) kissed me and shouted that "I love you and don't want to spend a single second without you. I don't know that we will get a freedom or not, but I can't waste my entire life to wait for that moment. It's our choice, our happiness. Now it's your call to give me your final answer YES or NO." I don't know what will happen to us if we were caught holding our hand together or if we were caught kissing each other. But I do know one thing that can't live without him and I said, "YES, YES, YES… I always want you in the first place doesn't matter what it takes to stay together, we will always stand together and will fight from every situation together" and finally, we kissed each other and that was the best kiss of my life.
WELL! AFTER FACING ALL THE MISERABLE SITUATION THEY STAND TOGETHER AND LOVE EACH OTHER LIKE A HELL.
At last, I want to say that always stand for people like Ahmed and Naveen. They need us because they have faith in us, the great personality, Mother Teresa once said: "Let us always meet each other with a smile, for the smile is the beginning of love". So, respect everyone, help everyone, love everyone and do things which will be remembered forever not by taking someone dignity but by respecting their dignity, love, ideas and choices. We all are born to make a difference, so make it by supporting the most vulnerable and negligible community of LGBTQ. They need our support and respect in our eyes, Let's share our wisdom, our happiness with these people and remove the lamps of sadness from their life.