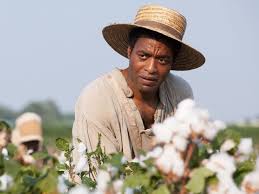 Solomon Northup's birth is itself a mystery. In the book 12 years a slave he is said that he was born in July 1808 rumours have been spread that he was actually born a year earlier. Though Mintus, his father was a slave to Captain Henry Northup he got manumitted after his death. Hence Solomon was born free.
Solomon, after studying started working on his father's farm that he had acquired. The possession of the farm allowed him to fulfil the requirements that were needed to vote.
In 1828 he got married to Annie Hampton. Six years after that his parents sold the farm and moved to Saratoga Springs, New York and started doing odd jobs to support their children.
Duped by two men who claimed to be circus performers, they offered him money to be a fiddler while they travelled from South to New York. However when they reached Washington Northup was drugged and only became conscious when he woke to find himself in shackles in an underground cell. He was conveyed to Richmond, Virginia, and then delivered by ship to New Orleans, where in June he was sold at a slave market under the name Platt Hamilton. The next 12 years were spent in slavery in the Bayou Boeuf plantation region of central Louisiana's Red River valley.
William Prince Ford was the first owner of Northup and was very kind to him. However a financial exigency forced him to sell Northup to John M. Tibaut (referred to as John M. Tibeats in 12 Years a Slave) in 1842 who was very brutal in his behaviour and when Tibaut Tried to whip him Northup resisted and prevailed in the ensuing fight. Angered by this Tibaut took help from his neighbours and had another fight with Northup who was rescued by Anderson Chafin (referred to as Chapin in 12 Years a Slave). Northup won the second fight as well and fled to Fords protection from where he demanded that Tibaut either sell or lease him.
Fact: Northup was Tibaut's only slave.
During April 1843 the duo sold Northup to Edwin Epps under whom he remained for the next ten years. Northup performed the tasks of an artisan and a field hand. He also leased Northup out to processors and sugar planters. Northup was also put in charge as a driver of the other slaves. Epps was also an expert with the whip and had a sadistic streak. Only when a carpenter from Canada Samuel Bass visited the farm in 1852 Northup could arrange to have letters sent to his friends. There was on letter that was sent to Anne Northup who took the aid of Henry B. Northup, who was a lifelong friend of Solomon and was also the grandnephew of Captain Henry.
Henry came through and gathered widespread support for Solomon among the top citizens of Sandy Hill and Fort Edward in New York. Governor Washington Hunt made him an agent under the statue that was made to rescue the citizens that were sold into slavery. He also received letters from a senator and a Supreme Court justice. After reaching Louisiana he hired a local counsel and Solomon was located and finally freed on January 4th 1953.
Later that month Northup was finally reunited with his family and his rescue was publicised. While passing through Washington D.C he pressed charges against James H. Birch who had sold him first. Due to the racial discrimination he was not allowed to testify and when two other slave traders supported Birch the case was dismissed. Northup with a local writer David Wilson wrote his story titled Twelve Years a Slave. He bought a house in New York from the money he earned by selling around 30,000 copies during the time period of three years.
Fun fact: An annual celebration known as Solomon Northup Day was established in Saratoga Springs in 1999.
Northup engaged in public talks and because of his influence as a celebrity the New York slave traders were caught and indicted in 1854. The case finally reached the case reached the Supreme Court. But even then it did not yield any results. Due to this Northup joined the Underground Railroad and spent many years in New England helping slaves escape.
Northup's book remains one of the most important narratives of a slave. It includes the daily routines and the festival celebratory practices. Twelve Years a Slave went out of print before the turn of the century. However, Louisiana researchers Sue Eakin and Joseph Logsdon spent several decades researching Northup's life before, in 1968, releasing an annotated reprint that substantiated many of his claims. An annual celebration known as Solomon Northup Day was established in Saratoga Springs in 1999. Northup's memoir also provided the basis for director Gordon Parks's television docudrama Solomon Northup's Odyssey (1984) and director Steve McQueen's film 12 Years a Slave (2013).
The time and circumstances of his death, as well as his place of burial, are unknown. His last public appearance was in Streetsville, Ontario, Canada, in August 1857. He was not accounted for in the U.S. census of 1860 and almost certainly predeceased Anne, who died in 1876.
Some of his quotes:
"What difference is there in the colour of the soul?"
― Solomon Northup, 12 Years a Slave
"Life is dear to every living thing; the worm that crawls upon the ground will struggle for it."
― Solomon Northup, Twelve Years a Slave
"I ask no paradise on high, with cares on earth oppressed, the only heaven for which I sigh, is rest, eternal rest."
― Solomon Northup, Twelve Years a Slave
"My sufferings I can compare to nothing else than the burning agonies of hell!"
― Solomon Northup, Twelve Years a Slave
"Blessed be sleep! It visiteth all alike, descending as the dews of heaven on the bond and free."
― Solomon Northup, Twelve Years a Slave
I admire those rare souls who don't give up in the toughest of circumstances and still hope to see the light at the end of the tunnel. They have the power of eternal hope and it's often one of the most important tools an individual can possess.
Solomon even after going through so much and it was because of his understanding in this situation that he returned to help others who were stuck in the same situation. He was very humble and used his fame to help others. He inspired others to fight for their freedom. He used his book as a medium to tell the world about his experiences and use it as an expose for the harsh reality of the slave traders.
He is a living example of fighting against the odds and proving that no matter what happens, if you have the will and determination you will swim out of your troubles.