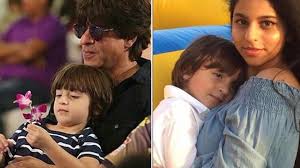 WHY IS OUR MEDIA OBSESSED WITH STAR KIDS-
From time immemorial the media has been celebrity crazy. Fan following of these star celebrities has been on the rise. The Nation has been crazy to emulate their favourite stars, whether they sport their hairstyle, the clothes worn in a particular movie or accessories used by them. They try to copy their every move and look. The media has always hyped the glamour and looks of these celebrities and all of us show a keen interest in the lives of these people, instead of our own. We too want to lead a glamorous life and give the same to our kids.
But since the advent of technology in the country our fan crazy media has become obsessed not only with the celebrities but also their kids. We love to lap up any information regarding these stars and their kids and this information becomes viral within seconds. With stars sharing their photos and disclosing innermost secrets on social media, the paparazzi has taken it as a positive signal to give the Nation the latest buzz on engagements, weddings, pregnancy, motherhood of these stars. The stars or star wives embracing motherhood are lauded and their every move from baby showers ,to birth and the number of nannies employed is made public .Earlier the stars kept their personal lives a secret whether they eloped, had break ups or embraced motherhood. Nothing was revealed by them as they guarded their families and didn't want their children to be disturbed by their star status. A simple and normal upbringing was liked by most celebrities and only media got to know a little about these stars not their kids. Everything was kept under wraps, even if a star kid was to make his or her maiden debut in a movie, there was no hype and it was revealed at the last moment.
But today Instagram and Twitter are the places where you get all the trending news as all the celebrities are using these social media.So whether it is Kareena Kapoor's son Taimur, Shahid's daughter Misha, Sharukh Khan's daughter Suhana or Amitabh Bachhan's grand daughter Navya, Dhoni's daughter Zoya, Abhishek's daughter Aaradhya all are being trolled by the media all the time. Whether the star kids are small or big the media wants to know their every move.Stories, tweets, facebook posts are all full of these star kids.Why bash the media for giving these kids undue attention we vicariously flip through these stories and to a certain extent the stars too feel elated that their children are star material at a young age. These toddlers have innumerable fans on social sites. But haven't our stars given the media leverage to write and talk about their kids. Why do they crib about it when their kids get stifled by media presence all day.The kids are being judged on their appearances, the name they have acquired, their play dates etc. Their every move makes those inundated stories and they gather numerous likes on social media. The media cashes on this, as this has paved their path to good earning.
They say Karl Marx said 'Religion is the opium of masses' but in our country 'celebrities of Bollywood are the opium of the masses'. We have this fascination to compare the star kids with their parents in every way whether achievement, looks, riches etc. Our society is star-struck.
Whether it is their airport look or throwback pictures of celebrities with their kids, the media obliges the star hungry public. A matter of demand and supply."Suhana Khan slips into a swimsuit and gets temperature soaring"
"Shirtless Taimur Ali Khan And Innocent Inaaya Kemmu Enjoy A Day Out With Parents, Pics Inside!"
"The best photos of Aishwarya Rai's daughter Aaradhya Bachchan"
"Navya Naveli Nanda Posts Pictures With Her Boyfriend"
"These Pictures of Jhanvi Kapoor Will Give You Major Vacay Goals"
These news headline are normal for any parent but for the general public it is like a piece of steak all juicy and ready to be chewed and taken in. Don't you enjoy a day out with your kids, doesn't your teenager have a boyfriend then why this obsession and trolling.It was a shame that Suhana Khan was trolled for wearing a bikini.
Then when things get unpleasant they lash out at the media for trolling their kids and violating their privacy. They want their kids to have a normal upbringing away from the spotlight and all day smiling and posing for the shutterbugs at a young age.
Isn't this a hypocrisy as they themselves give an insight into their lives to the public via their social media handles and when the public and media barge into their private lives, they lash out at them.