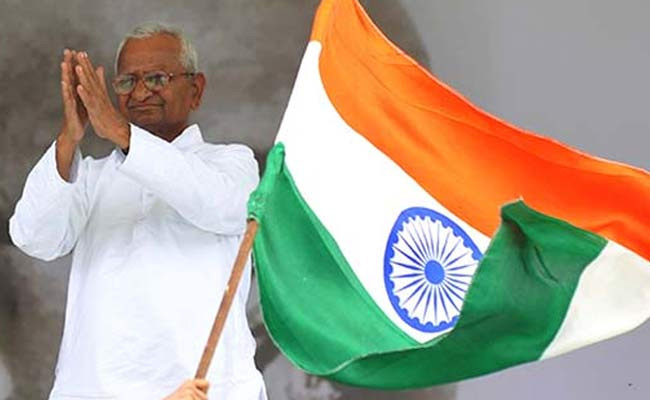 Anna's Hunger Strike
Anna's hunger strike in Delhi did not create the same impact it did in 2011
There are various reasons in support of it. Earlier, Congress was quite weak. There were scams all over and it became really tough to defend the government. While BJP had been on a winning spree over 3 years till 2018 and defeating deeply rooted political parties in historical clashes.
Modi remains unbelievably popular. Had someone else done demonetization or GST, there might have been riots. Only Modi could have pulled it off without major chaos. In a nation that is swift to protest and go on brutality, people tolerantly waited in queues to get to normalcy. That is Modi's power. You would not find any other leader in any democracy in the world at this point getting this much passionate support. Therefore, it would be a bit of a hard sell to bring a general mob against him.
Also, in 2011, Hazare had straightforward demands and Indians rose against corruption. Now, his demands were complicated - including the removal of electronic voting machines. He had diluted his activism by challenging things that are not required by the majority.
In 2011, the people who were behind Anna were looking to topple the power structures. Now, those people are part of the establishment in Delhi - at the state and the center.


Anna Hazare's Indefinite Hunger Strike Over Lokpal At Ramlila Maidan In Delhi



Anna Hazare's movement against corruption started at Ramlila Maidan in the morning of 22nd March 2018. He first visited Rajghat, and then Shaheedi Park as a sign of respect towards Bhagat Singh.
Anna Hazare, who had launched his anti-corruption movement from Delhi about seven years ago, had returned to the iconic Ramlila Maidan in the capital. His supporters started their protest as Kisan Baburao Hazare, who everyone calls Anna, started his hunger strike with a demand for the government to set up a Lokpal.
After over half a decade, his demands haven't changed, and neither has his modus operandi. He began his indefinite hunger strike against the central government for failing to set up the Lokpal at the Centre and Lokayuktas in the states.
Anna Hazare, who previously sat on a similar hunger strike for Lokpal in 2011, had a new target this time. Seven years ago he targeted the then UPA government at the Centre, and his anti-corruption movement had caught the imagination of millions of Indians. His movement even gave rise to Arvind Kejriwal and the Aam Aadmi Party, who cashed in on the mileage of Anna Hazare's campaign. This time Anna Hazare's target was the Narendra Modi-led BJP government, which had not been able to finalize a Lokpal or a national ombudsman to investigate cases of corruption.
Anna Hazare, who did not want to politicize his movement the last time, faced a situation where many of his "followers" went ahead and formed the Aam Aadmi Party. This time the social activist and his team said that they had taken concrete steps to ensure that no such thing happens again.
Kisan Baburao Hazare began the day by visiting Rajghat along with his supporters and paying tributes to Mahatma Gandhi. They then marched to Shaheedi Park as a sign of respect towards Bhagat Singh, Rajguru, and Sukhdev. One of Anna Hazare's supporters said,"March 23 has been chosen on purpose as Bhagat Singh, Rajguru and Sukhdev" were hanged to death on this day in 1931 by the British."



Before beginning his hunger strike, a core committee meeting of Anna Hazare's most trusted aides, and representatives of farmers' organizations took place at the New Maharashtra Sadan, a day before. Mr. Hazare also took a round of the Ramlila Maidan to see the preparations for the protest. The organizers claimed that tens of thousands of people were expected to attend the protest. The Delhi traffic police issued an advisory warning commuter to avoid taking routes towards Aruna Asaf Ali Road, Delhi Gate, Darya Ganj, New Delhi Railway Station, Ajmeri Gate, Paharganj, ITO, Rajghat, Minto Road, Vivekanand Marg, and Jawaharlal Nehru Marg.


On August 31, Anna Hazare had written to PM Modi stating that he would launch an agitation over the appointment of Lokpal and Lokayukta as well as the implementation of the Swaminathan Commission report. Anna Hazare wrote, "Since there has been no response from your side, I have decided to launch an agitation in Delhi. I will continue with the protest until the demands are met". He also mentioned that in his next letter he would inform him about the place and the date of his agitation.
His key demands
Setting up of the Lokpal at the center and Lokayuktas in the states and implementation of the Swaminathan Commission report that assures fair pay for farmers.
The Jan Lokpal Bill (Citizen's ombudsman Bill) is a draft anti-corruption bill drawn up by prominent civil society activists seeking the appointment of a Jan Lokpal, an independent body that would investigate corruption cases, complete the investigation within a year and envisages trial in the case getting over in the next one year. The Lokayuktas is an anti-corruption ombudsman organization in the states. Once appointed, Lokayukta cannot be dismissed nor transferred by the government, and can only be removed by passing an impeachment motion by the state assembly.
Swaminathan Commission report: The National Commission on Farmers, chaired by Professor MS Swaminathan, submitted five reports through the period December 2004- October 2006. Following from the first four, the final report focused on causes of farmer distresses and the rise in farmer suicides and recommends addressing them through a holistic national policy for farmers. The findings and recommendations encompass issues of access to resources and social security entitlements.
During the hunger strike, Anna Hazare showed signs of relenting
The fourth day of Anna Hazare's anti-corruption crusade at Delhi's Ramlila Maidan saw Maharashtra's Cabinet minister Girish Mahajan pay a visit to the fasting 82-year-old and promise a word from the Centre on his 11 point agenda that included the implementation of the MS Swaminathan report and appointing a Lokpal at the center.

While Hazare, who called the indefinite hunger strike had lost 4 kilos so far, he showed signs of relenting, after meeting Mahajan he announced that he will be 'satisfied' only if the Centre sent a minister and agreed to his demands in writing. After meeting Anna that afternoon, Mahajan said that he showed the octogenarian a video of finance minister Arun Jaitley's speech to assure him that the center was making efforts to end the agrarian crisis. "He seemed satisfied and we hope that we will reach a consensus soon," Mahajan told reporters.
Hazare too said that while he was partly convinced by Mahajan's efforts but will relent only if the Centre gives its assurances in writing. "His (Mahajan's) efforts seemed satisfactory, but we want everything in writing," he said.
This was the 19th time that Hazare is on a hunger strike nearly seven years after his India Against Corruption movement stirred the political establishment of the country.
Moving into the fourth day of the agitation, the number of supporters seemed to have dwindled down to barely 800-900 people, sending the core committee of Team Anna into a tizzy that led to packing off at least seven members of the team to neighbouring states of Haryana and UP to garner more farmer strength. The organising team was also planning to send student volunteers to universities and colleges within Delhi and in the outskirts to give a boost to the support base of the movement. Core committee member Suresh Sharma, a social activist from Haryana, attributed the thinning of crowds to the absence of a strong anti-incumbency sentiment that had accompanied the 2011 agitations and the harvest season that kept a number of farmers from turning up. "We have sent our leaders to mobilise farmers from Bulandsheher, Meerut and Bhiwani," he said.
While the 2011 movement found support in political groups like RSS and the urban middle class, Anna's latest anti crusade drive has inducted at least a dozen new faces of the movement who may not be well-known public faces but were still connected deeply with the grass-roots. He had reportedly made new members sign an affidavit that they will not join politics, which many core-committee members claimed as the reason why the movement had fewer takers.
Sharma said that the movement was further weakened by the BJP as support groups were stopped from entering Delhi at NCR borders. "Four of our volunteers were arrested on Sunday for carrying out a candlelight march, how is that fare," he said.


Anna Hazare Ends Fast, Says Will Come Back in 6 Months if Demands are Not Met
He said that he was giving the government six months time till August to come good on its assurance and warned that his protest will again begin in September if the demands were not conceded.
"They (government) have assured us that they will make the appointments as soon as possible. I will see till August and we will begin again in September. It should be done within a time frame. (Though Maharashtra) Chief Minister (Devendra) Fadnavis has said that it will not even take six months, we will see," Hazare said.

"Sarkar aur janta alag nahi hoti...sarkar ka kaam hai janta ki bhalai, desh ki bhalai...aese andolan ki naubat nahi aani chahiye (the government and the public are not separate. The government's job is to do what is good for the people and the country. Things should not come to such a pass that protests are needed)," he said.
Union Minister of State for Agriculture Gajendra Singh Shekhawat accompanied Maharashtra Chief Minister Devendra Fadnavis to the protest site to convey to Mr. Hazare that the government had agreed to his demands. The Centre reached out to Hazare, with its emissary and Maharashtra minister Girish Mahajana, assuring the social-activist that most of his "demands will be taken care of".
Mr. Fadnavis offered a glass of water to Mr. Hazare to break his fast. "The Prime Minister has accepted Anna's demand," Mr. Fadnavis said. On the issue of electoral reforms, such as inclusion of the right to recall and reject, Mr. Hazare said that the government has forwarded it to the Election Commission of India as it comes under their jurisdiction. Meanwhile, a man hurled a shoe towards the stage where Hazare, Fadnavis and Union minister Gajendra Singh Shekhawat were present, but it was unclear as to whom it was aimed at. The attacker was whisked away by the police.




Mr. Hazare, who began his Jan Andolan Satyagraha on March 23, lost over 5 kg of body weight and his health was deteriorating.






On day 6 of hunger strike, Anna Hazare complains of high BP and low sugar: Report



As Anna Hazare's satyagraha (hunger strike) entered the sixth day, there were reports that the veteran anti-corruption crusader's health was deteriorating. An IANS report said that Hazare had complained about high blood pressure and low sugar levels. A PTI report said that he had lost five kg weight.
Nana Patole, former BJP MP, who quit the party and joined the Congress, also met Hazare at the Ramleela Maidan where he was on hunger strike since March 23.
Although the first two days of the protest saw very few protesters joining him at Ramlila Maidan, but the third day was better for Anna's revamped India Against Corruption Movement.